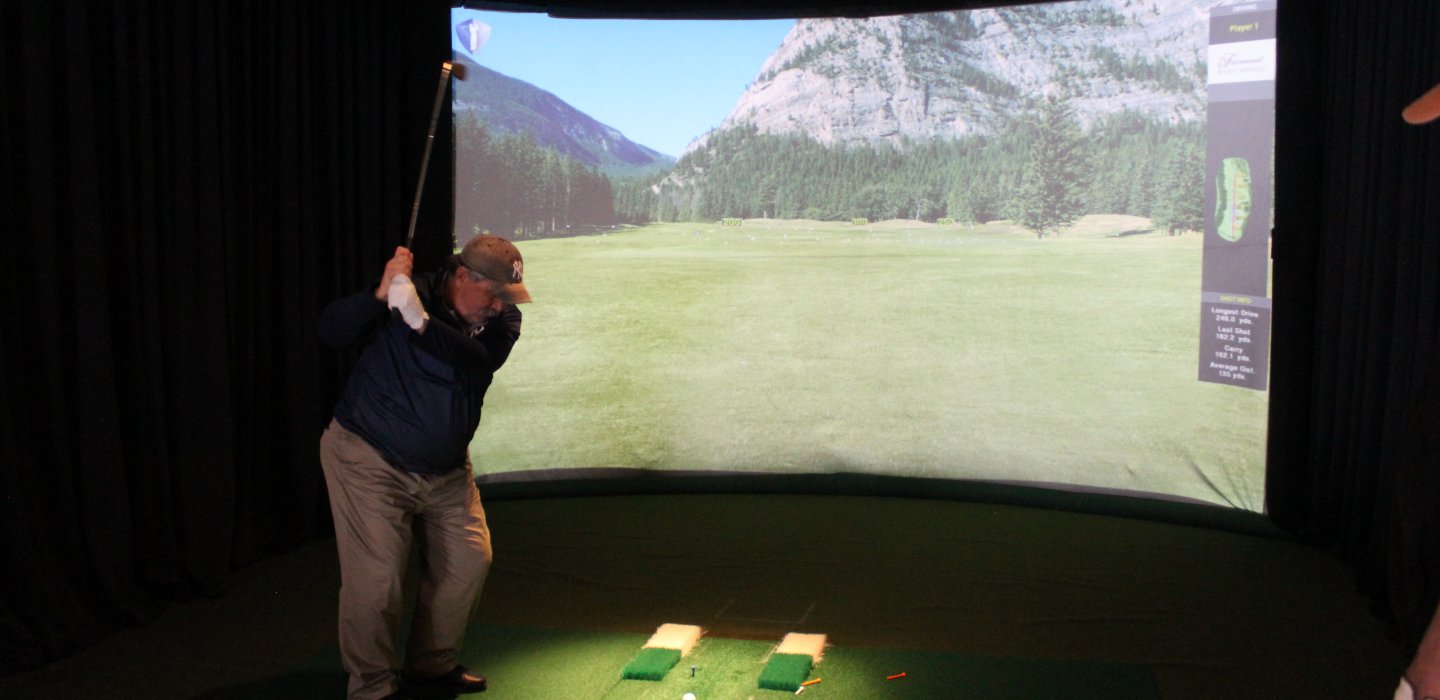 The world's courses at your doorstep
Most people have probably put away their golf clubs for the winter, left them sitting all alone and neglected in a garage or shed.
But there's no reason your clubs should face the same fate this winter, since Highland Greens Golf Course offers a way to hit the links regardless of the weather. With four world-class indoor golf simulators, it doesn't matter if it's raining, snowing, or dark - your clubs will thank you!
What it is
Indoor golf simulators come in many shapes and sizes, from ones that can be set up in a den or garage and cost a few hundred dollars to room-size screens with multiple tees. Highland Greens has four setups of the room-size sort, and with about 30 different courses to choose from, you could spend an entire year playing some of the most famous courses in the world while never leaving Franklin County.
Basically, the simulators allow golfers to take full swings with a club of their choice to drive the ball into the large screen. Once the ball hits the screen, an animated line tracks where the ball flies and lands. On top of that, sensors also track your swing and provide details such as trajectory, speed, and club angle. Those metrics are posted on the screen so golfers can get real-time feedback on how they're hitting the ball.
Unfortunately, if you want to play Highland Greens itself then you'll have to come in the summer. But there are dozens of famed courses to choose from on the simulators, many of which the vast majority of golfers will never be able to play on in person. Always wanted to play Pebble Beach but don't want to travel 3,000 miles and shell out $500? Well, you're in luck, because you can play a round right in Brushton. You can also hit a round at Bethpage or virtually travel to the Old World for 18 at St. Andrews. 
Benefits
Harold Webb, Highland Greens' resident PGA golf pro, said there are a number of benefits for golfers who take advantage of the indoor links. In addition to staying in tune with your swing all winter, Webb said the simulators analyze your swing and hit with each stroke, allowing you to not only stay limber over the winter, but maybe even knock a few strokes off your game.
"It's like taking a lesson every time you hit," Webb, who has been a golf pro for more than 30 years, said. "It doesn't feel like I'm being replaced, because then they have to figure out how to change their swing. And that's where I can help.
"From a golf perspective, it's great to be able to play right now (in December) as opposed to what it's like outdoors. The windchill is 15 below and there's six inches of snow...you're not going to be playing golf."
"One of the great things is it has 30 different courses on it," Webb continued. "Most of them are famous courses that most people would never get to play even once probably. Nine of the courses are in the top 100 in the world according to Golf Magazine."
Fun for the whole family
The indoor golf range isn't just for die-hard golfers, though. In fact, there are a number of games that would be fun for everyone.
All the games are played using a golf ball and club, but include family favorites such as mini golf, darts, and poker. For the little ones, there are also games that involve hitting a large target and being rewarded with scampering animated animals.
So whether you're an avid golfer looking to improve over the winter, or a family looking for something fun to do, the indoor golf simulators at Highland Greens will help keep the winter blues away!
And with so many courses to play, you'll want to spend a few nights right here to sample your favorites. Take a stroll in between rounds or end a great day of indoor golf with dinner and a drink, either of which can be had at Highland Greens or any of our other family-friendly eateries.
--
This week in ADK news:
Bring your skis to Tupper Lake!
Wilderness skiing in Hamilton County
Biking heats up winter in the Whiteface Region