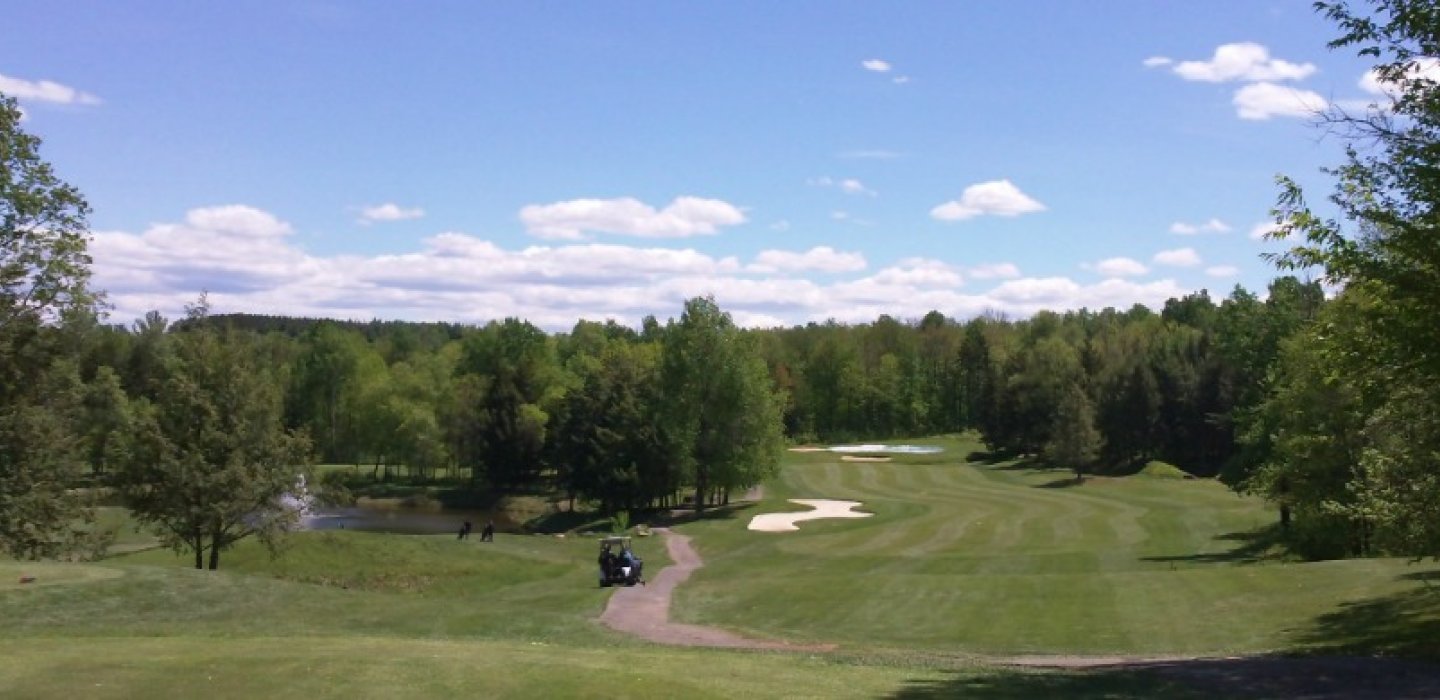 The Malone Golf Club is considered the finest golf facility in Northern New York, Southern Quebec, and Ontario. Obviously, this kind of claim is created to be argued over. Still, to speak authoritatively about playing this 36-hole course, one must play it. Golfers have no trouble enjoying this work of not one, but two, genius architects of golf.
It has a long and illustrious history, dating back to 1903. It combines all the charm of natural parkland design with exceptional Adirondack service and hospitality. This makes for a delightful destination for any golfing purpose, from technically challenging to socially enjoyable.
At the formal opening of a redesigned version, an 18-hole course in 1939, Babe Ruth played in the inaugural foursome. This showed how Adirondack golf was already quite popular with celebrities and statesmen. This incarnation was designed by Donald Ross, with the help of Willard G. Wilkinson.
Making a course for the North
Donald Ross was a Scot by birth, but staked his life savings on a trip to the US in 1899. This paid off as he became involved in designing or redesigning approximately 400 courses from 1900 to 1948. He was a legendary cornerstone in the foundation of America's golf industry. He is commemorated by name in the ASGCA's Donald Ross Award for outstanding contributions to golf course architecture.
In a fitting partnership, Robert Trent Jones was the first recipient of this award. In 1987, this famous and influential golf architect took 15 of the old holes and built 21 new ones around them. This preserved the best elements of the original course to create a world-class 36-hole golf course.
One of Jones' trademarks was to shape natural influences into unique challenges and encourage daring play. Jones designed his courses with what he called a "no risk, no reward" philosophy. He liked to place his greens and hazards in such a way that the golfer was challenged to employ a high level of strategic play.
His use of bunkers was new for the time and has since been copied by many other architects. In the East Course, he use links-style bunkering with lively slopes. The diverse terrain makes for a USGA Course Rating ranging from 65.6 to 72.6. Men have a par of 72, and women a 73.
This course has a tendency to make golf writers giddy. In 1991 Golf Week Magazine claimed Malone Golf Club's front nine was the "Best Pure Classic Nine" in the world. An article in Adirondack Life claimed, "If there is golf in heaven, it must be like the East course."
From greens to sand
Hole five of the front nine is everyone's personal favorite. Badly hit balls fly into the woods. A gully awaits off the tee. The approach shot is to a green that looks the size of a postage stamp, surrounded by sand traps. There are sharp drop-offs both back and left. Have fun!
This is the Malone Redan hole. The first famous one was in North Berwick Golf Links in Scotland, so this might be a legacy of Donald Ross's design. He was a Scot by birth and upbringing. It has been called "fabulously tricky" in execution.
Redan holes require the intense ground play characteristic of links golf. WIth so many slanting surfaces, the idea is to place the ball so it rolls along the varying contours of the green. The golfer must use the grounds to influence the ball's travel until it comes to its resting point in an advantageous spot.
The back nine shows off Robert Trent Jones' love of water hazards. There are 150 yard carries over ponds. Carefully placed sand traps lie in wait. There can be a 90-foot drop from tee to greens.
This is where Mr. Jones create a par five 10th hole known as a "monster." A sweep of fairway cuts through towering pines, and crosses a wide creek. Much of these greens were laid out by nature, first, and remain a fine example of working with the terrain instead of creating it.


The West Course (Par 71) has tighter fairways. It might not look quite as dramatic, but it calls for a golfer's best concentration and execution. Challenges cited are the strong winds, sand bunkers lurking closely around the putting surfaces, and water hazards on nine of the holes.
The front nine's par 4 first hole is a long and lovely straight fairway with tricky slopes and sand traps for those not making a straight approach to the green. A par 3 second hole is nestled in tall trees. A par 5 fifth hole veers left to a raised green. A par 4 eighth hole winds through the trees to a green guarded by a sand bunker.
The back nine revels in natural hazards and demands command of the correct club choices, especially later in the course. The par 4 eleventh hole has a very narrow landing area, demanding a precision tee shot.
There are two challenging water holes, the par 3 thirteenth and par 4 fifteenth. It helps to check the wind speed and direction before reaching for that club.
A side of greens
The Restaurant has become a popular dining spot for golfers and non-golfers alike. The selection ranges from appetizers, salads, and sandwiches to dinner entrees. The strawberry shortcake is served on biscuits, which aficionados agree is the only way to make it, while the pie choices are excellent. 
Malone Golf Club offers all the delights of a fine course at very reasonable fees, and golf packages offer a number of amenities.
With two nights of accommodations, there's two days of unlimited golf with cart for first the round. Save even more on extra rounds of golf on the same day. With packages, there are guaranteed tee times good more than 7 days in advance.
Get a discount on an extra day of golf, receive complimentary club storage for both days and a Short Game Clinic by PGA Professionals with an advance appointment. One happy golfer claimed this fixed his slice for him! All nestled in the gorgeous Adirondack foothills.
Ask about packages at one of our fine lodging properties. Explore the dining. Find out more about Malone's attractions.