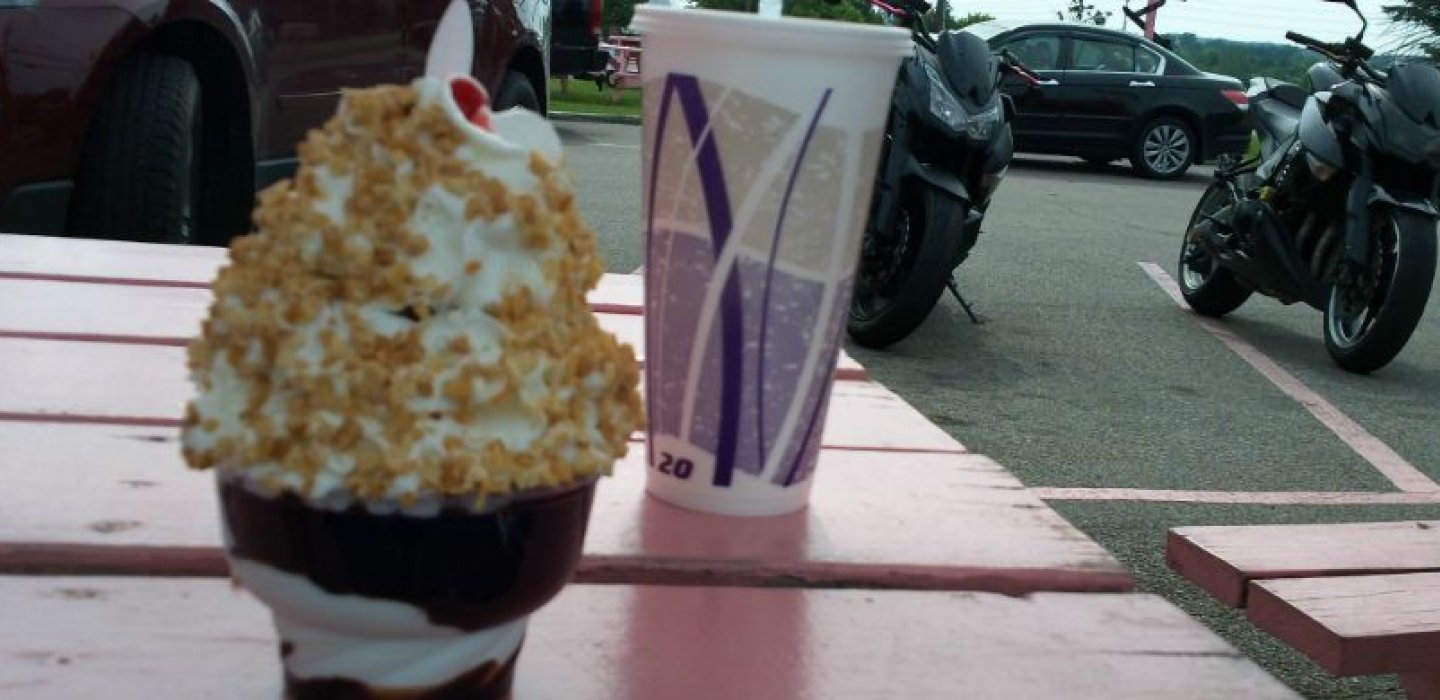 We love our ice cream stands in the Adirondacks, we look forward to the first day of the season with an anticipation akin to the holidays. Summer is such an intense and distinctive season, and our stands are only open a few months of the year. Malone has several, and I recently visited their oldest, and their newest, places.
When I was recently researching the Malone Region and asking directions to various locations, many people would reference a place called Bokie's to help me find the place I was seeking. They would then urge me to visit Bokie's since I was going to be near it. So, I did.
A history of good times
Bokie's Drive In has been a favorite part of town since 1956. It still looks straight out of the 1950s from its color scheme to the many zany signs around the interior and exterior. The lines on the asphalt are pink, the sign features a pink Cadillac convertible, and there's a jukebox. The menu is a delightful throwback to the early years of American fast food cuisine, with hamburgers, breaded shrimp baskets, and an amazing range of ice cream specialties. But they are also not bound by tradition, as recent specials featured a steak melt, California grilled cheese, a queso chicken sandwich, and a Reuben burger.
They also cater to man's best friend, the one who loves to go for rides and get treats. The day I was there they had beef-flavored ice cream to create their special doggie cones. And ladies, if you are expecting, you get a free pickle.
Drive-ins sprang up wherever the irresistible force of 20th century car culture met with recent innovations in restaurant cooking. Cooking gadgets like the milkshake mixer (invented in 1936) and the speed of a modern deep fryer created a popular menu. By outsourcing some of their seating capability to the customer's car, drive-ins could handle more patrons than their physical plant could hold.
While they are now a rare sight, a place like Bokie's shows they still hold great appeal.
updated, yet kept the legacy
Another great thing about the place is their smiling and cheerful staff. They obviously loved what they do because their patrons so obviously loved what they did. I regretted that I was not hungry enough for a full meal. But, of course, there is always room for a hot fudge sundae. I was thrilled that they had homemade lemonade. From my outdoor picnic table I enjoyed my treat, which was every bit as delicious as promised.
It's obvious that Bokie has kept their devotion to their customers by staying true to their roots, while their customers have repaid the dedication with extraordinary loyalty. It seemed to me that this tradition was the kind of small-town American experience some chains have tried to duplicate.
But this food was all freshly made, something not always true of chain restaurants. While there were items on Bokie's menu that spoke of recent trends, such as the mozzarella stick appetizers and Buffalo wings, most of it would have been familiar to customers from decades previous.
I was grateful to every directions-giver who told me to eat there. I intend to do so again!
river place with heart
On another trip, I was wandering downtown. From here, the place to go is Linda & Mike's, which is located in a delightful spot next to the Salmon River. In addition to soft serve ice cream, they have a small, but quirky, menu. Friday is spaghetti night. Other local favorites featured in the menu is fried dough, and (like Bokie's) poutine.
what the customer wants
Poutine is a national dish of Canada. It is french fries, topped with cheese curds, topped with brown gravy. I'm not a fan, but if you are, you must have regular servings lest one go through terrible cravings that no other food will satisfy. So I hear. So if you have a poutine craving, or are just curious, Malone is happy to satisfy. Supposedly, this is another artifact of the 1950s, with the dish appearing out of rural Quebec to create legions of devoted appreciators.
Linda and Mike's hands the food out through a window. Diners can choose between picnic tables outdoors or one of the tables in their Adirondack-themed gift shop, which has delightful items for an Adirondack camp, and plenty of small bear figurines.
I got a hamburger and fries and, for consistency's sake. a hot fudge sundae. All are delicious. I pass up a popular item found in most Adirondack ice cream stands: the famous Michigan.
It has nothing to do with the state - this is what we call a steamed hot dog on a steamed bun, topped with a ground beef & tomato-type sauce. Recipes abound, while the ingredients are hotly debated, and held secret and sacred. One would think this is plenty of topping, but many like chopped onions (if you want to be surprised, ask for them "buried") and perhaps a touch of mustard. While poutine is not necessarily found in all Adirondack ice cream/food stands, almost every single one has their own Michigan.
adirondack heritage
Michigan's are truly a North Country dish. Nearby Plattsburgh actually did originate the name of "Michigan Dog," as recorded in their newspaper: The Daily Republican, in 1927. The ad announced the opening of the "Michigan Hot-Dog Stand" owned by Mr. & Mrs. Garth C. Otis.
So what do they call them in Michigan? They call them a Coney Island hot dog or "Coney dog," of course. There, the recipe calls for natural casing hot dogs topped with a sauce made with beef hearts, and called Coney sauce. I guess that makes it exotic.
Summer is a special time almost anywhere in North America. But a few places are specifically known for their summers, and one of them is the Adirondacks. This is the place where the rich of the gilded age would "vacate the city" (creating the noun, "vacation") and spend their summers in luxurious wilderness. This is the place where wooden Chris-Crafts glide through the crystal blue waters of our glacier-dug lakes and create an iconic image of enjoyment. The Adirondacks is where, for generations, children remembered great times, grew up, and brought their own children.
Ice cream stands are part of this summer magic. Their opening and closing is our bookends to this special season. Come join us, and assemble your own group of places and activities... that spell summer.
Explore more great dining. Find a great place to stay. Check out our attractions.
---
This week in related "Secret" ADK news:
High Peaks low-down: 4 local tips! 
Run, bike, hike, ski, ride, clop - the trail network less traveled.
From bikes to bites, tour the Coast.
Isn't it ironic? Relax at the rapids.
The beach behind the trees (sounds like a horror movie, but trust us, it's awesome).