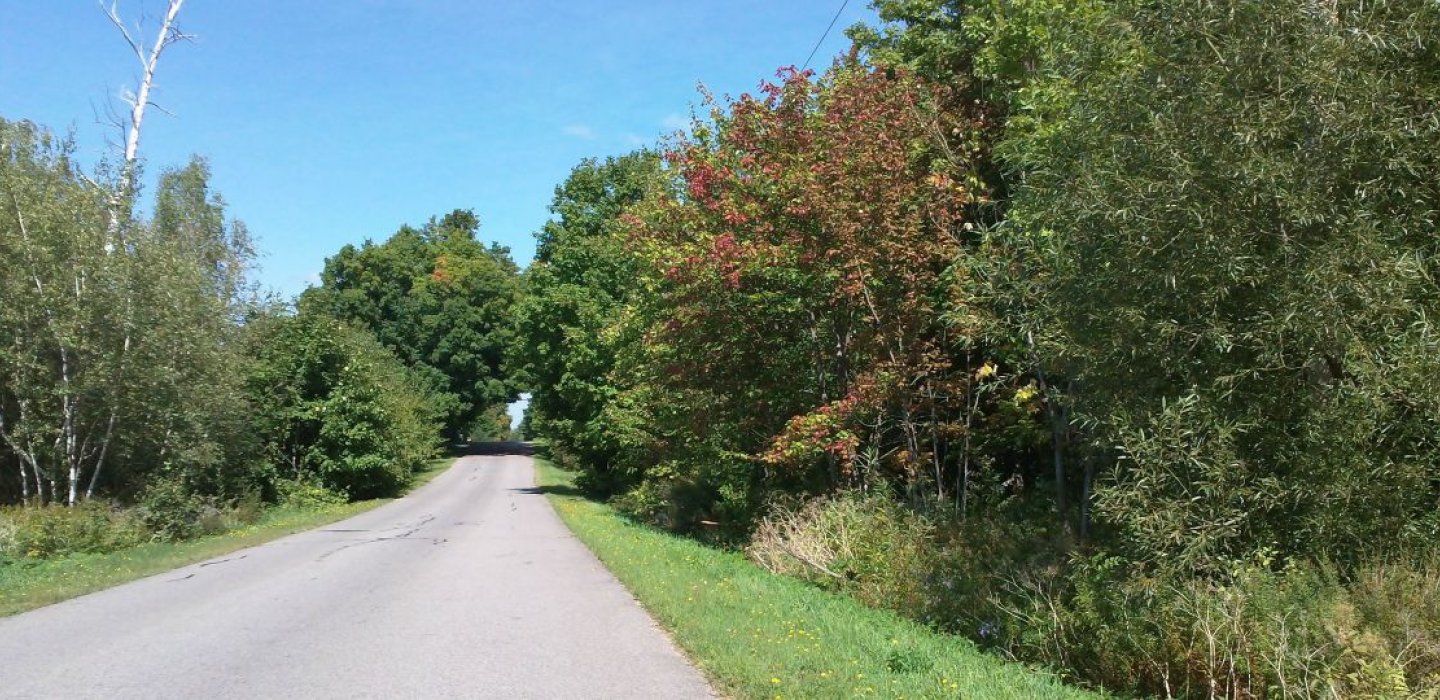 Malone has the Canadian border to its north and the Adirondack Park to the south. In between is some stunning biking that beckons to be explored.
While there are scenic wonders in the Park, it is undeniably hilly by nature. If a biker is more of the "drive to a nice area, park and explore" kind of cyclist, Malone is a paradise of flat rural roads, long vistas, and lovely scenery.
historic farming country
The popular attraction of Almanzo Wilder Homestead is located in the heart of Burke. Here was born the hero of "Farmer Boy," the third entry in the popular Little House series of books which depicts pioneer life. After visiting this amazingly preserved slice of history, with its original farm home and reproduction schoolhouse meticulously furnished with period touches, the cyclist will find themselves in a wonderful area for bike riding.
There are still plenty of farms in Burke, and it makes for some beautiful fields, bordered with trees and wildflowers. Stacy Road runs right by the Homestead, and a short ride south, and an eastern turn onto Town Line Road, offers some low-traffic biking along paved rural roads. Turn south at County Route 33, which has wider shoulders, but more traffic. If that is not what we are in the mood for, turn south on Kay Road before reaching 33.
Two centuries of farming has created a relaxing blend of fruit trees, roadside flowers both wild and cultivated, and cozy farm residences. Further on either of our routes is the Brainairdsville Road, which lets us loop back towards Stacy Road, or continue further down Moody Road to the south.
Moody Road is a long stretch that winds up at Porter, another fine biking road. By taking Porter north, we can keep our low-traffic option with Badore Road to the east, until we meet St Marys Road and turn north, back to Brainardsville Road. Continuing north on Pentham Road leads us back to Stacy Road.
The side trip of Panunzio Road (off Stacy, near the Homestead,) ends with a beautiful stream. (Don't go further; that is private land.)
Pit stops: Dine at nearby Bokie's Drive In, a wonderful diner which is straight out of the Fifties. The Market Barn is an original Auction Barn turned vendor facility. Discover eighty different booths with handicrafts, antiques, and surprises.
spectacular water features
The Salmon River makes for a spectacular central feature of Malone's downtown. By following it north along Park Street, and then Lower Park Road, traffic lessens and we can enjoy the beauties of Lamika Lake from many angles.
Three roads (Cady, Shears, and Lower Park) meet at the bridge with pullovers for views of the Salmon River upstream of the dam which created Lamika Lake.
Just south of this intersection there is the trailhead for the Macomb Trail. By taking the lefthand fork shortly after starting down the path, there a somewhat steep, switchbacked path down to the dam itself. This creates a wonderful combination for those who like to hike and cycle.
Taking Cady Road further west, and then heading north along Wheeler Road, there are many lovely vistas. These roads are flat and we can see for miles. But the low-traffic boon of remoteness means few places to stop and get supplies or break for a meal. By staying close to Route 11, through the center of Malone, we can moderate the problems of supplies if that is an issue for our riders, or make sure we pack plenty of lunch and hydration.
However, Route 11 has a lot of fast traffic. For less than marathon cyclists, the best plan is probably to park in places that lets our biking party loop back to the car, letting them go as far as they want to go at a stretch, and then drive to another promising area. This combination of bike and car is probably the one that will please the most people, for the longest.
Pit stops: Both Cady Road and Cargin Road, west, will meet Country Route 37. By taking one of them south, we wind up back at the Airport area along Route 11, with abundant dining places and other amenities. In summer and fall, the Malone Farmers' Market meets at the Airport on Wednesdays from 12:00 pm - 4:30 pm.
Amish Country
West of Malone, there is the Amish area near the town of East Dickinson. Turning south on Meehan or Perry Roads, after leaving Malone to the west along Route 11, will bring us to the side route of County Route 11B.
After passing through Bangor and West Bangor, we arrive at the small hamlet of East Dickinson, the furthest north Amish community in America. True to their retiring nature, the only clues might be the caution signs with the horse and buggy on them. But as we drive along 11B, we see many signs for fresh produce.
About a mile west of East Dickinson, along Route 11B, there is a friendly driving range and the largest of East Dickinson's produce outlets, which has apple pie, local honey, baked goods, and other fun items, making it a great place to stop. This is almost exactly opposite the fine-riding along Conservation Road.
Further down Conservation Road, at #12, is the historic Hastings Farmstead in Dickinson Center. Built in 1896, this historic site is not developed and is in varying states of repair, with several outbuildings as well as the balloon-framed house. Please enjoy from the road only.
Riding along 11B is not recommended for most cyclists. This particular road combines fast traffic with tiny shoulders, making it the least appealing road in the Malone area when it comes to biking. This area almost requires the "drive here, bike there" approach for safety reasons.
However, it has a great abundance of side roads, especially on the south side of 11B. Some of them turn to gravel after a certain point, but are still rideable for certain kinds of bikes. New York's Amish communities are somewhat new and far less commercialized than more established areas.
Pit stops: Route 11B has many farms which have roadside stands. The center of East Dickinson has a cafe with local items, while the big roadside stand near the driving range has the biggest selection of local goods.
We might have to hunt down the routes, sightings, or products we seek, but this is part of the thrill that exploration of Malone, and its surrounding communities, can offer. There really is a lot of discovery to be had when it comes to Malone biking.
Always bring a compass and a map of the area. GPS is not entirely reliable in our rugged North Country. Make sure you bring plenty of water and salty snacks. Don't forget your camera!
Now we are ready for our room at one of Malone's lodging options. Fine dining awaits for our evening meal. Check our Events Calendar.
---
Check out these lesser-known, waiting-to-be-discovered, ADK activities:
Kick back and watch the world... 
Here a chick, there a warbler, everywhere a finch-finch.