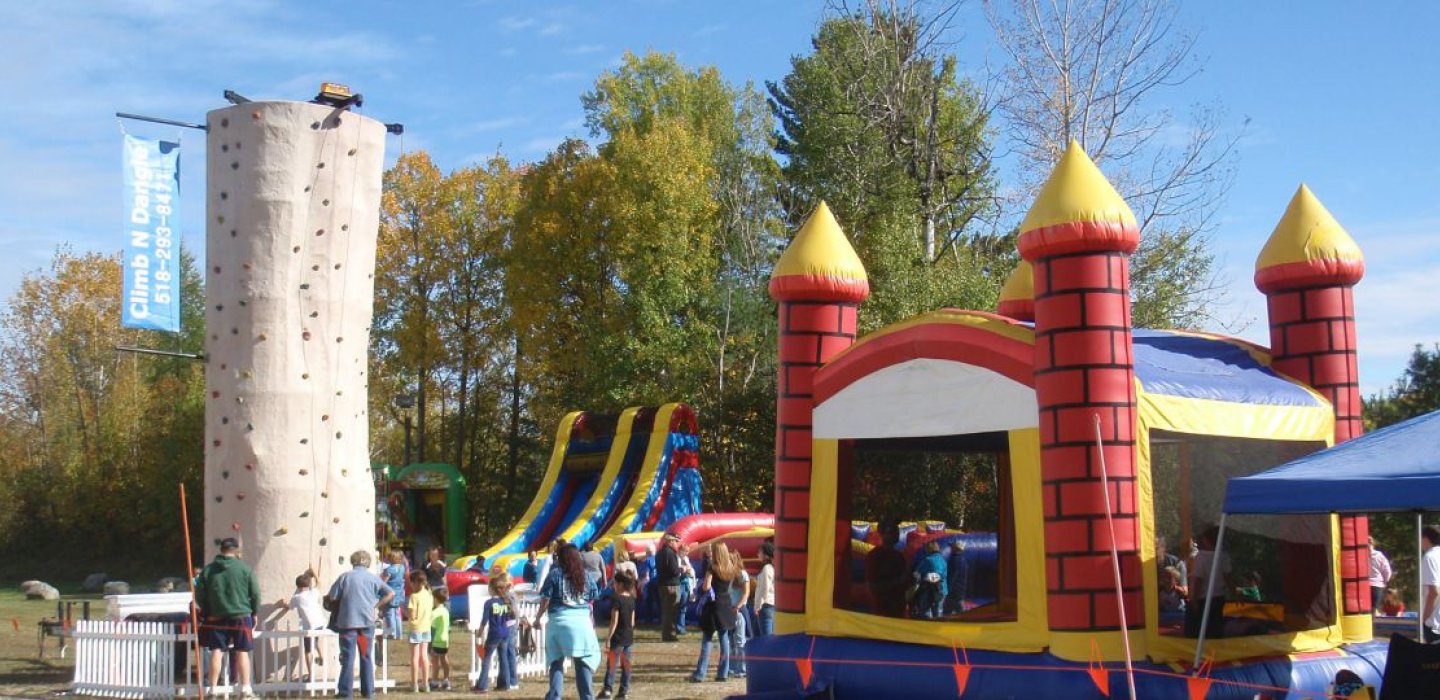 Titus Mountain throws a wonderful Oktoberfest every year. This year, October 3, 2015, is the thirty-fifth! As always, it continues to be a family-friendly Malone event that celebrates fall color, unusual shopping opportunities, and activites to amuse young and old.
Oktoberfest was originally a two-week festival held in Munich. This was to celebrate the 1810 wedding of Crown Prince Ludwig and Princess Therese of Saxe-Hildburghausen. The event proved so popular it became a yearly tradition in Germany, even without royal nuptials to celebrate.
Titus has an Oktoberfest for one day, and their castle is inflatable,  but it is certainly in the same spirit of enjoying a special time of year. Without royal nuptials.
a place for kids
Children will enjoy the "Titus Teddy" Kids Zone. Here kids will discover activities and treats designed for them, like face painting, cotton candy, bounce houses, and games. Are we only young at heart? Fear not! The whole family can enjoy most of the kid fun, too.
Titus has always given me a welcoming feeling. Everyone is happy to be there. The space is vast, yet the ways of enjoying it are intimate.
For Oktoberfest, Titus turns the chairlift into a ride and also offers hay rides around the mountain. These are ways for the whole family to revel in the glorious fall show of the trees on the mountains, along with the thrill of rides.
The views are fantastic.
Kids twelve and under are admitted free. Those older pay only five dollars. Part of the entrance proceeds go to Adirondack for Kids, an organization to support youth activites all year round. 
Grownups too
As we approach the food tent, the glorious scent of grilled treats fill the air. Titus does not neglect the classic elements of beer and brats. (Food sales benefit the Ski Patrol, a volunteer organization.)
There's also beer, wine, and cider vendors and samples. The lower lodge is open, including the bar, and all the restaurant seating is available to dining patrons. There are also many picnic tables set out throughout the grounds.
On to the shopping tents - with over seventy vendors to browse! There will be local arts and crafts from Adirondack Quilter's Guild, Stone House Vineyard (the first licensed vineyard in Clinton County), Temple of Tools Woodworking from Peru, NY, Tiffanie Laura Creations, I'm "Sew" Crazie, Mary Lemke Homemade Gift Baskets & Framed Art, D & D Meats & Jeezum Crow Beef Jerky, Chainsaw Carving by Mike Meagan, Snowy Mt Crafts & Novelties.
There are items from What a Mesh Holiday Wreaths, Tupperware, Longaberger Baskets & Accessories, Lilla Rose Hair Accessories, Jamberry Nail Wraps, and local charitable and business organizations such as Relay For Life, Operation Safe Child, LaValley Real Estate, Apex Solar Power, and Mary Kay.
There will be plenty of items of interest, make sure to fortify yourself with a stop for brats before (and during) your browsing spree!
Throughout the day you can dance off those treats. There's live music from Backdraft and Paid Company, with the stylings of Dumas Karaoke as the DJ.
ready for ski season
Generations of children have learned to ski at Titus, helped by Titus Mascot, Teddy. Oktoberfest is also the preview event for ski season. Over the last few years, Titus has expanded. There are fifteen new trails and glades, and a newly renovated lodge with expanded locker space.
This is a great time to get a jump on the ski season at Titus. There will be race sign-ups, a season pass sale, and a Ski & Board Swap. Of course, they always have that great ski shop, opposite the lodge.
A fine ending to the day's festivities happens when it is full dark, and people can really see, and enjoy, the closing fireworks.
A fitting end to a fantastic day. But then, all year, Titus is a great place to be.
There's always a good time brewing in Malone. Find family lodging. Explore the interesting shopping. Choose a favorite way to view the amazing fall foliage.
---
We're talking Cheers & Beers around the ADKs this week - check it out:
It's no paradox: Beer & pretzels are a perfect pairing.
Lederhosen, dirndls, and lager.
What do car washes & cellars have in common?