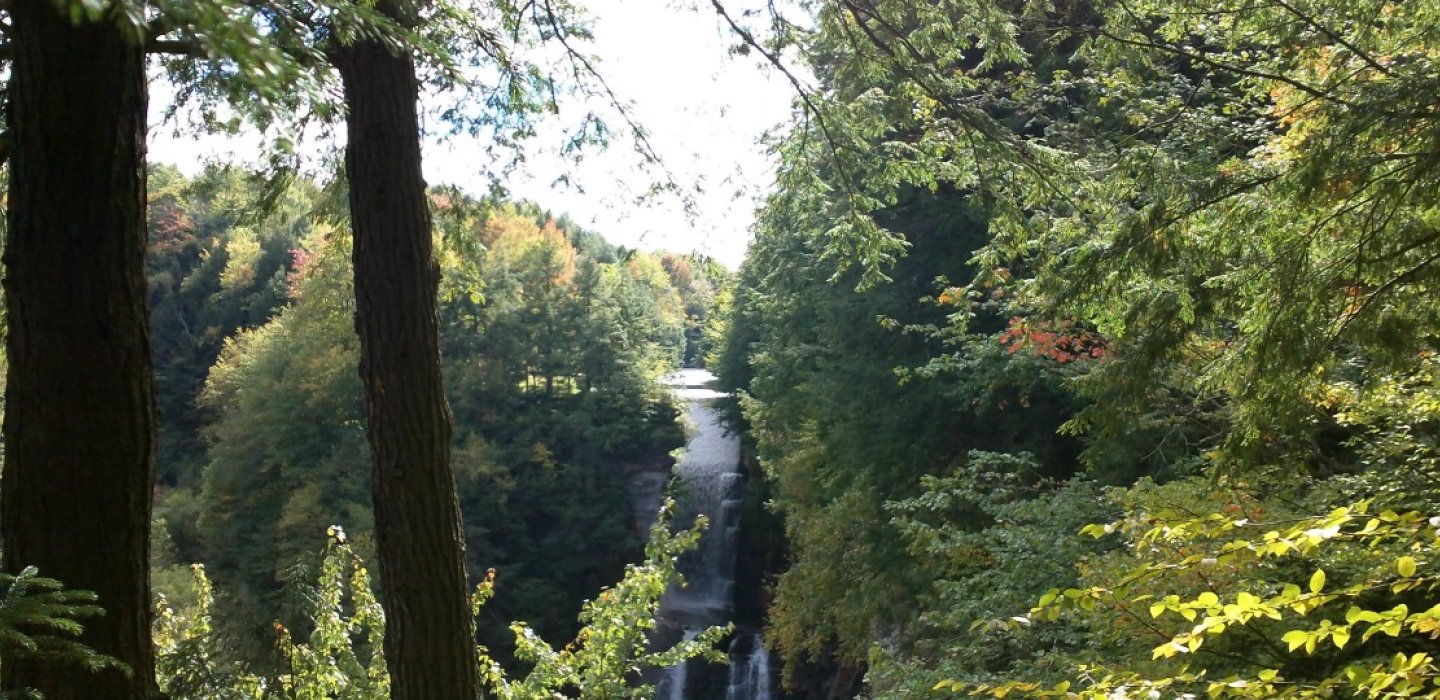 While staying in Malone, take advantage of the number of fascinating day trips the area offers. Just ten minutes away discover the village of Chateaugay. And there's some very interesting things in it that can be found nowhere else around.
It's pronounced Shad-ah-gay. (We know you'll feel better going there, knowing that.) It is the oldest settlement in Franklin County, having been established in 1799. Indeed, in 1802, it actually comprised most of the present county. One of its first settlers was a Nathan Beman. As a teenager, he had guided Ethan Allen into Fort Ticonderoga in 1775. Ethan Allen's capture of the fort was a key element of the American Revolution.
More than a century before European settlement in the area, Charles LeMoyne, the founder of the most eminent family in Canada, was gifted a royal grant of land. He named the giant tract Chateaugay, which translates as "hospitable house" or "cheerful house."
A welcoming beginning to our journey.
the wind farm
One of the first things we see as we begin to explore the town is the giant white windmills which dominate the landscape from certain angles. Early cartographers had long noted the area's "diversified surface." By comparison with Malone's flat fields, Chateaugay's rumpled landscape and thin soil had long made farming a tricky task. Perhaps they were simply farming the wrong thing.
Turns out, Chateaugay has wonderful geography for windfarming. The Noble Chateaugay Windpark has seventy-one GE 1.5 MW turbines, creating a 106.5 megawatt windpark.
We see them as we approach the town, sudden sharp-edged clouds that hang low on the blue sky. I find them to be an interesting addition to the landscape, not a distraction or anything unlikable. They are just there, patiently turning, utterly silent.
The windfarm was established in 2009, and generates enough clean electricity for 35,500 homes. For a whole year.
The wind conditions in Chateaugay are not that noticeable to us here on the ground, or to a bike rider on one of the beautiful side roads. But at the elevations where these fans have their propellers, they provide a steady and continuous source of electricity without pollution.
I'm a fan of both versions of the "War of the Worlds" movies, and at first glance these giant structures remind me of them. But then I remember they are here bringing good things, not bad things, I have grown to like them. They put a few chalk marks against the blue sky, but it's nothing that interferes with the view.
They come in peace.
Mystery of the chasm
In my research about the area, I find several references to the fact that Chateaugay has a chasm of its own. Fifty-four miles away is the famous Grand Canyon of the Adirondacks, Ausable Chasm. Which is an amazing natural phenomena, with towering rock walls and the river, which wore down the sandstone over millennia, still running through it.
My research turned up a few photos from the early 1900s, and then, nothing. Which was puzzling, because generally people don't lose track of chasms. So part of my curiosity this day is all about the search for the Chateaugay Chasm.
A 1918 book about the area's history has a mention:
A couple of miles above the village the waters fall almost perpendicularly over a cliff something like fifty feet in height, and a couple of miles below the village, until dammed for a power development, it flowed through a chasm almost rivaling that at Ausable in depth and grandeur. At one time thirty-odd years ago walks and stairways were built there, and a summer hotel erected, which attracted many visitors and had many guests until the death of R. A. Jackson, who had been the life of the enterprise, left it without a manager, and it also died as a resort. 
Which made it sound like the Chasm was gone, somehow. But it turns out, not so. We found it. At least, we found one!
As we approach the town we see a large homemade looking sign that directs us to High Falls Park Campground.  The claim of a waterfall 120 feet tall, which is the height of a 12 story building, seems amazing because while the land we are on is not flat, but does not hint at any great undulations, either.
We find ourselves in a expansive and lovely campground with signs directing us to the main campground building. The young lady at the refreshment stand takes our admission fee (three dollars for adults, two dollars for seniors over fifty five, children under five are free.) We are then directed out of the back door to a path through the woods.
It's a nice hike along the well-padded pine needle path and soon, with the help of our map, we are ready to move to a viewing area where we see the chasm through the leaves of some tall trees.
Up to this point the path has not hinted at the amazing depth and complexity of the waterfall. We are only seeing part of it. It looks like we need to go down some stairs.
Once we reach the base of the falls, the spectacle becomes even more impressive. Water roars from a rocky cleft far up, cascading down giant blocky steps of rock. A bend of the river keeps us from approaching the falls directly. If we pick our way across the scattering of rocks, ranging from pebbles to armchair-size, we can get a closer view.
It is such a delightful spot that my companion and I sit on a giant rock near the base of the stairs for quite a while, chatting and enjoying the wonderful scenery. The falls tumble over the shelves of rock and create constant rainbows in the mist. The river beneath must be quite deep, because while there is considerable tumult at the very foot of the falls, the rest of the river flows on quite smoothly.
There is a large area at the base for exploration, which allows us to see the falls from different angles. As dramatic and delightful as this set of falls certainly is, it doesn't seem like it was the one discussed in the old history book, the one which vanished with the construction of a dam.
Which one is actually the semi-famous Chateaugay Chasm? The question is still open.
For more nature interest, stop by the Chateaugay Fish Hatchery. It's a pretty drive and there are tanks full of baby fish.
unusual shopping
Several friends, upon hearing I was headed to Chateaugay, told me we must not miss the McCadam Cheese - General Store. Because this is The Source. They make the cheese here.
I've seen, and enjoyed, the cheese in local groceries for years. The creamery & cheese production in the area dates back to 1871. This specific company opened a plant In 1934, and it remains their primary cheese manufacturing facility. On Saturdays, they close at noon, so make it an early stop.
As we enter the town from Malone, we pass Adirondack Baskets & Heritage Designs. Artisan Mick Jarvis has an incredible selection of punched tin furniture and clocks, hand-woven baskets, and many other Adirondack style items for sale in his store. He invites people to drop by during business hours, but contact him first to make sure he'll be available when the trip is planned.
For lunch in Chateaugay, check our dining page.
Just over the county line, in the town of Churubusco, is the amazing store known as Dick's Country Store & Music Oasis. Here we will find just what it says on his sign: Groceries - Gas - Guns - Guitars.
So many guitars. My companion and I are both partnered with musicians, and we thoughtfully sent them phone pictures. They then moaned (via text) that they could not accompany us that day. We made plans to make it a foursome next time.
We look forward to it. Chateaugay is truly a delightful place.
We return to Malone refreshed by the juxtaposition of modern technology with the attractions of ancient nature. We are ready for a good dinner, and some hospitable lodging.
Thank you to the extensive Chateaugay history at history.rays-place.com
---
Looking for more unique ADK locales? Check these out:
Where leather, snowmobiles, and history collide.