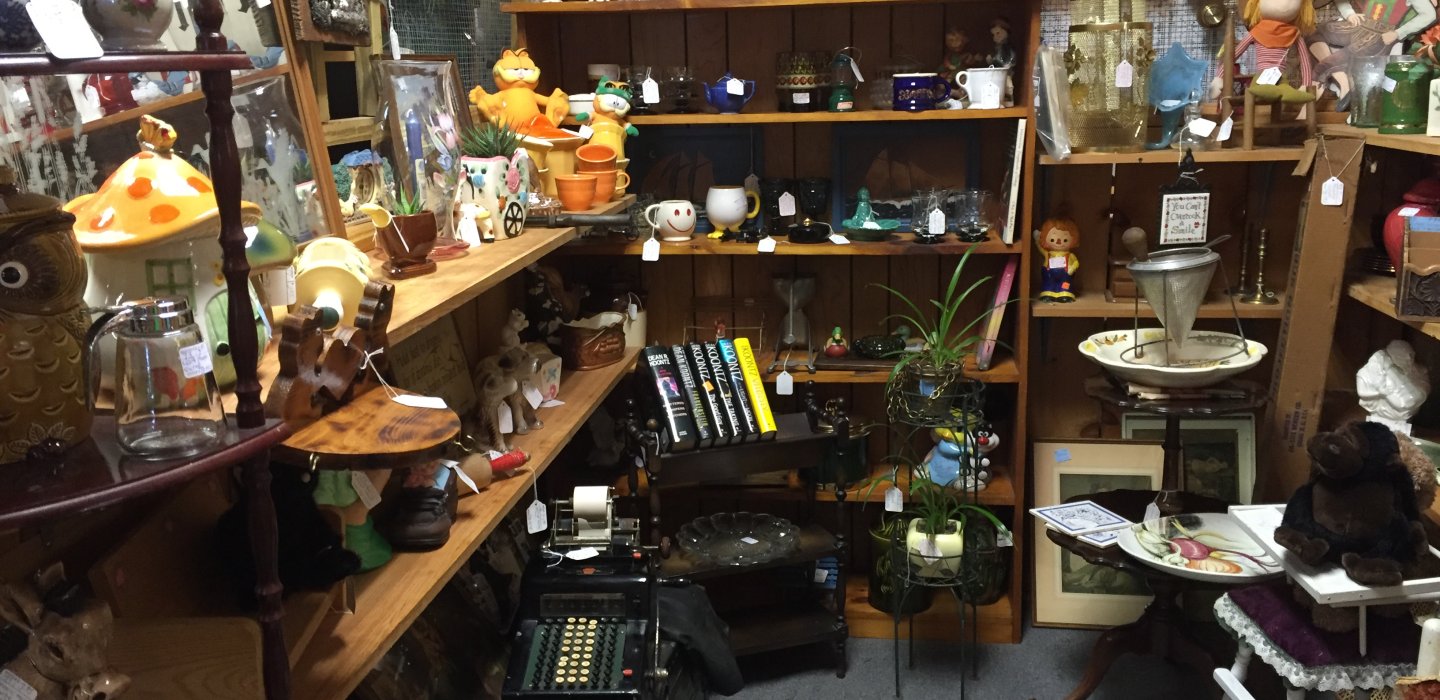 I always love a shopping trip, so when asked to write about shopping in Malone I jumped at the chance. While there are lots of shops worthy of writing about, I couldn't cover every one of them in part of a day (women just can't shop that fast), so this is by no means comprehensive. You can visit our Shopping page for many more options. Of course I couldn't go on a shopping trip alone, so one of my good friends didn't need her arm twisted much to decide to accompany me, and off we went.
The Market Barn
No trip to Malone is complete without a stop at The Market Barn on Route 11 just East of downtown. If you've never been to this amazing place, you've really missed out. The Market Barn is a collection of several dozen 'booths' within the very large building. There is a large representation of antique and collectible dealers' booths, offering a wide variety of goods from books to furniture. There are also Adirondack crafts, locally produced foods and candles, herbs and gifts. I could find something for everyone on my Christmas shopping list at The Market Barn.
If you get hungry while shopping at The Market Barn, they've got you covered. There's a great little cafe/deli smack dab in the middle, offering lunch fare and featuring meats from Boar's Head. It's a very cozy little cafe. We were tempted to sit down and have a bite, but we had plans to meet some friends for lunch on the other side of town. Next time we'll give it a try. 
Market Barn Open House
The Market Barn is open Monday through Saturday from 10 - 5, and Sunday from noon - 5. On December 5th they'll be hosting an Open House all day with 10% off everything in the store (unless marked 'firm'). In addition they'll have a complimentary buffet set up for patrons to enjoy along with coffee and punch. You won't want to miss this.  
Produce, produce!
While pulling out of the Market Barn we spied an adjacent building which houses a farm stand. We quickly turned around and stopped in. Adirondack Growers, Inc. occupies the building, selling produce and cider. They had a great selection of late-season produce on hand, along with several varieties of apples. They even had bushel bags of apple "drops" for just $5 a bag!  When my husband and I had our restaurant we would buy "drops" to make applesauce. "Drops" are the apples that fall on the ground before they can be picked. They're usually just damaged visually and can't be sold with the "good" apples because of the blemishes. They're also great for feeding horses if you happen to have some, and my friend Denise picked up a bag for treats for her three beautiful steeds. 
Adirondack Growers is open daily from 9 - 5 and will be open this season until Christmas. By Thanksgiving they'll have lots of holiday wreaths and Christmas trees on hand as well, so make sure to check that out too.
Art gallery find
It was definitely time for lunch by the time we headed back to downtown. On the way we noticed a great little gallery and quickly swerved into a parking spot to check it out. North of Adirondack Artists Gallery (NOAAG) is right downtown on East Main Street in the Richardson Building. NOAAG was formed by a group of local artists who wanted to provide accessible and affordable art to Malone and the surrounding area. They wanted to also give local artists a chance to showcase their work publicly. They also offer classes and workshops throughout the year taught by members.  
The NOAAG art currently on exhibit represents a wide variety of mediums by several of its members. There's everything from sculpture to watercolor and jewelry. Make sure you stop in and check it out. There is some amazing talent represented here. The hours are Tuesday through Saturday 10 - 4, and Sunday by appointment. NOAAG is located at 465 East Main Street.
Lunch time
OK, now it was really time for lunch. We met our friends at Mo's Pub & Grill on Route 11 on the other side of downtown. Mo's has a warm and welcoming feel. I'd never eaten here and am really glad I did this time. I ordered French onion soup and a small caesar salad. They were great about making a small caesar when I asked - as it isn't on the menu. We thoroughly enjoyed our lunches and the service was excellent. Mo's has a full sports-themed bar between the two dining areas. They also have a beautiful banquet room for private parties, complete with stone fireplace and separate private bar. So, if you're looking for the perfect spot for that holiday party, be sure to check with the folks at Mo's!
What is IBC?
I have been hearing about IBC for some time now. I kept hearing what a great place it is and kept wondering WHAT it was. I have now been introduced to one of the best shops in Malone. IBC stands for International Border Company. IBC is your one-stop source for outdoor gear, clothing, accessories, family fashions, home decor and more. 
The pictures pretty much tell the story about IBC. They have a great entryway filled with clearance items, too. I found an awesome hoodie in my favorite color - green - for just $6. Don't miss checking this section out. IBC is located at 40 Mill Street just off Main Street, and is open Monday - Thursday from 9 - 6, Friday from 9 - 7, Saturday from 9 - 6, and Sunday from 10 - 5. We spent a good amount of time there and found some terrific gifts for several people. I'll definitely be back!
Two wildlife bonuses!
Our first bonus of the day took place on the drive to Malone. A bald eagle flew right over the car, its white head and tail clearly visible. There's a long time resident pair of nesting bald eagles along Route 30 about half way between Paul Smiths and Malone. We frequently see them on this stretch of highway. On the way home we were treated to another. Just outside of Malone in one of the big cornfields we encountered a HUGE flock of snow geese. If you've ever seen flocks of snow geese this time of year you'll understand my excitement. (Check out this blog for more info on the annual snow geese migration.) They're magnificent on the ground and more especially in the air. What a great bonus!
Spend the night
Why not make a weekend of it! Stay overnight and take advantage of all Malone has to offer for shopping. You just can't do it in one day - at least not at our pace! There are lots of dining options as well. See you in the shops of Malone!
---
In related ADK news: 'Tis the season - for great deals!
Black Friday, Adirondack-style!