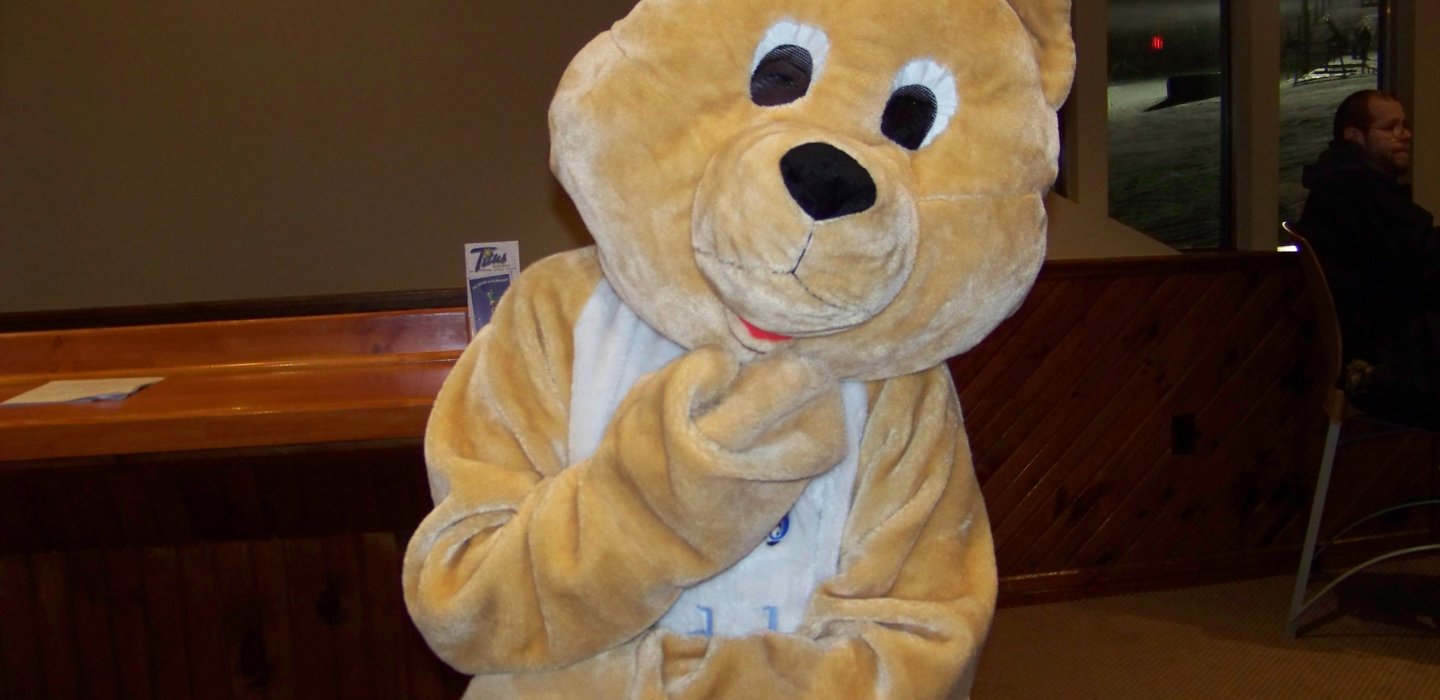 Imagine shushing down the mountain with not a care in the world; you can feel the crisp winter air at your face and you can hear the crunch of snow under your skis as you make a turn on an impeccably groomed trail. Life is great at Titus Mountain until you turn your head a little and out of the corner of your eye you catch the glimpse of a bear!
No need to worry--despite Titus's proximity to the Adirondacks, the bear that is shushing down the mountain right beside you is probably Titus Teddy or Shredding Betty, the resident Titus Mountain Family Ski Center Mascots! You only might start to worry because they could possibly be skiing or riding better than you... but that's a story for another day.
Titus Teddy took up residence at Titus Mountain in 2011 and has been hitting the slopes ever since. Shredding Betty joined the team in 2014 and hasn't looked back. On any given Sunday (or Saturday) you can find these bears frolicking in the Titus Teddy Kids' Zone, riding a chair up the mountain to take some turns, or even hitting some features in the terrain parks!
Spend any amount of time on the mountain, or even in Malone, and you're bound to see one of the Titus Bears, so how about getting to know them a little bit more? I had the pleasure of sitting down with Titus Teddy this week for a simple Q&A session to learn a little bit more about him.
Interview with Titus Teddy
Me: Let's start off with the obvious. What brings a bear like you out of hibernation to spend your days on the slopes?
Teddy: Let's face it, skiing and riding is WAY better than sleeping. I once saw a sticker with a portrait of one of my cousins that said "Humans Were Never Meant to Hibernate" on it. Not to be outdone, I figured I would strap on a pair of skis and try out the sport myself and I haven't looked back since. Feeling the wind rustle through my fur is just as refreshing, if not more, than napping for 6 months.
Me: So you fell in love with skiing, which is easy to do. What's your favorite part?
Teddy: That's actually a tough question because there are so many things that are great about it! Like I said, the wind rustling through my fur is a great feeling. I'm an outdoor kind of bear, so everything I like about skiing has to do with being outside and enjoying winter and what nature has to offer. Outside of that, however, is definitely the friends that I make on the mountain.
Me: How many bears are there on this mountain to be friends with?
Teddy: Well, Shredding Betty is an awesome gal, but when I say friends, mostly I mean all the new friends that I make on a day-to-day basis of the human kind. Every day I'm out on the mountain I make at least a handful of new friends--kids, grown-ups, boys, girls, skiers, snowboarders--a ski mountain is an amazing place to meet people.
Me: I'm sure they get a kick out of meeting you, that's for sure.
Teddy: You can say I'm a local celebrity of sorts. [Titus Teddy chuckled a little bit as he said this].
Me: All this skiing and hand-shaking... do you get any free time?
Teddy: The winter is pretty hectic but I love it. Even in my free time you can find me on the mountain! There's always something to do here, even if it's not ski season. For example, I make it to every Oktoberfest. This past Oktoberfest I tried my luck riding the bull--I didn't do very well--and I rode around in some pretty cool 4-wheelers.
Me: Let's say that Titus didn't exist, what could we find you doing?
Teddy: Again, I'm an outdoor kind of bear, so I love taking advantage of the area that we live in. One of my favorite hikes is Owl's Head. It has a great view of Lake Titus. Elephant's Head is a close second. I also love to fish--I'm a bear after all--and the Malone area is probably one of the best-kept secrets as far as fishing goes.
Me: I bet you're pretty good at fishing. Do you have any other talents?
Teddy: A lot of people don't know this, but I dance any chance that I get. I even had a dance-off with another Mountain Mascot at the Ottawa Ski Show. I get a lot of practice at Titus with their live music--there's always something to practice to.
Me: A dance-off? Did you win?
Teddy: We tied for sure. Everyone is a winner when there is dancing involved.
Me: That's a great attitude. Do you meet a lot of other Mascots?
Teddy: That's one of the perks of the job. There are a few out there and usually we find each other at events. This past November I ran into Monica the Moose from the Adirondack for Kids foundation at their annual Turkey Trot. Whenever I eat at Mo's Pub & Grill I also usually run into Mo the Monkey.
Me: I see that the mountain is starting to fill up with kids--I'm sure you have to get back to work. Do you have any last words?
Teddy: Humans weren't meant to hibernate. That sticker does ring true! Winter in the Adirondacks is awesome. Get out and get active. Skiing, riding, and tubing are of course my favorites. But there's so much more to do and see - snowmobile, icefish, sled... All you have to do is step outside.
After our interview, Titus Teddy went back out onto the slopes doing what he loves to do. The next time you see him or Shredding Betty on the mountain, make sure you say hello. Perhaps you can be his next friend!
---
This week in #AdkPeople news:
A Byrd, A Plane, & An Adirondack National Hero.
Old school charm = key to success. 
Bed, breakfast, and 'broidery.
Old, new, borrowed, blue, and just darn unique.