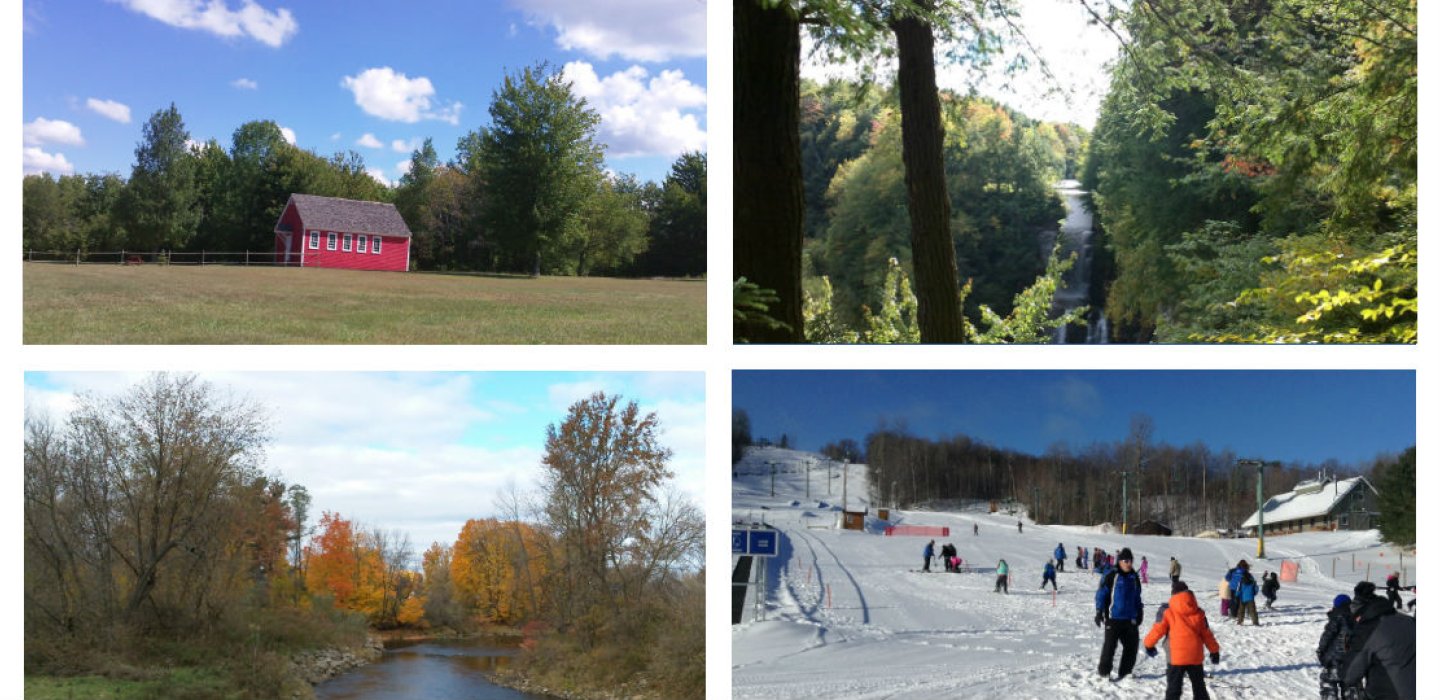 Free day? It's a leap year in 2016, and that means there is an extra day this year. A gift like this should be used for fun.
It doesn't matter what season it might be. There's a wonderful day trip waiting, just minutes from Malone. There are the most extraordinary small towns in the surrounding area, all close by, all with their own unique surprises.
WINTER IN WHIPPLEVILLE
One of the wonderful things about winter is Titus Mountain Family Ski Center. Minutes from Malone, in the heart of Whippleville.
Generations of families have learned to ski here. Some things have not changed, like the three mountains for all levels of skill, the popular Moon Valley night skiing on Thursday, Friday, and Saturday nights, and the terrain park and tubing slides.
What's new over the last couple of years is their Magic Carpet. This is now the way beginners go up the hill at Titus' Learning Center. It's like "magic" because almost anyone can use it, from newbies and small children to skiiers with special needs.
The recently renovated lodge offers a beautiful space where the whole family can warm up, fuel up, and watch the ski lifts go by from the giant view windows. On weekends, there's often live music and other fun events, like the recent Empire State Winter Games.
There's always a friendly greeting and a warm atmosphere, from the ungroomed wilderness trails to Titus Teddy's shack with snacks, near the end of the Magic Carpet.
But that's not all Whippleville has to offer. Snowshoe the trail down to the river at Bill King Memorial Picnic Area, or enjoy the scenery at Chasm Falls by the power dam.
For a full (and fluffy) day of cold weather enjoyment, look no further!
Find out more about Titus Mountain.
SPRING IN BURKE
If the feel of spring breezes makes us want to get out our bikes, Burke is a great place for easy riding, long vistas, and some pretty scenery. While this is a residential area, it has a very country-feel, with low traffic and lots of trees and water features.
Burke, because of its many streams and the age of the area (the first settlers were farming here from before the 1800s), has some meandering side roads and lovely little patches of nature. Starting Memorial Day weekend, there's a wonderful destination, the beautifully preserved Almanzo Wilder Homestead, which was the boyhood home of Laura Ingalls Wilder's husband, written about in "Farmer Boy."
There's plenty to delight along these routes. There can be the long vista of new leaves on a freshly planted field, but then, it can turn into a farm garden of mixed vegetables and flowers, or, just as quickly, one of the branches of Little Trout. Here there are wildflowers, and there might be an ancient apple tree, heavy with blossom.
The outlying areas of Malone have an incredible system of low traffic, but highly scenic, backroads -- reachable by car or via the wide shoulders of Route 11. Town centers offer snacks, water and coffee, and maps.
Find out more about Malone area biking.
summer in chateaugay
An amazing number of wild things can be found just a few minutes east of town. This little town has many features all its own, from the high tech of the North Country's only wind farm to the joys of fine musical instruments.
Worth the trip, all on its own, is the impressive Chateaugay Chasm.
It is part of a charming campground, but any visitor can pay the small fee and enjoy a system of river trails, stairways, and the landing pond of the falls. The trail goes down and up a series of staircases to reach the Chasm, but most of the trail is an easy river walk. Most hikers would be able to handle it within an hour.
However it is worth setting aside a whole morning or afternoon for it, since the forest is quiet and insulated from too many signs of civilization. There's a bench here and a discreet sign there, but the rest of the time, it is as though we are discovering this for ourselves.
There are more natural wonders in Chateaugay; there is a McCadam Cheese store, right by the factory. Fresh cheese curds (essential for that homemade poutine), a variety of other cheeses, locally made jams and honey, and many other edible items are available in the store -- as well as camping needs.
For the anglers in the party, there's the Fish Hatchery, and almost anyone can find something to love at Dick's Country Store & Music Oasis. Here are the four Big G's: Groceries - Gas - Guns - Guitars. Lots and lots of guitars.
Read our blog post about a Great Day in Chateaugay.
Fall in Fort Covington
Fort Covington is an excellent destination for a scenic drive. Combine interesting architecture with fall foliage in this little town which is big on history. The Salmon River winds through town, with scenic locations like the central bridge and Veteran's Memorial gazebo
Established in 1790, there are interesting stone houses, Victorian-themed stately homes, and vintage churches to create interesting backdrops for fall foliage. The roads lead through interesting back-country scenery and then join up with a major road again, making exploring a fairly simple task.
This foliage season starts early but can linger, late. Trees can be in full blaze while others nearby are done. This is an area of micro-climates and abundant water, which can make the trees vary in their winter preparations.
There's also considerable "small town rumor" of haunted places in Fort Covington. Perhaps it is the age of the town, perhaps it is the fallen hero who gave the place his name, but there are many evocative views and places for such a small area.
For every prosperous farm which pops up at a sudden turn, there seems to be another place, just down the road, whose glories remain in the past. And each one of them has a story.
Whatever the reason might be, this pretty place, so close to the border, yet with one foot in another world, creates a wonderful atmosphere for exploration, fall foliage, and a drive that will create a mystery at every turn in the road.
For the lowdown on the spooky rumors, see our blog post, Haunted Fort Covington.
Find favorite lodging. Seek out some great eats. Explore our many attractions.
---
In related ADK extra day news:
A microspike hike with a view.