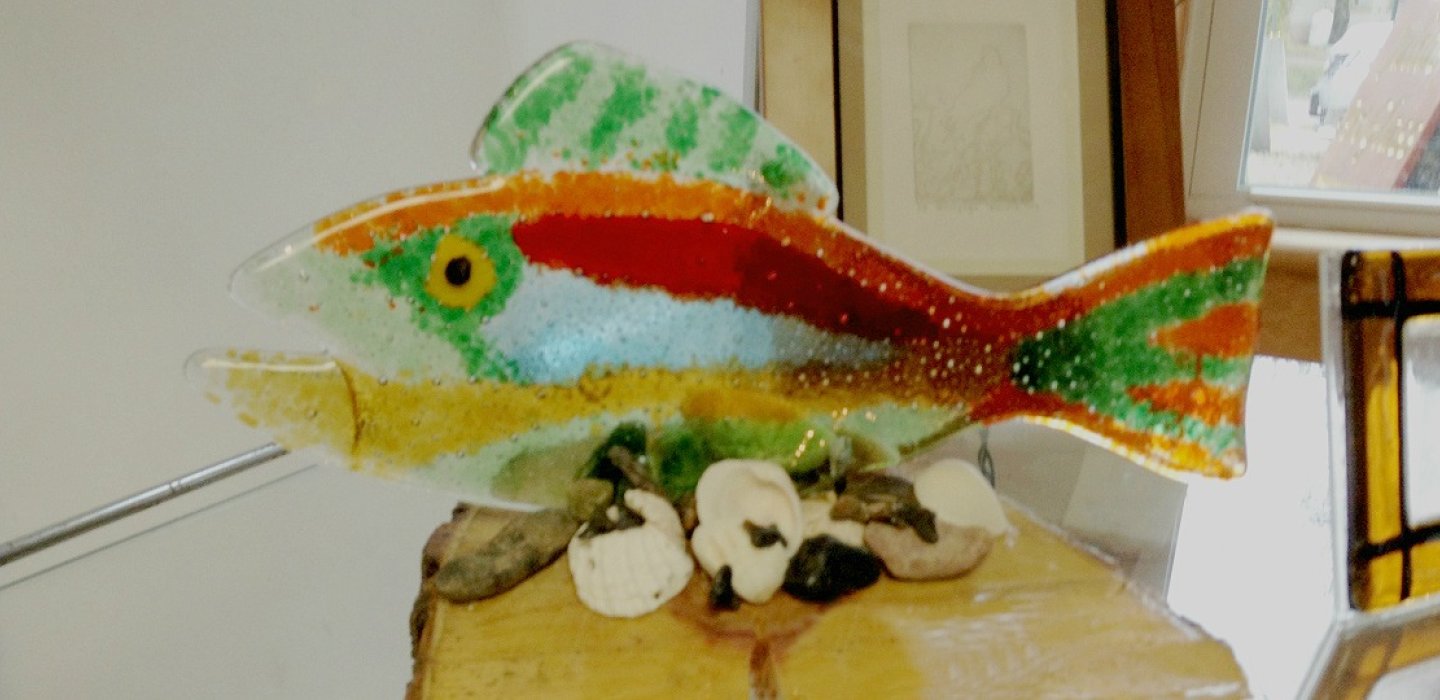 Recycled glass art: there's some words we might not expect to see together. But it turns out these three words are made for each other.
Julia Holmes has been a glass artist since 1990, but last year's opening of her gallery has created new opportunities for people to enjoy her amazing art pieces. I visited the North of Adirondack Artist Gallery in downtown Malone, where she has long walls, lots of good light, and a wonderful variety of artists and their work. I brought a friend who also appreciates art, and my husband had hopes we would help each other "exercise some restraint."
He's so cute. That is not what friends are for.
The first thing we learned was that, while she does a lot of layered pieces, she cannot just put any bunch of glass together. We had apologized for not bringing her any glass, and she laughed and said she actually has to pick her glass herself, by knowing which company manufactured it.
Different kinds of glass have different coefficients. There are many different kinds. The Shading Coefficient is about how much light a pane of glass lets through it. Coefficient of Expansion, or COE, is the most important for a glass artist. This is about how the glass expands as the temperature increases. Glass needs to have the same COE for predictable behavior. Mixing COEs leads to a cracked piece when it comes out of the kiln.
"Though I was once using a certain kind of wine bottle, and my friends kept coming around with their empties," she said. "All the ones I couldn't use sat out there with the recyclables. It looked like I was really hitting the Chardonnay!"
After choosing the right glass, or blends of glass, they need to be cut into the proper shapes for the piece she is planning. A glass kiln heats in a single layer from the top, while a ceramic kiln surrounds the clay objects from the sides. Glass kilns are designed this way because the whole point is that glass will be melting, and they are relatively flat compared to pottery pieces. With all heat radiating down, the surface of the glass is uniformly heated. Like matching COEs, this prevents cracking.
This piece-destroying cracking doesn't have to occur right out of the kiln. It can happen days or weeks later, when it is much more upsetting. Proper matching and heating keeps sadness to a minimum.
Julia also likes to use natural elements like leaves and animal skeletons. These become "ash shadows" when they are carbonized by the heat, and create a wonderful effect.
My friend was so captivated by this piece (above) she was really tempted to indulge. Seeing how tickled she was about it, I encouraged. While I had promised my husband I would be restrained, that doesn't mean I can't enable other people. (I am known as the Art and Kitten and Puppy Enabler. These are things I can't say "no" to.)
Another item is her big, bold, buttons, which she came up with after seeing someone with a big button on their felt hat. "I thought I could do that, and I did, and they are very popular. People who aren't hat persons put them on purses."
We were both really fascinated by Julia's Slump Shelf. These are vases made by letting glass melt over molds and forming new shapes. We agreed the resulting shapes made a wonderful holder for the votive candles that were displayed inside of the smaller ones, and how well the larger ones would set off displays of flowers.
Julia says she can't really plan a piece the way a painter can. The joy is the surprise. "You never know what you are going to get."
This is because glass is a wildly unique substance. It is neither a liquid or a solid, but something in between, known as an amorphous solid. It is not as organized as a crystal (like salt or sugar or quartz) and not as disorganized as liquids like water. So it holds its shape, but can be more easily nudged into flowing into a new one than the usual solids.
Julia says there is always suspense when the kiln cools down. Some pieces don't work out, and get tossed. She demonstrated with her hands: "Some get dropped... on purpose." 
This is because glass, like watercolors, can reach a point of over-procesessing. Just as a watercolor work reaches a point where it cannot be fixed, glass can be in the kiln one time too many and will have lost the ability to make new shapes. And making new shapes is the whole point of glass art. "I love to do free form, I let it make its own shape," Julia said.
After wanting to work with glass for many years, Julia got her chance when her husband signed her up for a stained glass class. But then the person teaching it declared the class was too large... and Julia did not make the cut.
This setback only made her more determined to continue, only now she would have to teach herself. She got the advice to buy tools and practice on window glass, and she has never looked back. Decades later, she uses all kinds of techniques, to make all kinds of pieces.
I was particularly captivated by the palm-sized pyramids Julia makes, with interesting things floating inside. Julia tells me she uses hardware cloth, furnace corrosion, rock salt, aluminum foil, copper wire, or glass paint; all things that can handle the considerable heat. The little elements added to glass are called "inclusions" and can vary widely, but must be a substance that does not hold moisture.
Even rocks hold moisture, and make poor inclusions. The moisture steams out of the items and creates unwanted effects on the glass.
Even though Julia has expanded beyond stained glass, she still makes pieces which utilize those skills. Classically, it was done with lead, but Julia says that she is a "copper foil purist. Lead sags." If she is going segmented, as in the pieces below, her favorite is black patina to outline, which "Makes colors pop! I want the design to pop out at the viewer."
"I was a little arrogant when I started," Julia confided. "I thought that since I'd been an artist for years, I could jump right in and do what I wanted. But my first attempts did not make me happy."
The key, she says, was changing her attitude. "I had to see myself as a novice in this new form of art. I had to let myself be comfortable starting from the beginning." By teaching herself, being willing to make mistakes, and letting breakthroughs come naturally, she began to "get the feel" of how glass wanted to be worked with, in its own special way. It has been immensely rewarding, and she is still working in glass, sixteen-years later.
"Art gives peace to the heart and soul," Julia says. I agree. That's why I talked my friend into getting the gorgeous piece she wanted. I picked up an adorable little pyramid for myself. Even my husband agreed that I, at least, had shown a bit of restraint.
But only a bit.
Choose lodging, dining, and activities to craft a getaway that is its own work of art.
---
This week in related ADK discoveries:
Unexpected things - in threes!