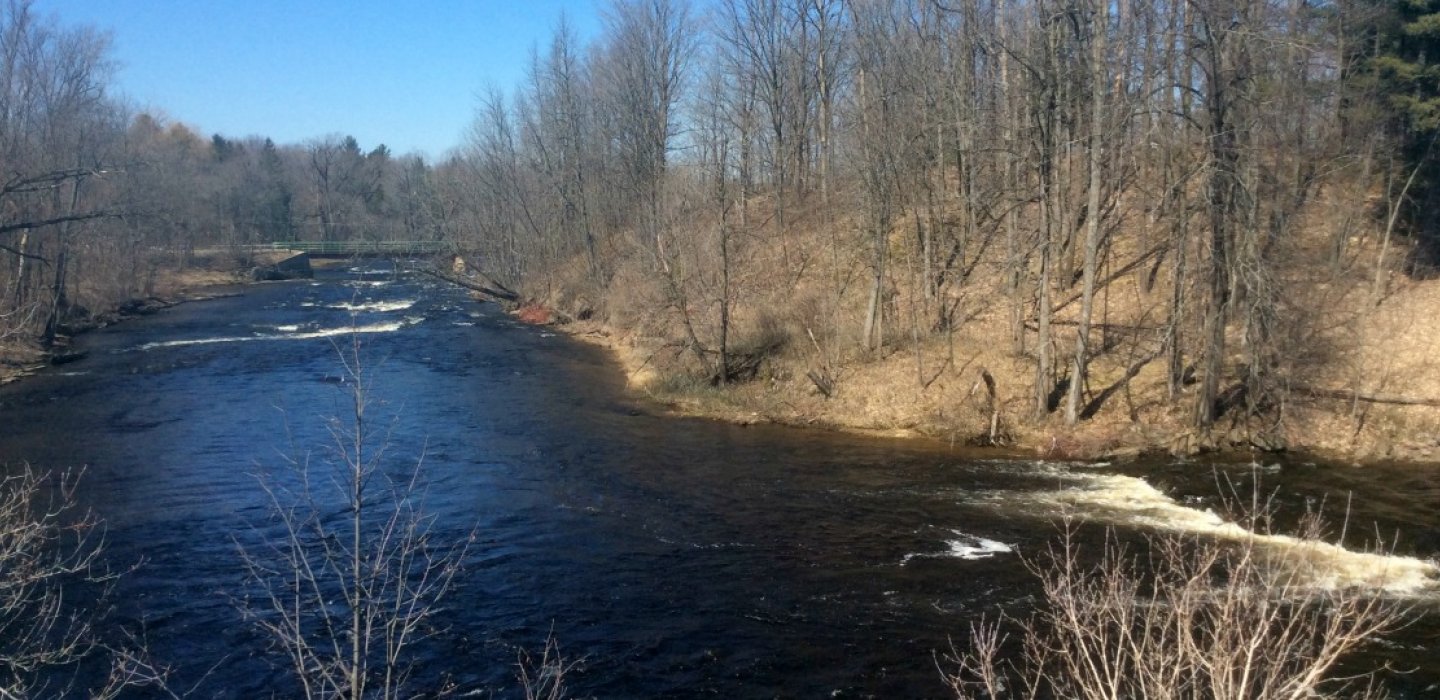 Malone is the river country, and there are so many ways to enjoy these living bodies of water. No matter what speed we wish to travel, there's a local, lovely, option to enjoy.
Rivers were civilization's first highways. Water powered the famous mills that ground the flour from wheat, drove the first factories, and provided food. It's no wonder Malone sprang up along the Salmon River.
Here's a spring season view from the Park Street Boat Launch in Malone.
spring is for whitewater
Our fishing season starts April 1st, and our rivers are stocked with trout from the Chateaugay Fish Hatchery. Malone is the center of an entire river network, with rugged, rocky bottoms and convoluted shorelines. Just the way trout, and trout anglers, like.
The NY Department of Conservation has designated access areas along all the major rivers. The Salmon, Chateaugay, and Marble rivers offer shoreline fishing in some of the most promising brown and rainbow trout habitat, while the Osgood River also has bass and northern pike.
There's also the spectacular scenic wonders of local waterfalls. Chasm Falls is roadside accessible, located in the scenic village of Whippleville, with its abundant river scenery. Try Chasm Falls Loop for a fine biking, or driving, loop.
Later in the season, experience the amazing Chateaugay Chasm, one hundred and twenty feet of waterfalls carved out of a rugged cliff. A 1.5 mile hiking path to the thirty-foot drop of High Falls, in the Titusville Mountain State Forest, is another way to enjoy the roar of falling water, and there are other, smaller, waterfalls to enjoy along the trail.
For those with a yen for getting up close and personal with the river, there's some fine whitewater kayaking.
The Chasm Falls section of the Salmon River is 0.5 miles long and has been rated as a class V+ section. Put-in (Latitude: 44.7457, Longitude: -74.22281) at the bend of the road below the falls on Route 27, and take-out at the intersection with Brick Church Road (Latitude: 44.75329, Longitude: -74.21701).
Lower Chateugay Lake to Cooks Mill is a 12.2 mile section through a deep gorge, ranging from II-V+ during normal flows. Put-in at the bridge at Cromp Road/Bunker Hill Road, (Latitude: 44.840774, Longitude: -74.041016) and take-out near the intersection of Hartnett & Healy Roads, (Latitude: 44.896343, Longitude: -74.086490) where the river slows and widens.
Route 374 to Cooks Mill is also class II-V+ along a 3.5 mile long section. Put-in (Latitude: 44.940296, Longitude: -74.080930) at the intersection of Marble River and State Route 374, and take-out is at the fork of the river (Latitude: 44.959087, Longitude: -74.130944).
summer is for camping
And swimming, and boating, and roasting marshmallows on a stick. Malone has a number of riverfront campgrounds, including the NYS campground, Meacham Lake. The lake leads to the Osgood River, which winds all the way down to Osgood Lake, near Saranac Lake.
It makes for a lovely scenic paddle.
Our riverfront campgrounds come with plenty of amentities, such as swimming areas, hiking trails, fire pits, and other great additions to a family camping trip. Get the children out among the woods and water and see them surprise us with their new attention spans.
If we don't have camping equipment, that's okay. Ask about camping cabins, which let us set up housekeeping as an inexpensive alternative to a hotel room, while not imposing a level of "roughing it" our family might not yet be ready for.
If we are serious about unplugging and having a leisurely good time at our own pace, it's hard to beat some form of camping. Sleeping under the stars, waking to the lap of water on the shore, hearing early morning birdsong, and immersing ourselves in nature's peace and quiet makes a combination that is hard to beat for real relaxation.
These days, we can even choose the level of civilization we can dispense with.
What is always timeless are the memories we create with family and friends. Without anything to distract us or compete with our attention, we can truly unplug in a way that is a real disconnect from our normal life.
In a place with no clocks or closing times, we can spend so much more time with those who are important to us.
fall is for foliage
If we are going to get some spectacular fall pictures, we can't go wrong getting some water in the viewfinder. The Malone area's many rivers form a thrilling frame for our colorful foliage.
Our corner of the country has the widest range of colors in the world. It's thanks to our special blend of deciduous trees, from the flaming reds of maple to the gold of birch and tamarack. This is set off by the contrasting deep greens of the evergreens. 
Rivers make a delightful frame for fall color, and bridges give us help with our search for lovely photos. They provide a long, clear, line of sight and an elevated area of view. Because of their effects on currents, there's usually turbulent water nearby. They make wonderful vantage points.
Rivers can hold the warmth of the day's sunshine, and let their nearby trees hold onto their fall color a bit longer. Because of the adundant moisture available to the growing tree, they are often the most robust, and brightly colored, specimens in the forest.
While still water allows us to create a symmetrical look, reflections are often darker. This can make the actual trees lose color saturation by contrast, especially on sunny days. Using a river as a backdrop adds a deep rich blue even on cloudy days, or a lively scattering of light from rapidly running waters.
Our rivers have lots of rocks, too. Whether we are bringing close a rocky shoreline or zooming out to center one of our glacial boulders in the shot, our rivers add texture and interest to the scene.
If we want excitement, long stretches of calm, or glorious, always-moving scenery, the solution is simple. We just add water.
Stop by one of our visitor centers and pick up your guide to the waters of the area. We'd love to tell you all about it!
Choose relaxing lodging. Enjoy local dining. Pick your next paddle.
---
Our ADK news is making a splash this week:
Cool canoeing. And kayaking, too.