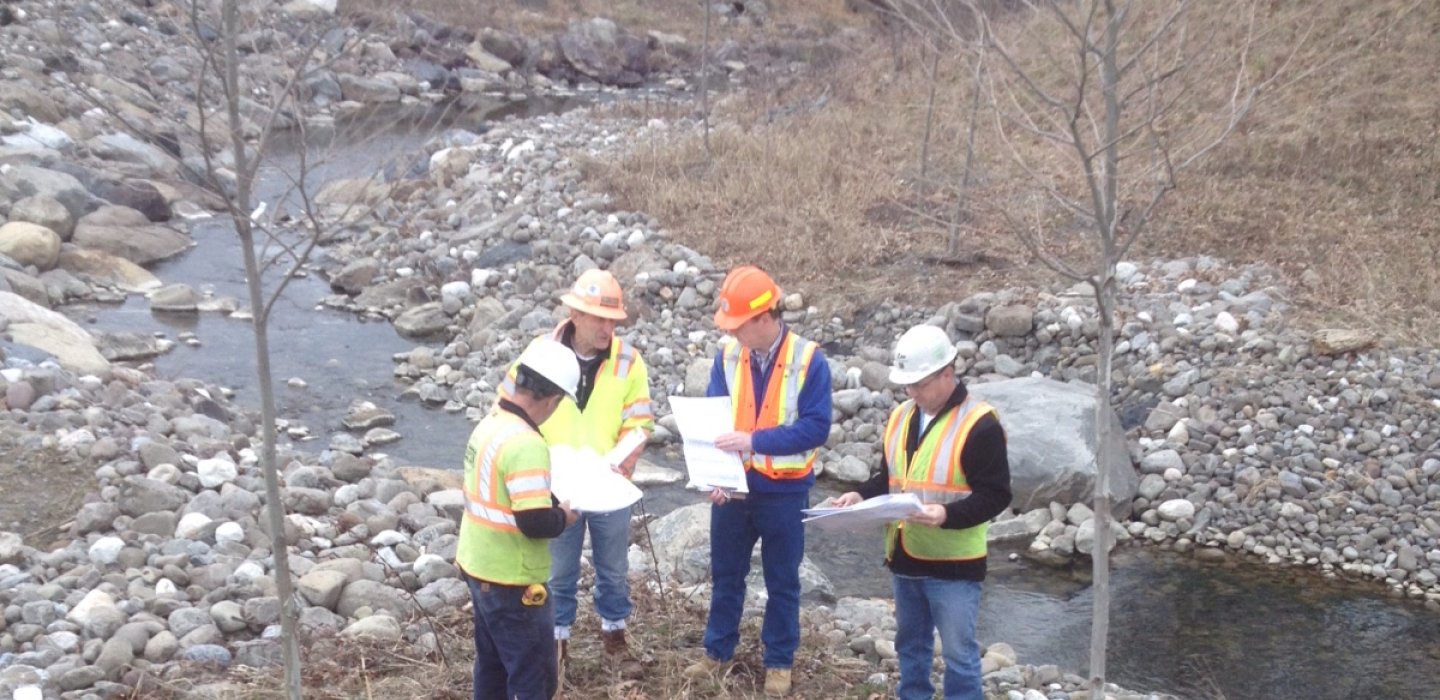 Malone, NY:  Franklin County to make final determination
on what is literally being hailed as a landmark decision.
For Release: Friday, April 01, 2016
Public Comments Sought On Draft County Permit Applications For Proposed Rerouting Of The St. Lawrence River
NOTE: The acceptance period for written comment submissions has been extended thru April 31.
The public is invited to comment on several permit applications currently under consideration by the New York State Department of Environmental Conservation (DEC), the Adirondack Park Agency (APA), and Ministry of Environment and Climate Change for the proposed rerouting of the St. Lawrence River and the subsequent secession of Franklin County, NY to the country of Canada. The St. Lawrence River is currently the natural, international hydraulic border between the Canadian province of Ontario/Quebec, and Northern New York State.
The proposed rerouting of the St. Lawrence would follow the southern Franklin County line effectively moving the whole county into Canadian ownership. Or territory, as the case may be. 
---
The APA has reviewed the proposed rerouting of the mighty St. Lawrence at their monthly Agency meetings under Executive sessions until the go-ahead for public release was granted by Albany and all due credit was given to NYS Governor Cuomo. According to APA staff, the routing would now bring the southern shoreline of the river into their jurisdiction as the northern border of the Adirondack Park. The APA staff had been overheard expressing their exuberance in having many new lunch options available to choose from during their field visits near Malone, i.e. Taco Bell, Burger King, KFC, etc. once the Park is expanded northward.   
Barry Clogged, Commissioner of the Adirondack Park Agency, voiced his dismay that Franklin County was staged to move north. "We would happily have welcomed Franklin County and Malone into our jurisdiction. If they were looking to shake things up, they could have formed an alliance with us, the largest publicly protected area in the contiguous United States. We have awesome regulations already in place, and we could certainly have made up new rules for our northern neighbors to adhere to. Heck, we could even pick and choose which regulations we recognize and enforce, no big whoop. But, they never asked. No one ever seems to want to hear our recommendations anyway. Whatever." 
Clogged went on to explain that, "Thanks to this southern movement of the St. Lawrence, we will now control the international waterway ports into and out of the Park and I understand the fishing is ah-maze-ing. So, actually, thanks Franklin, seems like an APA win afterall. And everyone knows the APA doesn't have very many public wins to brag about." 
Some items the APA was considering and, quite frankly, couldn't wait to sink their teeth into include: having distinct zoning districts within the river corridor where development regulations would govern minimum river widths, depths, amount of motor boat usage during migratory bird activity, turtle safeguards essentially closing the river down during periods of gestation, and, of course dictating the required number of trees lining the shore. There are also design standards regarding the "look and feel of the river" purposefully left open to interpretation. 
Governor Cuomo's office has made it clear that any boats traversing the river will be required to adhere to Adirondack Park regulations regarding color and appropriate political affiliation including campaign contribution minimums.  
In addition to strict APA regulations, DEC maintains the authority to review applications for specific permits and approvals. These include a Water Quality Certification, a Protection of Waters permit, a Water Withdrawal permit and a Freshwater Wetlands permit for state-protected wetlands and adjacent areas that will be affected by the rerouting. DEC spokesperson has provided off-the-record comments indicating his confidence that the public input would be whittled down by the APA and they would be free to do as they please completely unfettered. 
---
A preliminary focus group meeting was held at Mo's Pub & Grill during an apres-ski gathering on March 17, 2016. Attendees were generally in good spirits and ready to embrace the proposed move. There was positive feedback as county residents discussed their northern neighbors' friendly attitudes, higher alcohol content, and lack of Trumpian politics. One Malone resident joked that he could now stop building his proverbial ark and "happily just take advantage of all those awesome Canadian perks legally." While another young lady remarked, "Thank goodness it's only a river and not a wall - could you imagine how hard that would be to get through to go shopping?"
While the general consensus was positive, there were a few differing views among the crowd. A Titus Mountain spokesperson who wished to remain anonymous expressed mixed feelings on the proposed secession of Franklin County to their northern neighbors. "While we have always been delighted with our Canadian visitors -- they're so darn polite, eh? -- we also covet our title as Northern New York's beloved family-friendly ski resort featuring night skiing. I don't know... this is a slippery-slope we're riding. Will we still have as much appeal if we are deemed Canada's southern-most ski resort?" she questioned. 
"Actually," Titus Marketing Manager Bitney Trailer chimed in, "Now that I think about it, Americans love to travel abroad, and this might appeal to their adventurous side. Maybe we can market ourselves as the friendliest ski resort you need to have a passport to visit. Man, wouldn't it be cool if we could straddle the river? 'Ski Two Countries In One Day' - I can see the marketing plan already! Plus, their new Prime Minister is a real-cutie -- I bet we can get him and his family down for a weekend visit and photo shoot. 'Ski Prime Territory!' Yeah, this could definitely work."
Golf Malone representatives seemed to have landed in a bit of a trap themselves. One well-known Malone Golf Club Pro was heard stating, "We've worked for years to earn top ratings as one of the 5 premier courses to play in northern NY. I'm not sure we want to start putting from scratch all over again, I don't think we have enough free space on our scorecards to add in all of the necessary 'eh's' to comply with their language." The Malone East Golf Club manager agreed, "I mean, come on, even our website states, 'Outstanding Northern Greens Await' -- Northern. Not Southern. Not Canadian. Northern. Will golfers accept this new distinction? Obviously we'll still have our picturesque landscape, natural air-conditioning, and plenty of amenities. But will we still be able to proclaim we are On Par with the best if we're Canadian? I'm not sure how that even translates into English."
As expected, the Malone West Golf Club manager disagreed with his eastern counterpart, "I think this move will be great for international relations. We have always attracted the Canadian market as we're such a short drive to the border. It seems only fair that it's their turn to claim our award-winning greens. Now instead of sinking time at the international crossing, golf enthusiasts can spend their mornings sinking balls." He went on to state, "It's not our fault the rest of NY wasn't smart enough to think of this move. I have always been pro-Canada -- hell, haven't you ever tried poutine?"
---
Comments will be accepted on the permit applications from April 4, 2016 to April 31, 2016.
Comments may be submitted via email through midnight on the April 31.
In addition, DEC in conjunction with the APA and the country of Canada, will hold themed public meetings/mixers to allow people to provide verbal and/or written comments. The meeting schedule is as follows:
Titus Mountain - Monday, April 4, 2016, 8 a.m. "Why work when you can ski, eh?"
Donovan's Steak & Ale - Tuesday, April 5, 2016, 12 p.m. "CAN beer sampling - get to know your new brews."
Malone Golf Club East - Wednesday, April 6, 2016, 2 a.m. "On Par for Canada!"
The meetings give the public a chance to voice their opinions on the river rerouting as well as discuss any concerns about the positive effect of becoming a Canadian citizen.  All comments will be given the same consideration as those comments submitted throughout the rail trail corridor debacle. Eh.*
###################################
---
Now Trending in the ADKs:
New Champlain Bridge vehicular restrictions
DEC announces new ADK Scat Challenge
Schroon Lake to reinstate prohibition laws
New Wilmington business causing quite a splash
Public invited to Xtreme Golf Course grand opening
---
*The preceding story is fabricated in celebration of April Fools day, popular for the commission of good-humored practical jokes of varying sophistication.