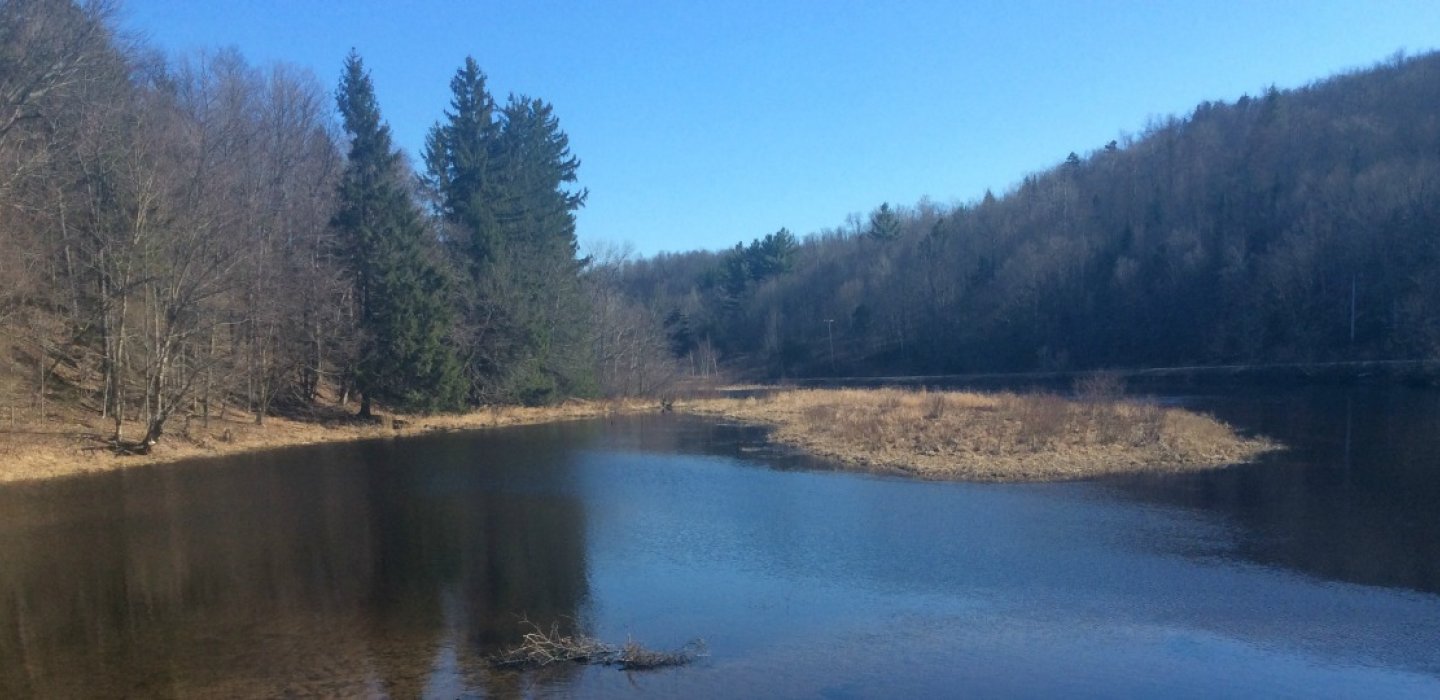 In the Malone Region you'll find a fine network of roads to explore by bicycle. Bridges criss-cross the land, offering wonderful photo opportunities throughout this river country. For history buffs, it's fun to discover traces of the early settlers of 1800 and beyond. Historic sites and homes dot the scenic countryside.
To find out the best ways to explore via cycling, I headed for just north of Malone, on Route 37. This is the home of Fredericks Bikes & Kayaks.
Their motto is, "Let's go play outside!" They back it up with a great selection of all kinds of interesting conveyances.
MEET FRANZ, CHARM ON WHEELS
The delightful proprietor, Franz, was happy to show off the cycling possibilities. The large parking lot in front of the building provided a safe way to try out the various wheeled options he had to offer. I didn't know there were so many ways to wheel around.
Franz immediately went to his favorite, the electric bike. "Is that what I think it is?" I asked. "A way to get help on hills?"
"Yes!" he said with enthusiasm. "I need a little more help lately."
The battery on the back is fully charged for rental purposes. Franz pedaled around the parking lot to show it off, pointing out the motor, which detects need, and helps out if so. "So you don't have to think about it?" I asked.
"That's right! Just have a good time. Here's another great bike for touring around, the recumbent bike."
I had heard about the recumbent bike, and seen them in action on popular biking routes. Franz said it was especially good for people with bad backs, or other joint issues. The ease of sitting down, and having the back to push against, demonstrated this bike's special qualities.
But it was the next item he showed me that made me fall in love.
A pedal scooter. I didn't know they existed, but the moment I saw them, I knew my husband was in serious danger of hearing about how much I wanted one. Then I rode it around the parking lot and knew -- somehow, we had found each other.
"You can keep one foot on it and ride it like a scooter, but then use it as a stepper and it's kind of like a bike, too," Franz said as he steadied me on the WingFlyer. It was a little different as the tires are small and yet I was standing. I had never ridden a scooter, even as a kid, but within a minute or two, my confidence on it reached a high point.
"Don't forget the brake," Franz called as I headed back towards him. Okay, this thing is officially thrilling me.
where to go, what to see
Fredericks is also ideally situated to explore the countryside north of Malone. Directly from the parking lot, we can head north, towards the Man Homestead Loop, with plenty of river views and a look at the Man Homestead.
The Man brothers, Albon and Alric, settled in 1802, and are some of the "founding fathers" of the area. They brought friends and family along with them, and contributed to the creation of Malone, Chateaugay, Burke, Bangor, Constable, and Fort Covington. Later, they were to serve as officers in the War of 1812.
At one point this area of Westville was famous for a sulphur spring In the northeastern section, like the more famous spring at Massena. In the nineteenth century people were more dependent on preserved food, which lost some of its nutritional value from being stored. Soaking in mineral water was beneficial to many conditions caused or aggravated by malnutrition.
While this spring was on the way to becoming famous as a destination, times changed. Medicine made advances, and the idea of soaking in warm sulphur water became a little less appealing. It does smell like rotten eggs, after all.
This ride will be near Lamika Lake Loop, to explore more lovely river scenery. This route goes past the dammed up section known as Lamika Lake, and much of the road follows the river.
Another great ride is south of Malone, to the tiny town of Whippleville. Chasm Falls Loop is another great river ride, with the marvelous site of Chasm Falls being a lovely destination that is almost at the half-way point, making for a fine lunch area.
Expand the ride with a side trip to Brick Church, Teboville, and Trail Roads, taking Brown-Benoit Road north to a stream crossing. A short hike down the stream, to the east, will lead to a lake.
Explore the towns
All of the small towns surrounding Malone are great places to ride.
The town of Burke, on the eastern side of Malone, is the home of the Almanzo Wilder Homestead, an early 19th century farm which was the birthplace of Laura Ingalls Wilder's husband, Almanzo. It is now a popular attraction, with a fully restored home, rebuilt outbuildings, and a period schoolhouse.
The roads surrounding the homestead are low traffic and have many small bridges over stream crossings, country vistas with barns, and lovely, pocket-sized, wild areas. See our suggested route, the Wilder Homestead Loop.
North of Malone, Fort Covington has a whole townful of sweet little side roads, with abundant bridges to cross over rivers and streams, and sweeps of farm country snugged right against the Canadian border. There are a few ruins and reminders still around from the War of 1812, which was a very big deal in these parts.
It also has a reputation for spooky happenings. See our blog post, Haunted Fort Covington.
Chateaugay is east of Malone, a charming village with a cheese plant store for meals and snacking, the moving scenery of the windfarm in its midst, and a Fish Hatchery.
Of course, there's the extraordinary Chateaugay Chasm. See our blog post, Great Day in Chateaugay.
The Dickinson area has Amish farms and farmstands. While the main road (Route 11B) has narrow shoulders and lots of traffic, it is an excellent choice for driving to an interesting spot, parking, and taking the bikes down the many rural roads in search of scenery.
Whether we bring our bike or succumb to a sudden impulse to head off on a pedal scooter, visit Malone. We have the low-key biking and mix of interesting sights that is just right for a family outing.
Choose lodging off the beaten path. Delight in our dining. Discover more of our cycling routes.
---
The Adirondacks Spring Into Action this week:
Top tips for 3 cool activities
Chips to meat to dehydrated drinks
Easy storage steps for winter gear