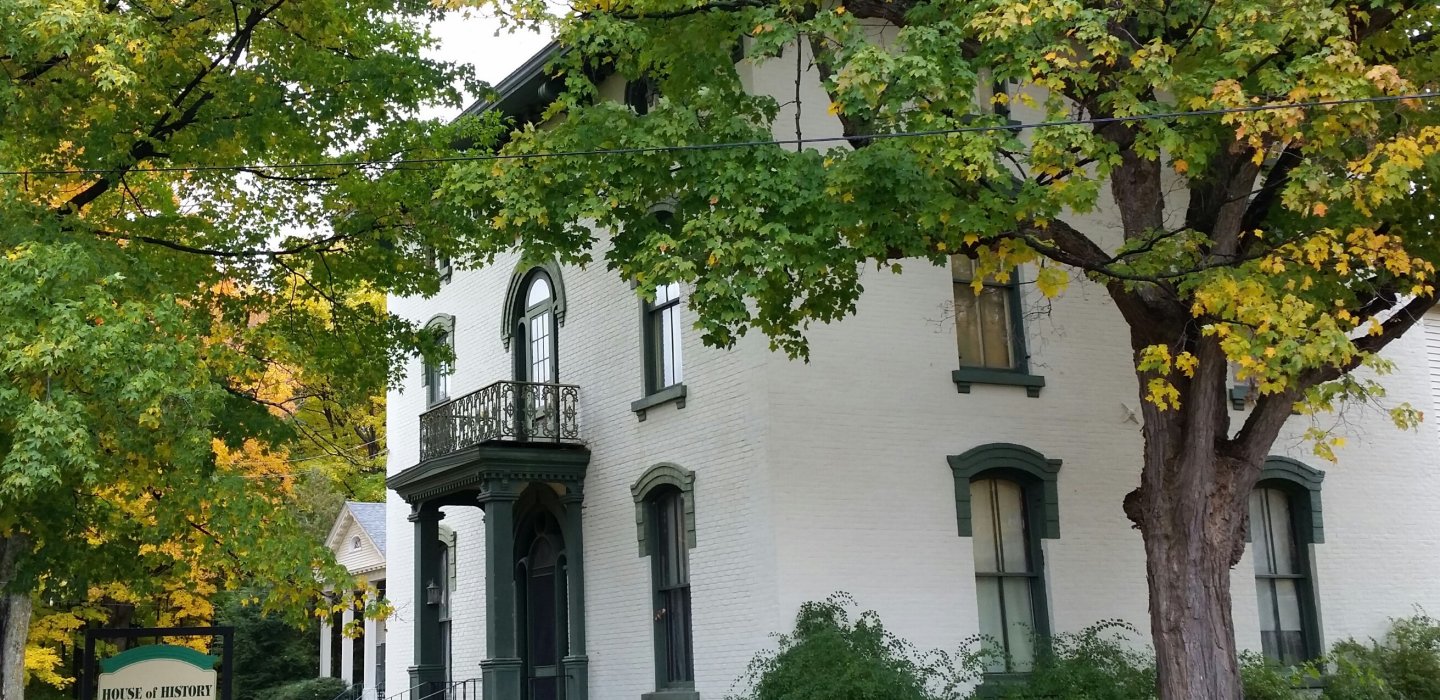 History is alive and well at the Franklin County Historical and Museum Society. They were first chartered in 1903, so some of their acquisitions have been "hands on" as history happened all around them.
Their home is now in a Civil War-era mansion, downtown. In 2008 the carriage house behind the main building was renovated into a research and archival area, popular with researchers and genealogists. For history fans, it's a treasure trove of interesting things.
period decorating
The area was once a giant land grant known as Chateaugay, a name which lives on in the original town near Malone's eastern edge. This was a lively place during the War of 1812, but once relations settled between the combatants, these broad and fertile plains attracted both farmers and early industry. The abundant water sources made the area an excellent place for mills and foundries.
To grasp how fragile history can be, I'll quote the librarian of the archives, saying: "We don't have much from back in the 1820s. No one required anyone to keep records at that time."
It was certainly a much less... organized... era than the one we live in now.
While the downstairs of the House of History is furnished in the style the home once offered its prominent residents, the upstairs has been made into exhibit rooms from earlier eras. While paper is fragile, a muffin pan from the same time period could be used today. This advantage, from a time when "disposable" was an unknown concept, lets the historic society create a former time with much attention to even fine details.
The museum hosts local school tours, and they can demonstrate weaving, spinning, broom making, and everyone's favorite, candle making. "We have people bringing their own children," our tour director told me. "They tell us how they still have the candle they made when they were in elementary school."
Early manufacturing was much simpler than it is now, often being home-based, right on the farms where the materials were grown. In earlier times, farms were not unique to any one place, because so many people farmed. But in upstate New York, even with the challenge of shorter growing seasons and deep winters, farming became a powerhouse which attracted advances in industry and transportation.
Star of the North
With the development of local railroads, and being the seat of Franklin County, Malone rose to prominence, becoming the "Star of the North." It was once known not only for agricultural achievements, but also the abundance and variety of its commercial ventures.
Sheep grazed in the fields, becoming the wool industry that made mills like J. G. Ballard world famous for the quality of their fabrics and clothing. Fields of hops towered over both people and buildings, supplying the growing domestic, and huge overseas, beer industry. Local butter, apples, and what became known as New York cheese filled markets from the town itself all the way down to the White House in Washington D.C.
Even today, there is an amazing number of buildings, both home and commercial, that are still in use, covering eras from the Civil War to the Victorian. A great many "painted ladies" can be seen on the Historic Walking Tour, restored to their original, and delightfully colorful, glory.
Malone was also a center of education. They had the Franklin Academy, and the only School for the Deaf in the entire area. For fans of Laura Ingalls Wilder, the museum also has papers, letters, and memorabilia from her, since her husband, Almanzo Wilder, was born and grew up in the nearby Almanzo Wilder Homestead.
People often think of the past as a "simpler time," but many things that are simple today certainly were not in the past. There may have been music in the parlor and fine dresses on the ladies, but getting ready for that party involved the gentlemen making their own shaving soap and ladies washing up without running water.
It is such details, often overlooked when we study history in school, which fascinate me in museums. In the House of History, no detail is too small, no aspect of history considered trivial. A fine velvet sofa and a humble cooking utensil both have their place.
on the world stage
Malone, and New York's, prominence led to many local folks having their own impact on history. William Almon Wheeler rose from a poor local child who lost his father when he was young, to being a prominent politician, known for his fine ethics and his term as Rutherford B. Hayes' Vice President.
Having read about him, and knowing his influential career, it was a real thrill to behold the top hat he wore at the inauguration ceremonies. It even had its own traveling case.
Of course.
When I attended their annual Christmas tea, the first floor was decorated for the holidays and there was a display of holiday ornaments. Now, they are readying this same display space for the artistry of local quilts, both historic, and recent.
Yes, I sipped tea from fine china, but I also lingered in the kitchen, imagining the water being boiled on the woodstove. My grandmother had grown up baking the family's bread in a woodstove. She learned to know what temperature the oven was by holding her hand inside of it, and gauging the product's doneness by how it smelled.
That doesn't seem like a simpler time to me.
One section of the museum is a country store exhibit, and also a country store itself. Though they don't use the antique cash register for that, having a more modern sales function for actual purchases. There's also a bookstore with interesting books about the whole area. They range from stories of the local folks who rose to fame to a memoir of growing up in Fort Covington in the 1950s. Of course, there's still a lot of talent in the county.
The Franklin County Historical and Museum Society embraces the whole county, too, not just Malone. Explore this breadth and richness for an amazing experience.
Summer hours start June 1st: Tuesday through Friday from 1:00 pm to 4:00 pm. The Schryer Center for Historical and Genealogical Research is open by appointment. Interested volunteers are always welcome!
We have historic and modern lodging to choose from. Explore our dining choices. Explore more of our nature and history attractions.
---
This week in related ADK news: