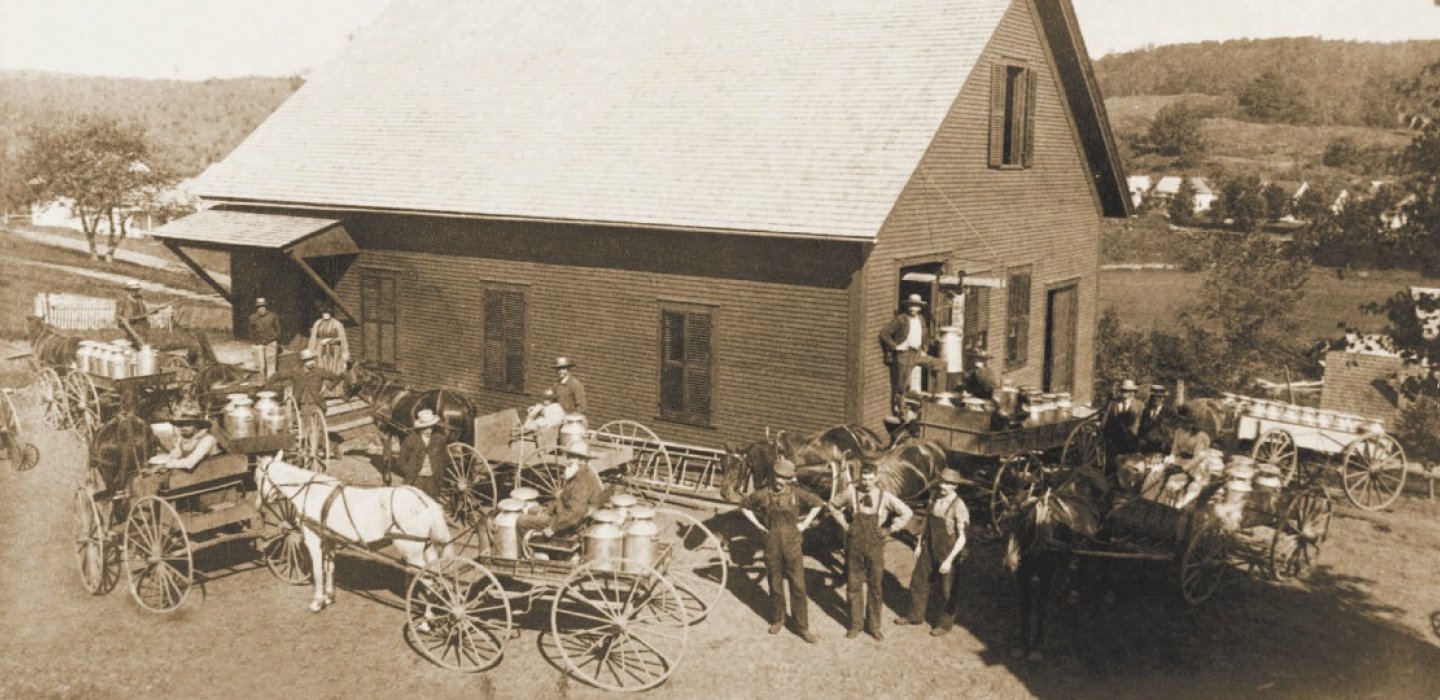 Cheese has been important in the North Country since the earliest settlers. Cows, sheep, and horses all enjoy grazing on the abundant grasses. The development of the railroad terminus in Malone meant milk could be swiftly shipped to markets. Before such an innovation, there was cheese.
Lots and lots and lots of cheese.
Cheese has been important throughout human history, and beyond. Cheese's invention is so old that we have no idea when it appeared. It was connected with early peoples who herded grass-eating animals which could be milked. Which was many people in many places.
Cheese was not only delicious, it could be kept for a long time. Before refrigeration, that was its own big deal.
LOCAL CHEESE HOUSES
When transportation was slow and subject to weather, a dairy farmer needed to get their milk to the cheese house right away, before it spoiled and ruined a morning's labor. This was another advantage of the North Country cheese operations; the cooler temperatures gave them more of a margin.
There were creameries and cheese houses in every town. This is another instance of how upstate New York has more in common, geographically and culturally, with New England than with the more southern parts of New York. The farming practices and traditions were easily transplanted from colonial areas in the 1700s to the surge of population along the Canadian border after the War of 1812. With land deeds protected by law, and armed disputes settled, these areas became very attractive to new pioneers of the early nineteenth century. With abundant water power provided by the many rivers, early industries began to flourish.
Dairying was one of the first operations established in the towns of northern Franklin County. The economic boost of cheese became even more important when their wares were able to reach a greater market, thanks to the opening of the Erie Canal in 1825.
Goods could reach much farther than before, and consumers had more choices. This increased exposure led to New York cheese becoming what is now known as a "brand." To promote New York cheese, a farmer named Colonel Thomas Meacham went big.
THE VERY BIG CHEESE
Big cheese was no stranger to American culture. In 1802, the Cheshire Mammoth Cheese journeyed from the town of Cheshire, Massachusetts to President Thomas Jefferson's White House. It weighed in at 1234 pounds, was four feet wide, fifteen inches thick, and was made with milk from every cow in town.
Perhaps inspired by this incident, Colonel Meacham upped the stakes with the milk from 150 cows from his farm in Sandy Creek, NY, which is down Route 11 in Oswego County. A cheese press had to be built especially for it. It had 24 staves for each state of the Union at the time, and had a hoop made of hickory, in honor of "Old Hickory," President Jackson's nickname. These efforts resulted in a 1400-pound cheese which was two feet tall, four feet across, and eleven feet around.
Colonel Meacham was quite the showman. The giant cheese (accompanied by somewhat smaller cheeses from towns along the way) set out in November of 1835, journeying in a special wagon bedecked with flags and drawn by forty-eight gray horses. Hundreds of followers trailed the wagon for a procession which reached a mile in length. The wagon headed west to Port Ontario, to be loaded on a series of boats, displayed in New York City, and then back on various ships to arrive at its destination on New Year's Day, 1836. President Jackson accepted his cheese from Thomas Meacham himself, and gifted Meacham with twelve bottles of wine from the cellars of the White House.
Sounds like the beginning of a fine weekend.
For all of 1836 and the early part of 1837, the giant wheel of cheese was in the Vestibule of the White House, available to any visitor who wished a slice. President Jackson declared Washington's birthday, February 22 of that year, his "last & only public day," according to a letter he wrote, inviting essentially anyone who could come to eat his cheese, which he referred to as "my large cheese, presented by my friends of the state of N. York."
I like sharp cheese, but I imagine this was quite the specimen of aged cheese by this time.
The correspondent of the "New York Express" described the scene thusly:
The court, the fashion, the beauty of Washington, were all eating cheese. Officers in Washington, foreign representatives in stars and garters; gay, joyous, dashing, and gorgeous women, in all the pride and panoply and pomp of wealth, were there eating cheese.

Cheese, cheese, cheese was on everybody's lip and in everybody's mouth. All you heard was cheese. All you saw was cheese. All you smelt was cheese. It was cheese, cheese, cheese. Streams of cheese were going up in the avenue in everybody's fists. Balls of cheese were in a hundred pockets. Every handkerchief smelt of cheese. The whole atmosphere for half a mile around was infected with cheese.
It took two hours for the crowd to polish off whatever was left of the giant wheel. This was quite the marketing triumph for New York cheese.
In 1838 after President Van Buren took occupancy, Senator John Davis' wife, Eliza, wrote in a letter that:
The White House has been put in order by its present occupant, and is vastly improved - (Van Buren) says he had a hard task to get rid of the smell of cheese, and in the room where it was cut, he had to air the carpet for many days; to take away the curtains and to paint and white-wash before he could get the victory over it.
LOCAL CHEESE STILL GOING STRONG
Well, perhaps not as strong as the famous Jackson cheese. Just ten minutes from the heart of Malone, in the charming little town of Chateaugay, the New York cheese tradition continues, at the McCadam Chateaugay factory. Since 1934 they have partnered with local farms for their cheese plant production.
The company continues to make fine cheeses, including fresh cheese curds sold on the premises in their company store. These are a friend of mine's absolute favorite kind, and she knows her cheeses. When I am in the neighborhood, I have to stop and get her some.
Even if we don't love cheese curds the way my friend does, the store is a great place for all kinds of snacking, camping, and farm needs. There's always something interesting there.
Of course, to everyone who loves it, cheese is still big. It's only the packages that got small.
Find some fun lodging. Explore the dining. Visit the McCadam Cheese Store. Explore the town with ideas from our blog post, Great Day in Chateaugay.
Details on the Meacham cheese from the post "Cheese: From Sandy Creek To The White House" on faithfulreaders.com. Eliza Davis letter quote from "Andrew Jackson's Big Block of Cheese" from mentalfloss.com. Background photo of a British cheese, created for a World Cheese Sculpture entry, which weighed 1322.77 pounds -- not even the size of the Jackson Cheese. (Courtesy DailyMail.com) Unless otherwise noted, all photos courtesy McCadam Cheese.
---
This week in ADK farm and mountain cuisine: