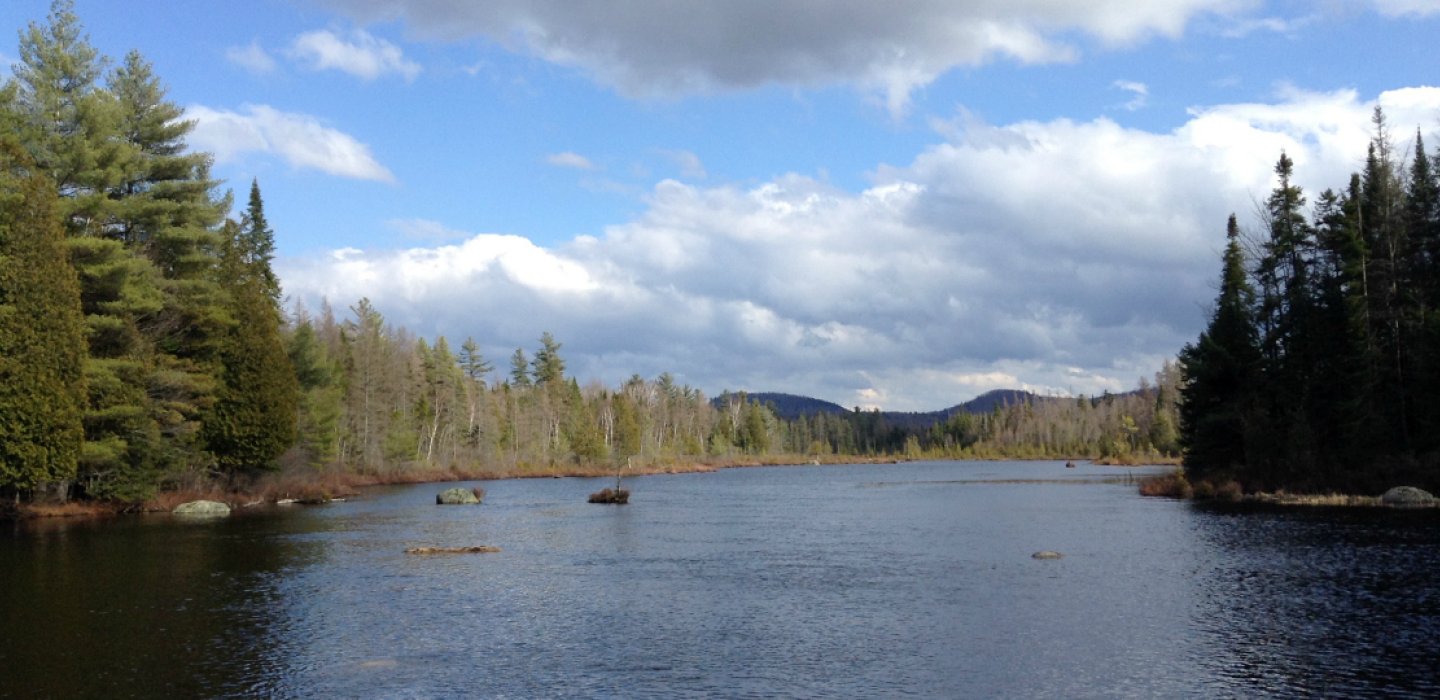 Malone is a great gateway to adventure, and this is especially so on a bicycle. There are broad byways, lovely little paved country roads, and stunning scenery along our many routes.
Let our bike take us to spectacular vistas and incredible photographic opportunities. We can go off-road to explore our many forest trails and discover hiking, waterside, and climbing opportunities along the way.
It doesn't matter what kind of biking experience we are seeking -- from rugged mountain trails to long highways through the Adirondacks, we can have what we want.
scenic byway
If distance is our game, we have an incredible route from the center of Malone to the Paul Smiths Visitor Interpretive Center, a 31.4 mile, one-way trek. Route 30 is a designated scenic route, also known as the Adirondack Trail, which offers wide shoulders, many interesting stops, and a delightful destination.
As we leave the downtown area of Malone, heading south on Route 30, the wide plains with the mountains in the background become shorter, bringing the mountains closer. That is what we are heading for.
Duane is the town which marks the beginning of the Adirondacks and the landscape transition now speeds up. The prior part of the route is where we found some stand-alone convenience stores, but once in the Adirondacks, such stores are found inside the towns.
Now we pass Deer River Flow and a small parking lot for part of the Meacham Lake Campground. Both of these are wonderful photographic and rest opportunities right off of Route 30.
Barnum Pond is a particularly accessible pond, both from the road, and just a little ways further on, as part of the hiking network at the Visitor Interpretive Center. This system of trails (free admission, donation suggested) gives access to an incredible variety of Adirondack environments. Marshes and bogs, with conifer and mixed hardwood forests, support birds, land and aquatic animals, a great range of mushrooms and tree fungi, and rare wildflowers which bloom in few other places.
We can climb the observation platforms, enjoy the scenic outlooks, and discover the 900 foot boardwalks which protect the delicate vegetation. Each trail offers slightly different wonders, and there is even a mountain, Jenkins, if we feel like climbing for a nice view.
There are art galleries and a natural history museum, with a wonderful Great Room and deck. From the Center, it is possible to follow Route 30 all the way around the Saranac Chain of Lakes, through Tupper Lake, Long Lake, and Indian Lake, and wind up leaving the Adirondacks through Mayfield.
There is often a hot dog cart open at the intersection of Route 86 and Paul Smiths College, just down the road, while Gabriels, the next town along 86, has a breakfast and lunch diner with a large convenience store.
Looking for more long rides? Try the Chasm Falls Loop, a 21 mile scenic loop with a choice of return routes and a spectacular waterfall feature. If that's appealing, ramp it up. Take Route 11 for 13 miles to arrive at Chateaugay, and explore its many wonders, including the 120 foot Chateaugay Chasm waterfall. For more ideas, see our blog post Great Day in Chateaugay.
easy cruising
It's hard to pick a favorite, but if we are biking with children the Wilder Homestead Loop offers low-traffic roads with bridges, summer gardens, and the Almanzo Wilder Homestead, the birthplace of Laura Ingalls Wilder's husband. His parents were James and Angeline Day Wilder, and he was born on the family farm February 13, 1857. The book describing his childhood was "Farmer Boy."
This famous farmhouse is the only Wilder site with the original home in its original place, along with reconstructed outbuildings and a period schoolhouse. There are tours every hour and plenty of fascinating history.
The country roads here in Burke are quiet and easy to pedal along, with gentle hills. There are many side roads which are quiet and have sweet little scenic features.
The Trout River, and its tributaries, flows through this area, and it is easy to find a bridge over a stream crossing. This is always a refreshing spot to stop, take pictures, and enjoy the burble of the water over river stones.
Untouched countryside has a way of popping up just minutes from Malone's bustling downtown. There are many small towns within a 10-minute drive of the town center, each with great places to ride, each with interesting little features of their own.
There are many farm roads surrounding the small towns that offer wonderful rides down very low traffic areas. The flat countryside does not challenge young riders, and the long vistas can have some incredible views for the grownups.
Other great "country road" rides are Amish Country Exploration and Man Homestead Loop.
rugged trails
There's plenty of mountain biking fun to be had with the Sheep Meadow Biking Trail. This 7.2 mile trail (there and back) is mostly an easy trail with just a few hills for a challenge, and is considered to have a difficulty level of beginner/intermediate.
This is a fun mix of truck trail, horse trail, and hiking trail, with a wooden bridge and bonus lean-tos.
This trail was created to exercise horses, and there is still a horse shelter at the end of it. But it is also a wonderful introduction to the Debar Mountain Wild Forest. This is 122,100 acres open for exploration that is a well-kept recreation secret. It includes Deer River Flow, Debar Pond, and Meacham Lake to cover paddling and fishing needs, too.
This path can lead to the quartet of climbing known as Cherry and Little Cherry hills, along with Star and Square mountains. Just be aware that there are no sheep, and no cherry trees. But there are lovely views throughout, especially from the summit of Star Mountain, and a variety of terrain to experience.
Look for the foundation where the fire observer's cabin used to be. Debar Mountain makes for a nice hike, with its views of Azure Mountain and Deer River Flow to the north and west, while on the south side, there is Jenkins Mountain (part of the Visitor Interpretive Center's hiking areas) and St. Regis Mountain, known for its own commanding views. We can spot Mt. Morris over by Tupper Lake.
These are only three routes of the many possible places to explore and discover. The road can be a way of getting to a great destination, or a journey in itself.
However it may roll.
Pick the perfect lodging. Dream of delightful dining. Explore all our biking trails.
---
This week in related ADK biking news: