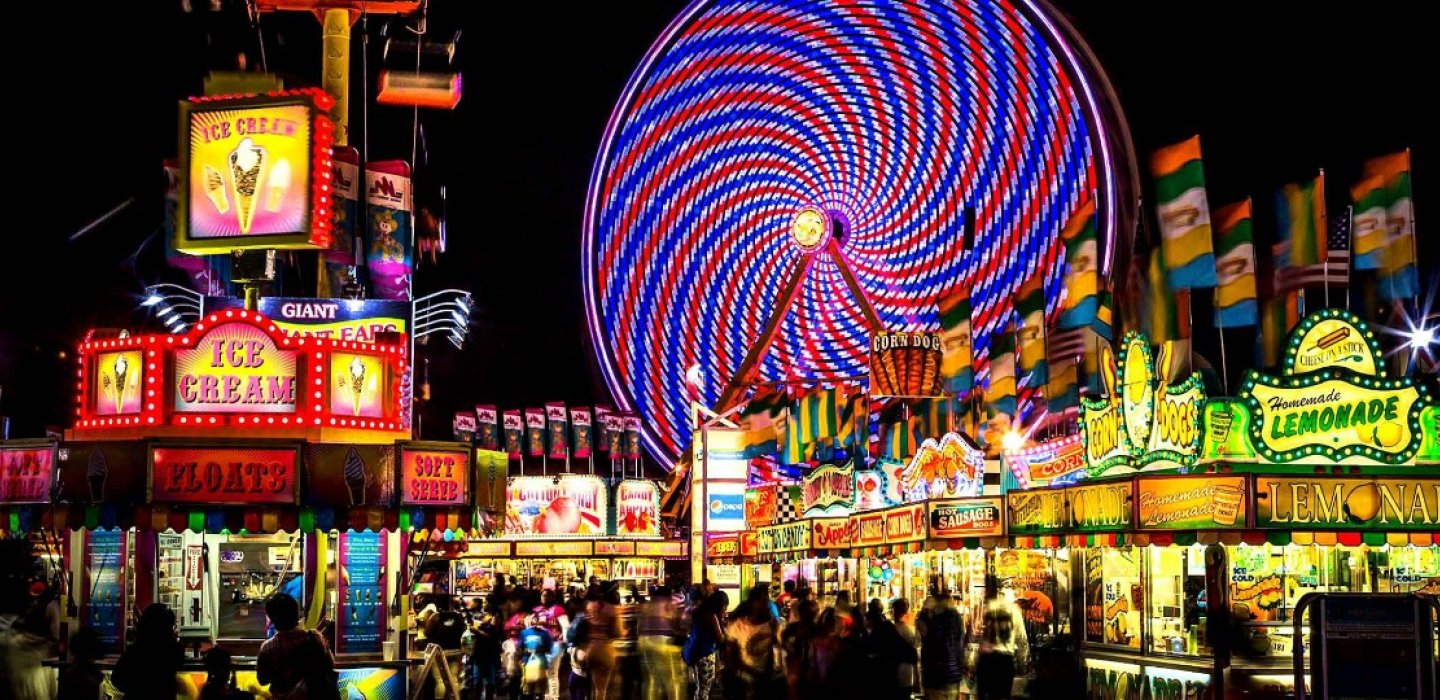 When I say "county fair" to a lot of the people I know, they respond with: "Cotton candy! Sausage grinder with onions & peppers! Funnel Cake! Pete's Pulled Pork Nachos!"
Maybe the people I know are hungry. But it's more likely that a lot of favorite food is only available at the fair.
We all know what cravings are like when they have to last all year.
an agricultural tradition
Since 1852 the Franklin County Agricultural Society has put on that fine American tradition, the Franklin County Fair. In the Laura Ingalls Wilder book, "Farmer Boy," this same fair is lovingly described as Almanzo wins first prize for his milk-fed pumpkin. In the 1870s, there were far more people spinning their own wool, making their own harnesses, and churning their own butter.
But the quilt, cows, jams, and pumpkins are still competing in the present-day fair. Fair Food has also changed a great deal, but one item is still going strong: fried dough.
How old is it? How about ten-thousand years old? Early pottery shows signs of being used to fry dough, which explains a lot about the appeal of this multi-faceted food. Topped with sugar, filled with nuts and jams, shaped into doughnuts and crullers, or put on a throne and called Napoleon; it's all special stuff.
The form most identified with fairs is probably funnel cake, which early German immigrants spread across the North American continent, starting in the 1700s. Batter is poured into hot fat through a funnel, creating the distinctive swirly shapes that offer extra crispness and places for toppings.
At its simplest, fried dough is simply that, as in this pared-down recipe:
2 cups flour
2 teaspoons non-aluminum baking powder
2-3 teaspoons butter
3/4 teaspoon salt
3/4 cup lukewarm water
Mix the dry ingredients, and then add butter with a pastry cutter, or two knives, making a crumbly dough. Let sit for 15 minutes for the leavening to do its work. Divide into eight pieces and roll to a width of about five inches. Use a 10-inch skillet and fry in 2 cups of vegetable oil (or the traditional lard) at 375 degrees Fahrenheit for one minute on each side. They should puff up nicely. Drain on paper towels and top with powdered sugar.
For funnel cakes, the equipment needed is a heavy 4-quart stockpot, a 1-cup funnel, and a richer batter -- a bit thicker than pancake batter -- containing eggs and milk. We can even go with yeast doughs and wait around for it to rise.
Know what? It's so much easier to go to the fair.
stuff on a stick
So it's not a stick, it's a paper cone. It's still one of the original Fair Foods: cotton candy.
Dentist William Morrison and confectioner John C. Wharton joined forces in 1897 to invent the cotton candy machine. They hit spun gold at the 1904 World's Fair with their "Fairy Floss." They sold an astonishing 68,655 boxes for a quarter a piece, which is about $7 a box today.
Few things have changed since. The price has gone down quite a bit, and in 1949, mechanical problems with the early machines were solved by Gold Medal Products of Cincinnati, Ohio, who added a spring base. The flow of Fairy Floss has continued, uninterrupted, ever since.
Can we make cotton candy at home? There are recipes out there, which include instructions for working in a non-humid environment, covering the floor with newspaper and trash bags, covering utensils with sprayed-on vegetable oil, and soaking the cooking pans and bowls for hours to get the sugar off. The results are crunchy, not airy.
So I would say: no.
Of course, we can put almost anything on a stick and deep fry it, and many modern fairs compete on this basis. But this fair sticks to deep-fried Oreos from Paul Walbridges stand, a signature dish.
Ice cream and pickles and butter, even pig ears and bubblegum and scorpions; they have all been battered and fried. Let's admit some of these things are not good ideas, okay?
Okay, the Fat Elvis On-a-Stick, which combines peanut butter, chocolate, and bacon, in banana batter -- I could see that working for me. But seriously:
Just because we can deep-fry something, doesn't mean we should.
hometown favorites
The Glazier's Red Hot Dog has been a Malone Mainstay since 1923, and they are still proudly made right here in town. While they have a whole line of sausages and pickled foods (all of which will be available at the Fair) it is their natural casing "red hot dog" that is their greatest claim to fame.
It is an essential element of the one-of-a-kind Michigan, an upstate NY food which has as many theories of origin (and as many heirloom recipes) as there are fans. It must be built on an oversized top-sliced bun with the hot dog as a base, and then topped with a thick sauce made of hamburger, tomato puree, and a mix of hotly debated spices. It is then simmered for hours and spooned over the hot dog. Onions and yellow mustard are allowed, but add anything else, and it's not a Michigan.
What distinguishes a Michigan from the common chili dog is the sauce: it never contains beans, and cheese is not an allowed topping. Yes, these rules are stringent, but that is what makes them so indelibly etched on the minds (and stomachs) of our citizens. Most of the ice cream stands in the North Country will dish up their own house Michigan, but the County Fair Michigans have that little something extra.
Another Fair mainstay is Frenchy's Fried Dough, welcoming hungry customers for the last 38 years. With eleven different varieties, we are sure to find a favorite. Mikey Joe's will be starting their forty-first year at the fair -- they are the poutine source. They premiered their Italian poutine last year, who knows what they might spring on us this time?
Because that's the other thing about Fair Food: it is a total sensory experience. The thrilling vista from the ferris wheel during the day, the bright lights at night, the fun companionship, and the excitement of the crowds; all combine to make the food more than simply something to eat.
It's the fun of childhood and the silly little tickle of the unusual. It can't really be made at home and it only comes once a year.
It's Fair Food.
Find a great place to stay. Explore other dining. (If there's any room left!) Keep track of our fun events.
Michigans courtesy Serious Eats & Ridiculous Food Society of Upstate New York
---
This week in related ADK trail mix news:
Meals worth making the trip for
Something fishy along the Coast