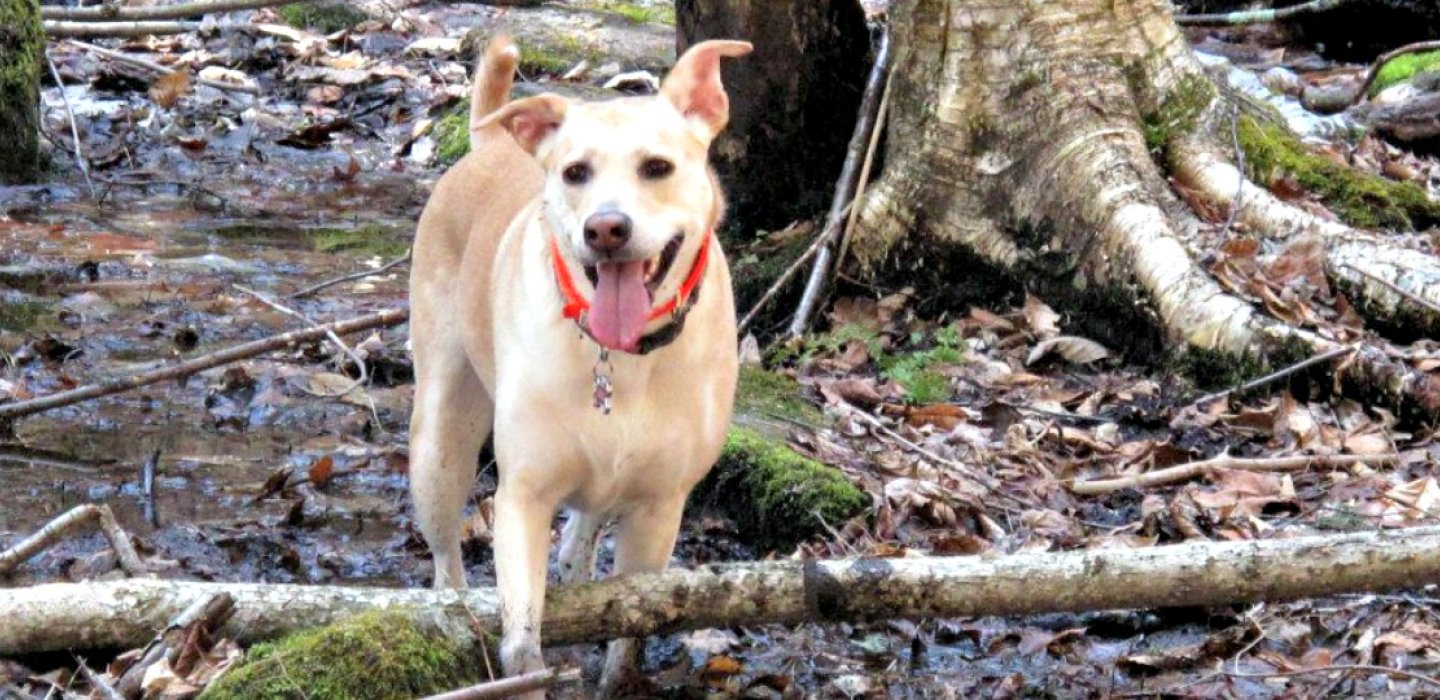 Bring the doggies! We have wonderful places for them to do their favorite things. These are things their humans like to do, too.
Dogs love to be with their packs, smell new things, and discover interesting places. While our dogs' noses are much more sensitive than ours are, we want them with us and it is so much fun to explore with them.
We can bring our dogs on vacation, with a few precautions, like carrying plenty of water for them and making sure they get enough exercise, Keep them on leashes, clean up after them, and we will find our dogs are welcome in many wonderful places.
let's go for a walk!
Malone has fascinating buildings in its downtown, which is not that far from the Malone Memorial Recreational Park. This section -- south of East Main and north of the large Recreational Park -- lets us take our dogs from urban sidewalks to a stretch of deep woods and back again.
Architecture and history buffs must take the Historical Walking Tour. Malone's downtown neighborhoods have "painted ladies," a church which was a station on the Underground Railroad, and an interesting pair of octagonal towers. This route offers easy side trips that return to the main streets. 
The River View Loop has three river crossings, while the Elm Street Triangle Loop features the stately homes of yesteryear. These neighborhood walks have many beautifully kept homes from Malone's growth period as the "Star of the North." The legal, medical, and railroad professions contributed plenty of investment in imposing public buildings and impressive private homes.
Another great option is to explore the trails at Malone Rec Park. This is a fine destination for any family outing -- just minutes from downtown, yet a world away. There's an extensive set of playground equipment, swimming in the summer, a pretty lake, and two miles of trails throughout.
There's a paved Rec Park Loop, which is a mile long and starts at the Duane Street Pavilion, over the bridge. Expand this trail by adding on the Pinnacle Rec Trail, a mile of easy walking through the woods.
Taking Shears Road north from the Arsenal Green takes us to the short and scenic Macomb Trail,  which features Lake Lamica by the dam, which can expand into the surrounding area. Find these routes and more by downloading the Malone Walk-Bike Guide (PDF link.)
Taking Duane Road south toward Whippleville leads us to the Bill King Memorial Park, marked by the many grist stones from the mills of the area. Park in the designated area and follow a quiet woods trail through the forest and along the river.
There are a number of different, intertwined trails to choose from. A little further south is Chasm Falls, which is only a small parking lot from a dog's point of view, but a spectacular tumble of water from a human's viewpoint.
let's go for a run!
Our big dogs might long for larger spaces, and we might too. If our dogs have a habit of stopping at every tree, they might be really surprised at how many trees we can show them.
Continuing down Duane Road/Route 25 from Bill King Park and Chasm Falls, we come to the trailhead for High Falls near Titusville Mountain. This is an easy hiking trail with a number of small falls until we reach the 30-foot specimen at the end, a mile and a half down the trail. It has many interesting rock features, too.
There's a number of fine hiking trails within a half-an-hour drive south on Route 30. Elephant Head leads to a fine view. This 3-mile round trip has a trail that looks like a rugged road, and beware. It is very rugged for a vehicle; for humans and dogs, it is a wide and pleasant trail to a little peak.
Meacham Lake State Campground lets day trippers in for a small fee, and then the complex and its many trails lets us enjoy this amazing section of the Adirondacks. There are even canoe rentals to take our dog on a scenic tour. Just make sure they know "sit" and "stay."
Of course, if they have any water dog in them, our canine friends will want to go for a swim.
Almost at the intersection of Routes 30 and 86, just north of Paul Smith's College, there is the Visitor Interpretive Center. This complex of trails are some of the most scenic in the area; 25 miles worth, through every Adirondack environment there is, with the exception of high alpine.
Pick up a trail map at the desk, and see how the many trails interconnect. The clearly marked intersections let us map out a hike of any size or scenery. The trails are well-graded, mostly flat, and have many interesting features, such as a 900-foot boardwalk through the boglands, wooden bridges over streams, two-story observation platforms, and many Leopold benches for relaxing.
This family-friendly hiking complex has a Great Room with a deck, an art gallery, and a natural history museum with an amazing butterfly house. Bring lunches for everyone (pack it in and pack it out!) and we can revel in this wonderful place for a whole day.
Treats for everyone!
If we ask our dog where they want to eat, they will say "Bokie's!" Or they would, if dogs could talk.
There are many wonderful ice cream stands in the North Country, but this classic 1950s drive in has one advantage over all of them when it comes to our four-legged best friends: They make ice cream just for dogs.
They laughed and said they would serve it to humans, too, if the human wanted beef-, chicken-, or bacon-flavored ice cream. (Mmmmm. Maybe bacon.) But their special flavors, which vary all the time, are made with our canine companions in mind.
But don't be sad; Bokie's has lots and lots of things humans like, such as soft-serve ice cream, hard ice cream in exotic flavors, and so many shakes and sundaes there is a separate ice cream menu to fit it all in. There are all kinds of hamburgers and sandwiches, different types of fries, onion rings, and other drive-in goodies.
The homemade lemonade is my own favorite after a day of discovery.
As seen above, Buck the Saint Bernard highly approves of their hot dog flavor. Now that's an endorsement.
Good boy! Good girl! Who's a good doggie who wants to explore the North Country?
If dogs could talk, they would say, "We do!"
Find some pet-friendly lodging. Explore more dining. See all our interesting hiking.
---
Dog days in the ADKs:
Year in the life of an ADK dog