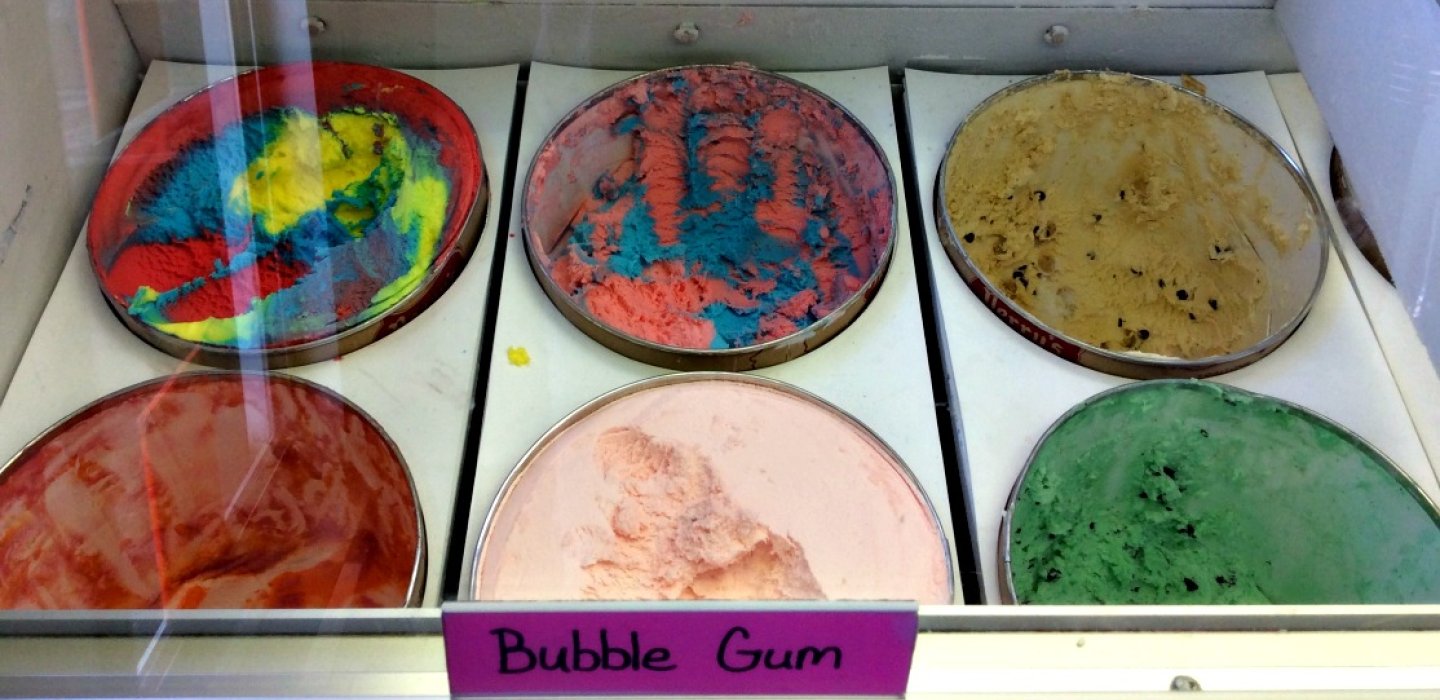 Summer ice cream stands are a North Country tradition.
One sure sign of the season heating up is the opening of these varied approaches to the art, usually with outdoor seating and a casual menu. Despite the simplicity, there is some fine eating to be had. They have a passionate local following and often, secret recipes.
Of course, there is always ice cream for dessert. Or as our lunch. Or our dinner. It is the season for it.
Harrigan's
Harrigan's is a local favorite which has specialities like Monkey Treat Flurry: rich vanilla ice cream, banana, hot chocolate dip, and nuts. There's Milkshake Mondays, where $2.99 gets the milkshake of your choice. Have it with their Rodeo Burger: topped with American cheese, onion rings, bacon, and BBQ sauce.
There are deep-fried cheese curds and homemade potato chips. There is poutine.
It's a nice drive out from nearby Chateaugay (once in town, take a right at Depot Street) and then on out into the pretty countryside for a couple of miles. Once there, a nearby lake makes for a pretty view from the pavilion, where clusters of picnic tables and a playground means we can enjoy our meals a little longer while the young ones have fun.
It's quite the varied menu here, with all kinds of grilled and fried entrees, fun sides, and an elaborate, separate, soft-serve ice cream menu. The hot fudge sundae was almost big enough to share. Except I would urge any companion to get their own, because I really like hot fudge sundaes. This one was delicious, with a great balance among all the ingredients.
Harrigan's boasts they serve the "biggest portions in the North Country." So be sure to arrive hungry.
It is a great meal spot for a fun day out which could include Chateaugay Chasm and the MacAdam Cheese & General Store, down the same road as Harrigan's, but in town... Find out more with our blog post, Great Day in Chateaugay.
Molly's
Molly's is a fun little place right next door to Leonard's Cherry Knoll Restaurant on Route 11, just minutes east of Malone. They only do ice cream, but they do it so well.
They have a soft-serve flavoring system with flavors I have not encountered before. These are beads of flavoring which are added to the soft-serve and allow for more exotic flavors, like green apple -- the one I chose. It is like the flavoring over a sno-cone, only beaded over the outside of the vanilla ice cream.
They also have hard ice cream in different varieties, the snow cone in a cup known as a slush puppie, and a wide variety of toppings for building a custom sundae. I always like a mix of hot fudge and marshmallow, but Molly's makes it difficult to choose.
Like Molly's little stand, the eating area is small. But it has been placed away from the traffic on Route 11, it is shaded, and overlooks a stand of trees. I found it a pleasant place to enjoy my green apple ice cream cone.
Which I had in a cup since I can't eat the cone. (This request is apparently so rare the attendant just didn't hear me make the distinction.)
Mmmm. The green apple flavor really worked with Molly's rich, creamy, vanilla soft-serve. I will have to come back and try more flavors!
This is the closest stand to the Almanzo Wilder Homestead, the birthplace of the hero of "Farmer Boy" and Laura Ingalls Wilder's husband. Burke is also a great place to take a bike ride.
Linda & Mike's
Linda & Mike's Ice Cream & Gift Shop is a delightful spot just off downtown, overlooking the Salmon River. Their outdoor eating area has the best view of any of the stands!
There is fried dough (with different toppings including maple cream), fried pickles, and poutine. On Friday's there is spaghetti.
They cheerfully served me up a tasty burger, with no bun, and golden fries. I ate that first, then went back for ice cream, which was also really good. (Pro-tip: make these separate operations to keep the food hot and the ice cream cold.)
They also serve Michigans, as well as regular hot dogs, BBQ meatballs on a bun, and nachos. The soft-serve ice cream has the traditional vanilla and chocolate (which can be twisted together) but also the Flavorburst system, with many other flavors beaded through the ice cream.
There's also indoor seating in their Adirondack gift shop, which has funny signs, figurines, candleholders, and other Adirondack-themed merchandise. I always find something there that is just right for someone I know.
Linda & Mike's is a short walk from the downtown Book Warehouse, which is how I first found it. Also walkable from Pouring Light and North of Adirondack, which are fun art galleries.
Bokie's
The most elaborate of all the area ice cream stands is Bokie's, which calls itself a "full service drive-in diner." Here, time has not quite stood still, but the only thing missing is the car hops.
There is poutine.
There's a full casual menu with fun touches. One day I had a Reuben Burger, with swiss cheese and sauerkraut, and Thousand Island dressing on the side. Which, it turns out, is good as a french fry dip, too. I always add vinegar, which is in bottles on each table -- because Bokie's agrees that this is a great combination.
In addition to a full menu of hot sandwiches and classic sides, they have an equally extensive menu of drive-in ice cream specialities. There's two sizes of thick shakes, a wild selection of sundae concoctions, and a case full of hard ice cream in exotic flavors, as well as the classic soft-serve, which can be twisted with either chocolate or black raspberry.
I do have a weakness for black raspberry. (They also have gluten-free cones.)
There's many pink picnic tables in their outdoor seating area, and indoor seating has booths upholstered in that classic glittery plastic. The tops are even wilder; each one has a theme of a particular year of the 1950s and '60s, with newspaper items from that year embedded under the table's clear coating. A great conversation starter, and sure to startle the children. "See, there were only three television channels back then..."
Walk up, drive through, or place your order at the counters inside to have a server bring it to your booth.
Bokie's has free popcorn to nibble on while waiting, and both indoors and outdoors there are carnival cutouts for pictures, or life-size carboard standups which let us pose beside Elvis or Marilyn Monroe. Bokie's believes in good food and good fun.
Of course, we all do. Which is why there's something to love in all of these great ice cream places.
Choose the just-right summer lodging. Expand the menu to all of our dining. Visit our interesting attractions.
---
This week's ADK scoop: