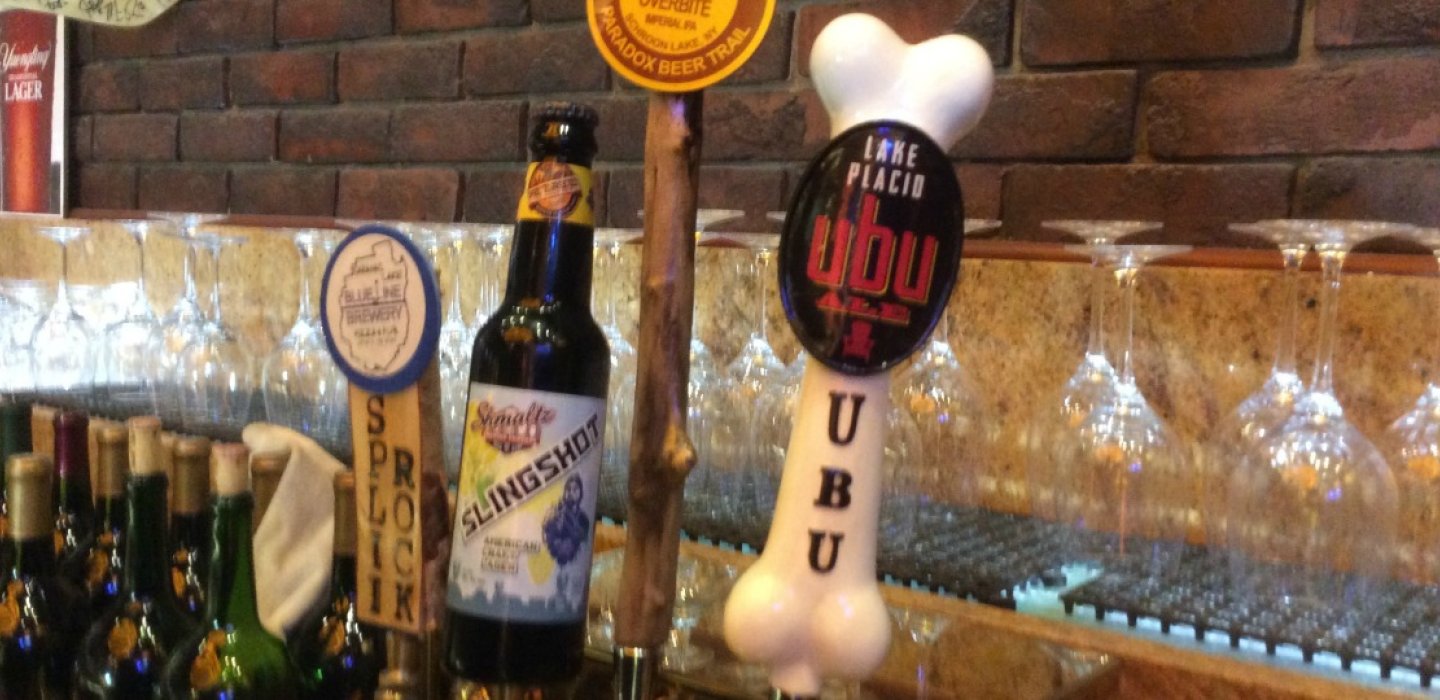 Malone was once a capital of hop growing. Now this tradition lives on in local restaurants, which offer some of the finest local brews on tap.
A draft beer system is the choice of our craft breweries. It makes for a fresher product, which also has a more authentic taste. Draft beer is not altered by the heat of the bottling process, or by pasteurization, so the beer's most delicate flavors are preserved for the discerning imbiber.
Each of the featured breweries have made it easy to recognize favorites by creating a distinctive handle on the tap. Here's where to start!
thrilling choices
There's a brand new tap system at Sticks Sports Bar & Grill, the sports bar and cafe at the Akwesasne Mohawk Casino.
This resort has deluxe lodging, a wide range of gaming, a spa and pool, and four different dining establishments -- from quick and casual to fine dining. Sticks is somewhere in between, with cute little booths and several flat screen TVs. The menu has inventive sandwiches and many appetizer-type choices, along with a range of entrees.
Why is it called Sticks? Because it has lacrosse-themed decor throughout!
Sticks offers four draft choices, as seen below, and two of them are very local. On the far left is Blue Line Brewery's Split Rock, and on the far right is Lake Placid Brew Pub's flagship brew, Ubu.
The dog bone that marks Ubu honors a patron's dog at the Lake Placid Pub & Brewery (1 hour and 15 minutes away, to the south). Ubu was a big chocolate labrador retriever who was friends with everyone at the Pub. This is their flagship brew, an English-style strong ale described as "deep garnet red in color, with dark fruit and roasted malt flavors."
Blue Line Brewery (one hour to the south) is in a former car wash in Saranac Lake and is coming into its fifth year of operation. Their Split Rock Ale, following a tradition of naming their beers after Saranac Lake landmarks, is an English mild ale. The friends I took to sample it raved about this beer. They reported it was "a bit on the hoppy side, and yet without bitterness."
Sticks is open whenever the casino is -- 24/7 -- with the menu changing as the meal occasions do, from breakfast to late-late snack.
fun on tap
Mo's Pub & Grill is becoming a popular local gathering spot, with its inventive menu, sports bar in a glassed-in section, and a very attentive and friendly wait staff.
They are the 2016 Poutine Contest winner with their unique brisket poutine. This Canadian national dish is traditionally french fries topped with cheese curds and gravy, but Malone eateries love to come up with their own take on it. I brought a poutine fan friend to Mo's, and she absolutely swooned over this one.
One of the things I love about the place is the abundant booths, which make for a great time out with friends. It gives us a bit of privacy, even when it is busy there. They also took the step of giving their bar area a lower noise level with glass panels and walls.
The drafts on tap include Ubu (look for the dog bone). The Lake Placid Pub & Brewery has a considerable reach because their beer has won so many awards: locally, nationally, and even internationally.
It has also been shipped to the Clinton White House after campaign aides tasted it and took some back as a gift. It comes highly recommended with beef dishes.
Mo's serves lunch and dinner daily, 11 a.m. to closing time.
Fine dining, fine selection
For a more formal occasion, Donovan's Steak & Ale is open for dinner from 4 p.m. onward. This fine dining establishment also has a booth at the Franklin County Fair, where they offer a prime rib sandwich known as the "The Artie," which is named after Donovan's father, Art.
They also organize periodic food and beer pairings.
A recent such dinner led to them featuring Livingood's Chasm Cream Ale on tap. You can see the tap below, in the center, with the half-circle top and multi-colored surface. The brewer describes it as "an old world style with a new world twist."
This variety is dry-hopped with citra and cold fermented for a fresh and fruity aroma, which finishes smooth and creamy. I asked about which foods it went with and the owner said, "It basically goes with anything. Burgers, sandwiches, salads, steaks, etc."
Having dined at the Livingood's Brewery (a bit over an hour east), I can testify to the sounds of delight my friends make when they drink this brew. Donovan's also knows how to make the most of summer, as one option is their outdoor patio, which is surrounded by greenery for "al fresco" dining.
Delightful.
Sadly, my having to be gluten-free places most beers off limits to me. As a sympathic beer fan said to me recently, "the gluten free beers aren't any good."
But that leaves plenty for the rest of the area. Enjoy!
Chose the right lodging. Discover all of our dining. See all we offer for recreation. Work up a thirst!
---
What's brewing in the 'dacks this week: