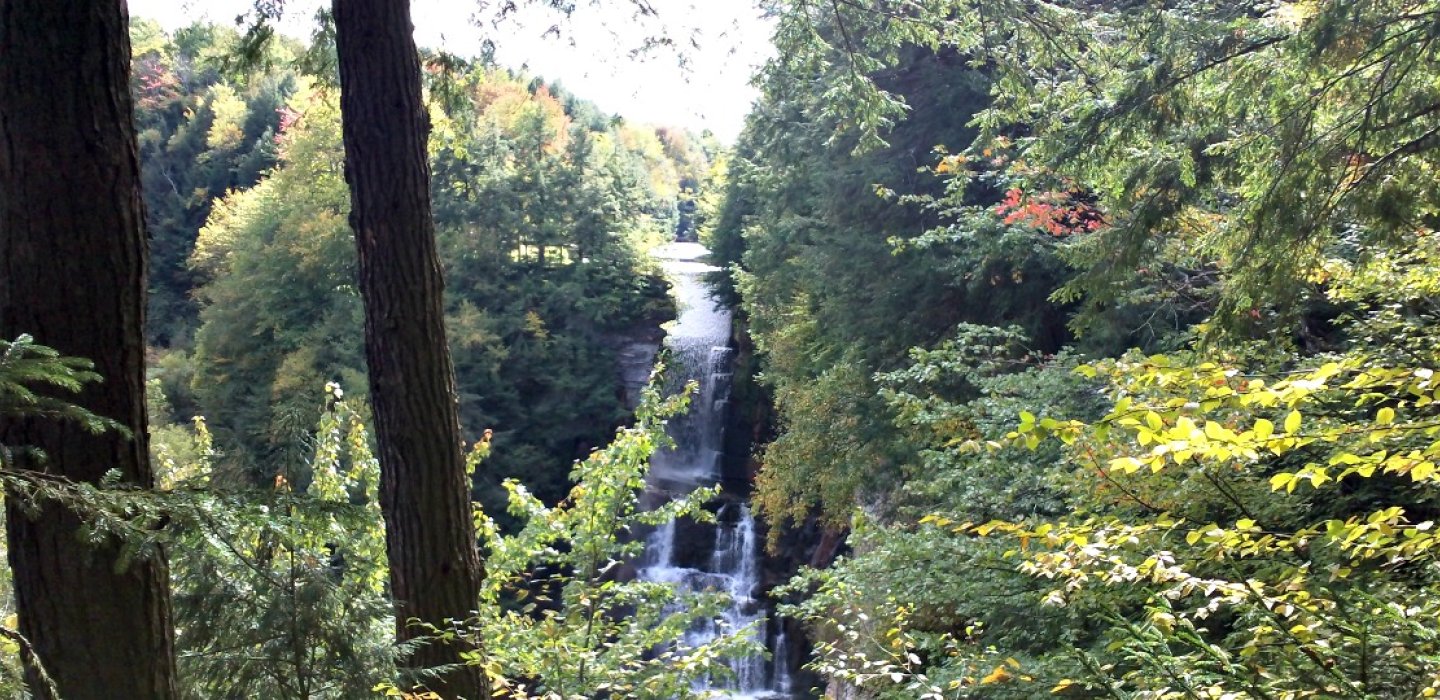 Fall approaches, and with it, a whole new reason to explore our many attractions. Experience the delicious treats of harvest time and the glory of our blazing leaves. Our countryside has many inviting traditions enjoyed by the earliest settlers.
Here's three great places with activities to help us enjoy fall to the fullest.
GREAT ADIRONDACK CORN MAZE
About a half hour south of Malone's downtown is the Great Adirondack Corn Maze, an annual celebration of puzzles, mystery, and... corn. Corn plants taller than we are.
Each year the corn maze is laid out according to a different theme. This year it is Adirondack Music.
To "solve" the maze we get a map with our admission, and when we find all the hidden mailboxes in the maze, we get all the puzzle pieces to tape onto the map. Once the map has been recreated with the puzzle pieces, we have also visited every part of the maze. At least once. Usually, more than once.
Like all good mazes, the walls of the corn maze tend to all look alike, and by the time the corn maze opens for solving, the corn is taller than most people. If our group includes someone with a good spatial sense who makes maps in their head, we can put them at the head of the line.
Or, we can do what my group usually does, which is wander around making corn puns until we agree it is time for s'mores by the big bonfire. If we can't find a mailbox, we don't stress about it.
At dusk the bonfire starts. We like to go near Halloween, when the wind rustles the corn leaves in a wonderfully spooky way. Those who might be bringing small children or prefer a sunnier (and warmer) experience can appear before sunset and enjoy all the sights and scents of the working farm.
The maze is open mid-August through Halloween. Hours of operation are Thursdays through Sundays from 1 pm until dusk. Flashlight nights are Friday and Saturday nights from dusk until 10 pm.
CHATEAUGAY CHASM
Waterfall fans, rejoice! Fall is a great time to visit Chateaugay Chasm, where we get the grandeur of the 120-foot waterfall and the glory of this most colorful time of the year.
To get there, head east on Route 11 for about ten minutes, until we see the sign on the right for High Falls Campground. These are the folks who have created a set of stairs for access to the Chasm, and a hiking path along the river.
This has become one of my favorite places to visit. The roaring waterfall is impressive, with a remote feel which is remarkable for the short distance we have traveled from the main road. The stairs offer a number of vantage points for wonderful viewing. As long as we are careful about where we step, we can also explore the boulder field. The shallow pool extends into the Salmon River.
Chateaugay also has excellent vantage points for admiring some long vistas that lead up to, and beyond, the border of Canada. As the fall leaves turn, we can see great swathes of foliage, often with interesting backdrops.
The side roads of Chateaugay take advantage of the ripples in this area, the same forces which created the Chasm. Flat fields set off clumps of blazing trees and many interesting river bridges. Taking Route 374 south to Brainardsville offers more river scenery on its way to Lower, then Upper, Chateaugay Lake for a very scenic drive on the way to Lyon Mountain and its rolling hills.
The High Falls Campground is open from May 1 to October 15, with a small admission fee to access the Chasm.
AMISH COUNTRY
This cluster of towns with Dickinson in their name is where we will find our local Amish Country. Signs warn about being on the lookout for buggies, and several times I have seen them trotting down the road alongside the St. Regis Falls beach on their way to go fishing further up the river. This drive is a wonderful way to experience trees and water views along the St. Regis River. The delightful pumphouse beside the dam is a much-photographed spot.
There's a vegetable stand with honey and other items on North Main Street across from the new school there. Also in the St. Regis Falls area is the mountain biking route on Conservation Road, which leads to a wonderful swimming hole, Split Rock. This is another great place for scenery and foliage.
Harvest time is when the bounty from the fields starts appearing everywhere from the Wednesday Farmer's Market at the airport, to the Adirondack Growers stand near the center of Malone -- at the intersection of Route 30 and Route 11B. There are more little farmstands if we head westward on Route11B to Dickinson.
I got a delicious apple pie from the Niles roadside stand in Brushton, 1189 State Route 11B. The front is a little orchard of its own; look for the OPEN sign. They also offer gorgeous jams and preserves.
There's several spots with fresh corn and just-picked vegetables. Resign ourselves to not seeing them until we are past, and then find a side road to turn around in. That's part of the adventure. The side roads are wonderful for biking, as they are low traffic and have many interesting scenic spots.
Another great stop is this roadside quilt stand (also on Route 11B) which has baskets and fabric items of all kinds. Remember to find a safe place to pull off. Take it easy. It's farm country.
Be on the lookout for signs for picking blueberries on Spaulding Rd, off of Route 11B, and strawberries on the west edge of West Bangor. Of course, these places have pints already picked, too, because there's always another place to discover.
Hops are coming back to the North Country, once a national center for such crops. Raise a glass to this tradition at the newest North Country Craft Brewery, Township 7. It is a few miles west of the four corners in Dickinson, on Route 11B. Indoor or outdoor seating and a number of choices in brews.
So many reasons we are autumn country!
Find a great place to stay. Enjoy one of our dining spots. See more of our attractions.
---
This week in related ADK awesome autumn activities: