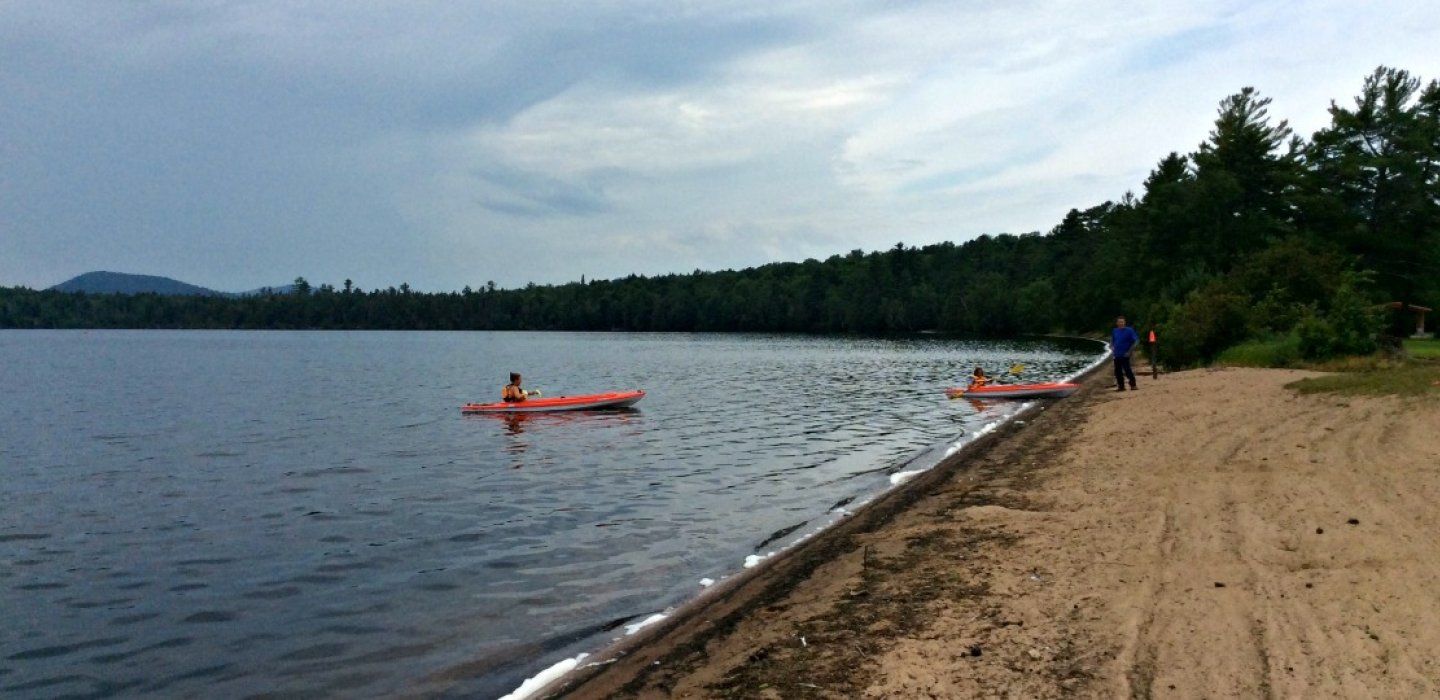 Meacham Lake Campground can be thought of as the best of both worlds. It is less than a half-hour drive from Malone's downtown to arrive at this gorgeous slice of lake and forest. It is a great place to camp, with family-friendly facilities, in a place that is emblematic of the Adirondacks.
I'm not the only one who thinks so. They are a three-time award winner!
Meacham Lake hospitality has a long history. It was the site of the famous Meacham Lake Hotel, built in 1898, and sadly lost to fire in 1921. The same site then became Meacham Lake Inn, which burned down in 2007. (It is a remote place.) As seen in this postcard from 1911, the view hasn't changed a bit.
LAKEFRONT OR DEEP FOREST
Wheeled camping sites are situated for privacy in the thick forest. The cluster of RV sites are near the dumping station, and are a short walk to the beach and lake access. All campers have access to the beach house showers and changing rooms, along with various locations which have hot showers and restrooms.
Any site is available to the tent camper, and some are on the Meacham River. Most of the campsites are on the north side of this 1,203-acre lake.
Meacham Lake West has primitive and walk-in sites, most with lake views. The camping areas are the only developed part of the entire lake. The rest has been left to nature, just as it was since the Adirondacks began.
The lake reflects views of the Debar Mountain Wild Forest and the ranges in it. There's easy hiking trails to get around the campground, and two nearby mountains with wonderful views.
There's Debar Mountain itself with its 180-degree views and a trailhead right in the campground. Try nearby St Regis Mountain with its celebrated vista of the many ponds and lakes in the St Regis Canoe Wilderness. A short distance north on Route 30 is Elephant Head, which is an easy route (suitable for small children) with an outstanding view for the effort.
SO MUCH KID STUFF
Meacham Lake makes it easy for kids to find great play opportunities. They have recently upgraded the playground to an extraordinary collection of places for adventure. There's an amphitheater with a view of the lake if anyone wants to put on a show.
The swimming is excellent. A large area is marked out and there is plenty of sand castle action.
It is also a fun setting for any age of cyclist. The flat, blacktopped roads are low traffic and the speed limit is 15 miles per hour. Explore the boat launch, the vista of Clear Pond, and the roads along the river.
Camping is all about the nature. Here, abundant forest allows every site to enjoy their own personal slice. I heard, then saw, a woodpecker right alongside the road I was walking along.
Woodpeckers are easy to hear, but not so easy to see. I noticed there was always birdsong following me around. I love that feeling.
WATER WATER EVERYWHERE
Another great option is paddling and boating. Meacham Lake has a launch site with room for 50 vehicles with trailers, and a spacious dock. This gives access to the whole of the lake, and the option of continuing up the Osgood River.
The New York Department of Conservation describes the Meacham Lake area as a "fisherman's paradise." The size of the lake, the bordering wild forest, and the low impact of the campground combine for an environment with great conditions for abundant wildlife, including fish.
The species available include northern pike (they get up to three feet!) yellow perch, and bullhead. The Osgood River has smallmouth and largemouth bass, and those wily brook trout.
Paddling is another exploration option, with either the aptly named Clear Pond or the expanse of Meacham Lake. Power boats, rowboats, kayaks, and canoes are allowed on Meacham Lake, with rowboat and canoe rentals available.
It's a wonderful way to see of lot of scenery, without a lot of effort.
a place like no other
There are so many picnic tables and grills scattered around the central area that we could have a private picnic or a large party just by picking the right spot.
Be sure to pick up some famous Glazier's hot dogs when we make plans for that grill.
Another element of Meacham Lake is the happy, friendly, staff. These folks will cheerfully make certain our stay is as enjoyable as possible.
As I was leaving, I was told I should plan to come around at dusk, next time. That is when the loons, which my informant estimated at six or seven pairs, really "get going," calling to each other across the vastness of the lake in a symphony that lasts all through the sunset.
"It's a little eerie, I warn some of the new campers," he said. "But I think it's one of the most beautiful sounds in the world."
And, perhaps, it is at home in one of the world's most beautiful places.
This is only one of the area's many lovely campgrounds. We know choosing to stay in one of Malone's nature areas means more of what we camp for. Discover all our camping. Take a grilling break with our dining choices. Explore our range of paddling.
---
This week in ADK news: Pitch it!