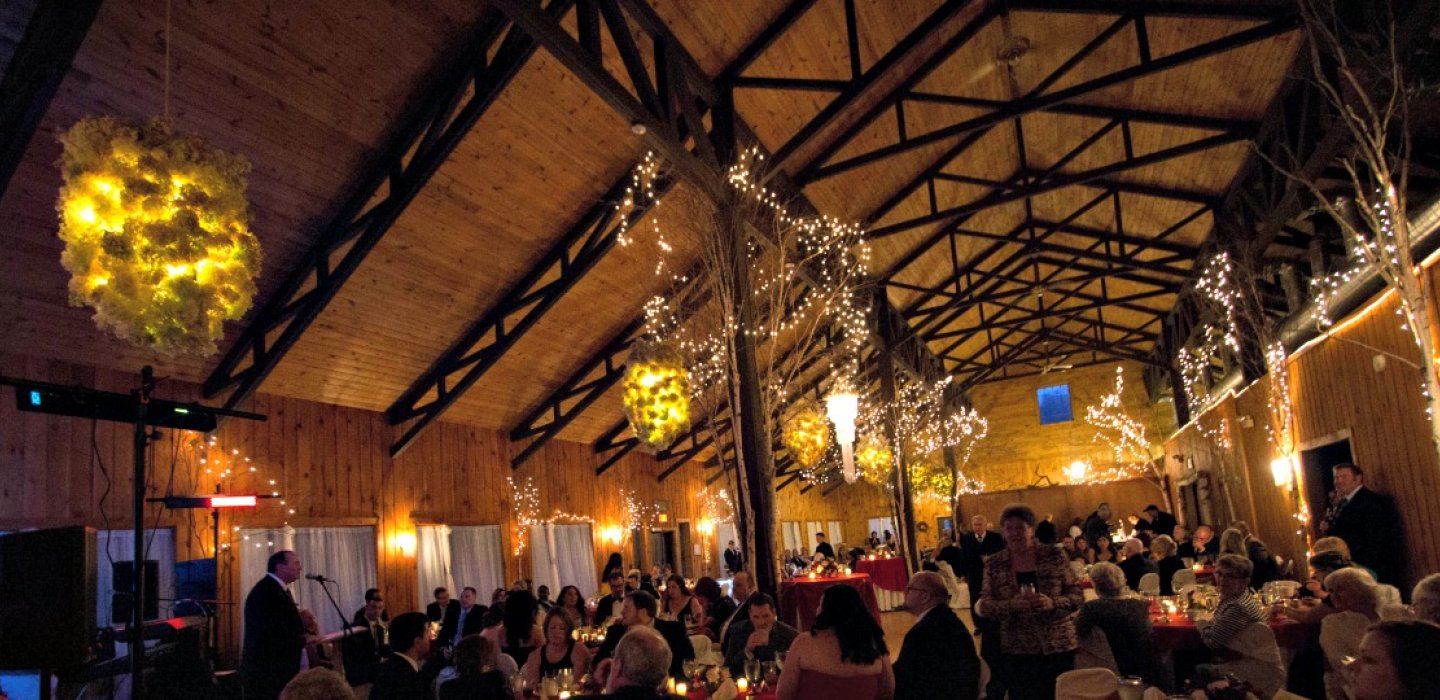 As our Northern Hemisphere days grow shorter and colder, what better way to spend our time than making merry around a roaring fire with good friends and good food?
That's what I thought. There isn't a better way!
At this busy time, it can be a stress-lowering step for us to have a holiday party where someone else does all the work. Whether you are thinking of a business mixer, a winter wedding, or a party for family and friends, here are some great places for that next event.
as big as all outdoors
Titus Mountain is a great place to ski and tube, but it's also a wonderful spot for a joyous holiday gathering.
Titus has indoor or outdoor facilities. Shelter from the wind and a nice source of heat means we can nibble and sip with pleasure. Picnic in the winter? To quote an Adirondack saying: "There's no bad weather, just bad clothing!"
For the less adventurous, or more finely dressed, there's a choice of lodge with beautiful decorating (as also seen in the header photo.) 
They pride themselves on crafting parties with unique and personalized qualities. Two different ski lodges and their gorgeous natural setting makes for a memorable occasion and a wonderful time. There's a wide choice of buffet items for a range of budgets, from prime rib and stuffed pork loin to baked ziti and roasted turkey.
One of the dessert choices is NY style cheesecake with cherry topping. All I need to know.
As Titus likes to say, "Elevate your Event... Bring it to the Mountain!"
a winning setting
For elegance on a small or large scale, consider the Akwesasne Mohawk Casino, which offers deluxe lodging to make that holiday getaway easy and self-contained.
The Casino can throw a holiday party with a bar and dance floor. Choose linen colors for a special touch. They can feature a carving station with prime rib (creamed horseradish and au jus), roasted sirloin with herbed horseradish cream, roast turkey with orange cranberry relish, or honey glazed ham with honey mustard mayonnaise.
Or, if it's a very small party, just relax and choose a holiday meal which someone else fussed over. Choose the Native Harvest Buffet or Stick's Grill for informal, and Maple Room Steakhouse for a more traditional approach.
If your idea of "holiday" is a morning at the spa, a delicious meal, and then a show, we have just the place.
For Thanksgiving buffet, hours are 11:00 am - 9:00 pm, $19.95
 
Sunday Christmas:
Buffet Brunch 9:00 am - 3:00 pm           $19.95 traditional menu
Buffet Dinner 4:00 pm - 9:00 pm            $25.95 traditional menu
The Adirondack Room
It is easy to think "festive" with Mo's Pub & Grill. Their separate catering facility creates a warm and welcoming atmosphere for all our special occasions.
Their catering menu shows off their chef's choices in adding that little gourmet extra: after all, this is the place which won "Best Poutine" in the Summer Festival. I especially noted the blackened shrimp and cheese tortellini, and dessert choices like carrot cake, apple crisp, and New York cheesecake.
They also have a wonderful fireplace.
Mo's is always a great place to gather.
Still a place for fun
The Malone Golf Club has moved the enjoyment indoors as fall fades. They have banqueting facilities available through the holidays.
There's a choice of three separate rooms: The Grill Room includes the fireplace and bar, the Side Dining Room is is a cozier choice for smaller functions, and the Banquet Room can accommodate up to 200 people. All have exceptional views of the golf course and the foothills of the Adirondack Mountains.
Having eaten here myself, I was impressed with the variety, and the distinction, of some of my favorites. They have a number of interesting takes, like Tex Mex chicken and Greek shrimp scampi. They have different pie choices every day, and a hot fudge sundae on top of a homemade brownie.
hometown charm
The Malone Lodge of Elks #1303 has a beautiful lodge for catered functions.
This former home of the 19th United States Vice President, William Almon Wheeler, is now the Malone Lodge. Since 1913 this lovely home, in the "Painted Ladies" section of Elm Street, has been the home of good times. It features a 100-person dining room, two full bars, and a 200+ banquet facility.
You'll find choices like Lee's pot roast, loaded baked potatoes, and a Yule log dessert. Serious hometown eats.
There's also a full bowling alley.
A lovely fireplace is part of this Italianate-inspired home. Such a welcoming place.
gourmet flair
The highly regarded steakhouse, Donovan's Steak & Ale, is very popular for holiday parties. They have a fireplace and a full gourmet menu to choose from, including local brews.
One of their most popular features is the beer pairing dinners, where each course gets a special beer accompaniment. (Thus their name, emphasizing the steak and the ale.) But there are also some new twists on comfort food, like their lobster mac 'n' cheese, and on appetizers, like the pulled pork nachos.
There's a reason so many different cultures have designated these early days of winter, just after the harvest, as a time of feasting and good feelings. It's the ideal time.
Needing only the ideal place.
Find a great place to stay. Enjoy our wonderful skiing. Learn more about our fun shopping spots.
---
Visit ADK for the holidays: