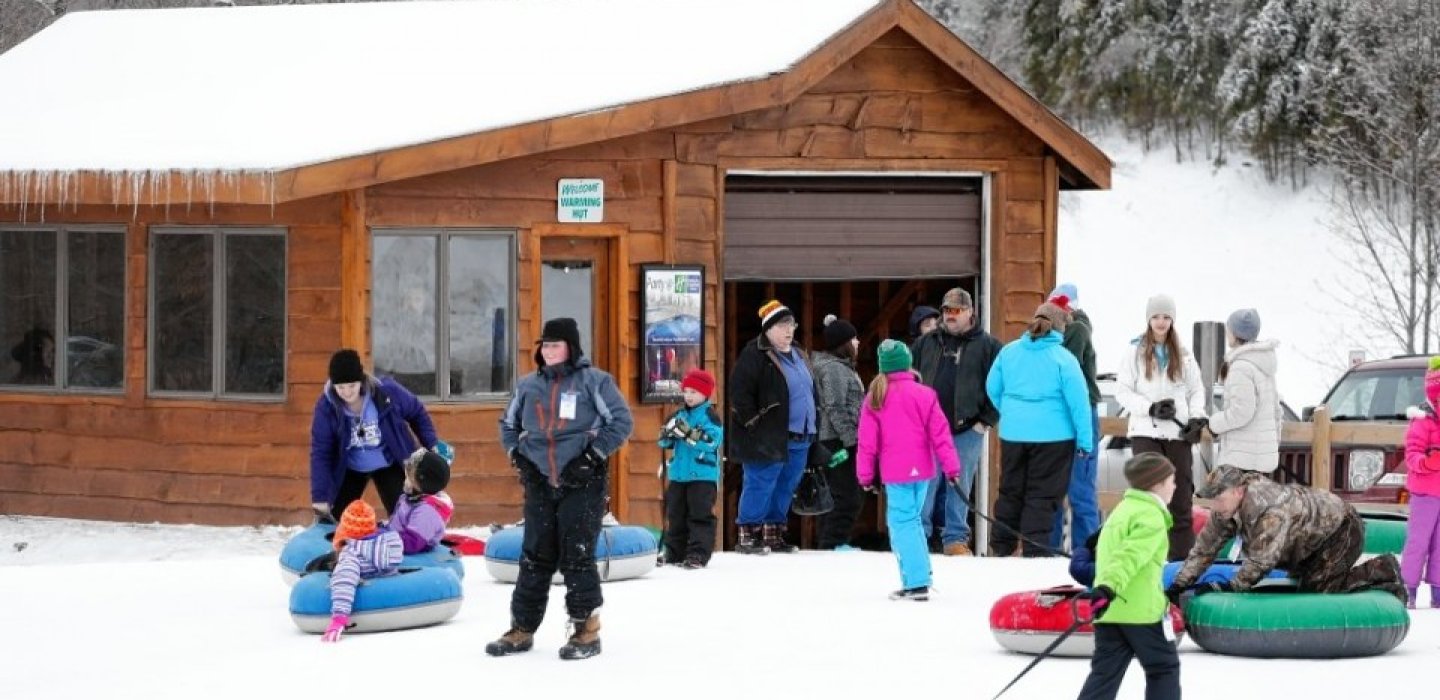 This holiday season might be a good time to think "outside the box." By discarding the box entirely.
By giving experiences, instead of things, we create a gift that will last much longer. Especially since that tie that looked so nice in the store, or that perfume that somehow doesn't smell good on the person we bought it for, can wind up not being used at all.
By deciding our gift will be a fun trip, whether it be a family outing, a couple's getaway, or a friend group dream-come-true, the excitement and anticipation will last past Christmas morning. It can become a family tradition, a treasured friendship ritual, or a delightful anniversary getaway. 
And we can still make our gift-wrapping as mysterious as we want it to be.
packed with fun
Celebrate the best of winter at Titus Mountain Family Ski Center. Skiing, boarding, and tubing accommodate the skills of young and old. Even if a warm drink by a hot fire is our idea of fun, that's just fine, too.
There's something about the contrast between lively activity on a blue sky day and a warm gathering around a roaring fire that makes all our bonds, closer. A ski vacation is always something special, because most people can't simply walk out the door to enjoy a day on the slopes.
The lively fun during the day and the relaxation afterwards makes for a perfect atmosphere for sharing; whether that be a sense of adventure, or our deepest feelings.
Titus Mountain has 143 acres of enjoyment, all in a gorgeous spot which has been welcoming skiers since 1960. All at a very reasonable price tag.
Gift Wrap Idea: Wrap with a new hat, scarf, or pair of goggles, along with a printout which explains where they will be wearing it.
one with nature
If our bunch prefers summer fun, we can craft a delightful gift of gorgeous nature. We can turn down the static of our daily rush and choose a path that is less traveled; and yet easily accessible.
With far less trouble than the intrepid explorers of yesteryear, we can design an adventure that will be something we can all reminisce about for the rest of our lives. There's few gifts which are so memorable and enduring as sharing a fun trek in beautiful countryside.
There's plenty of easily hikeable mountains and trails in the area, suitable for families with small children or newbie hikers. Spend a morning or afternoon with plenty of time for wandering, picture taking, and finding a spot for the heart to heart chat we've been craving. We encourage everyone to leave their phone back at the room.
Because this is a quest for lowering stress, we should consider booking a guided trip. I see it as much like wallpapering the dining room; yes, we could do it ourselves, but it's so much less trouble to have professional help. We also, most likely, wind up with a better result.
Our knowledgable guides bring along all the equipment, operate it with skill, help us pick the right setting and length of trip, and can even bring along gourmet provisions for our dining enjoyment. If we want the kind of wild time where all we have to do is show up, this is the way to do it.
Gift Wrap Idea: A miniature canoe or kayak can become a keepsake of the future trip, and serve as a dreamy reminder until the trip actually happens.
in the swing
Golf is well-designed for group fun, and this is never more true than at the Malone Golf Club.
This club boasts incredible grounds, plenty of challenge, and what the club proudly calls the finest customer service experience any golfer is likely to encounter. The warm and friendly atmosphere welcomes groups of all sizes, from a lively double foursome to some couple time.
The rolling hills and distant mountains make for an incredible setting, where the Club sits like a gem in a beautifully wrought piece of jewelry. Golf in the incredibly gentle summers, and the amazing fiery autumns, of our North Country.
With the delicious dining at the clubhouse, the days can be as long as we wish them to be. So can this getaway. With 36 holes in Malone and 18 holes a half hour south at Saranac Inn Golf & Country Club, these incredible courses, designed by golf's greatest architects, create a fresh challenge every time we play them.
Come and see why the Adirondacks are, in both spirit and terrain, inspired by the classic Scottish courses.
Gift Wrap Idea: It can come in an envelope: a slip of paper with "the Best Pure Classic Nine in the world" written on it. There's not too many gifts which can create suspense before, and after, they are opened.
family and history
Explore the world of one of America's most famous families: the places written about by Laura Ingalls Wilder. Before Laura met Almanzo, he grew up on the Almanzo Wilder Homestead.
The farmhouse, beautifully preserved, anchors a recreation of the entire working farm. There's wool and shearing equipment in the sheep shed, carriages in the horse barn, and the same apple trees bloom and bear fruit every year.
At the Franklin County Historical Museum, we can indulge that friend or family member who loves genealogy and wants to do some hands-on research. The amazing resources of the library there can make the past come alive.
Even if it isn't our own past.
Gift Wrap Idea: A copy of "Farmer Boy" or an unfinished sketch of the family tree can lead to the unveiling of our plans.
Gaming Getaway
For a great time which combines luxurious accommodations, a wide range of dining, on-site entertainment, and the fun of the latest innovations in gaming, Akwesasne Mohawk Casino is all the destination we need.
We can thrill to the excitement of the gaming floor, relax with a visit to the spa, choose from a variety of dining, and be entertained with live shows; all without leaving the premises.
Come, park, play! All in the same place.
Gift Wrap Idea: A pair of dice or a Queen of Hearts can be all the hint they need.
The Malone area is a gateway to adventure. In all directions.
Pick where to stay. Enjoy some fun dining. Explore all of our attractions.
---
This week in related ADK holiday news: