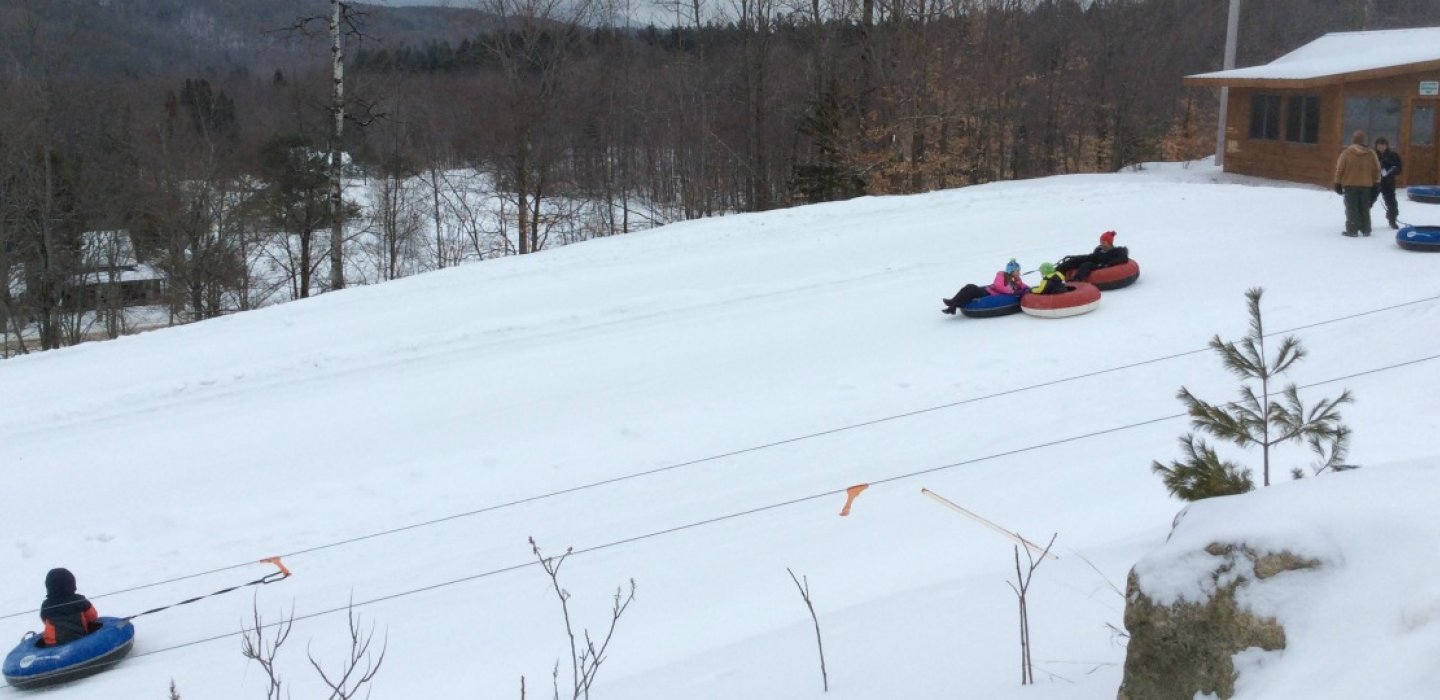 Tubing is my ideal match when it comes to winter activity. It's easy, thrilling, and requires no skill besides the ability to recline. Little children can do it. I can do it.
If you have been wondering what you would do on that family ski trip if you don't ski -- stop worrying. There's a way to take winter sitting down. Young, old, or non-skiers, there's the fun of tubing.
Titus Mountain has a great setup.
slide all day
I get my pass just like the Alpine skiers do, only when I fasten it to my jacket, I head for the slope at the other side of the complex. This hill has three tracks. Two to slide down, and one to be pulled back up on the rope tow.
Anyone who has trudged up a long hill dragging their sled behind them knows how much fun it is to not have to do that.
I pick out my tube from the many lying around. Once we have it, it doesn't leave my side. I slide down the hill on it, go back up on the rope tow sitting in it, and drag it around at the beginning and end of the loop.
Everyone develops their own style.
It's pretty simple. When the person ahead of me reaches the halfway point on the slide I have chosen, I drop myself on my tube and head down the hill. Soon, I am able to land inside the tube with enough force to send me down the hill. If anyone gets stuck, there's an attendant who can give the tube a helpful shove.
Wheeeeee!
It doesn't take long for my tube to pick up some speed, since there's an adult's weight speeding things up. Many of the younger tubers hang onto each other's ropes to create clusters. This also lets parents keep track of the smaller children, while letting them have their own tube.
There is a flexible platform at the bottom of the tube which allows it to slide over the snow. I'm not dragging my behind along it. That would not be fun, or fast. Because fun and fast is the point!
Those of us who remember sledding will find that tubing creates a different kind of ride. Because it is round and smooth, there's no guarantee which direction we are facing at any given time.
A little practice lets me shift my weight and get more control over the slide. Because if I let it do its thing, it does.
The only part with any urgency is when I arrive at the bottom of the hill. Now I get out of my tube and use the tow rope to drag it behind me, and get in line to go back up the hill. I want to get out of the way of other sliders who are already doing their best to reach the bottom as fast as they can.
If you get chilly, there's a warming hut at the top of the hill. A few minutes is all that's needed to get those fingers and nose feeling toasty.
Ready, set, go... again!
take a break
I am meeting skiing friends in the lodge. It's nice that all three of us can talk about the good time we are having. There are several sections in the lodge, depending on what we want to do with our down time. We opt for the dining room, which has table service.
I do love eating at the Moon Valley Grill. It's hearty pub food, like nachos, wings, grilled sandwiches, and burgers, but it's also specialties, like their jalepeno/cheddar corn nuggets and beer battered cheese curds. Then there's the poutine, but not just any kind. There's four different kinds: traditional, Montreal Smoked Brisket (my favorite, I get it without gravy to make it gluten free,) Philly Cheesesteak, and Kickin' Chicken, which is inspired by Buffalo wings and comes with ranch or blue cheese dressing.
I realize now I could have gotten the Brisket poutine with blue cheese dressing. Sadly, my order has already gone in. Next time!
There's also some impressive salads, which suits the man in the couple, who is being health-conscious today. My female friend listens to my burger with sweet potato fries order, and responds, "Same thing. Only with bun."
My girlfriend and I could have gotten a side salad or cup of soup instead of the fries. But we did not. We're burning calories out there!
On the lower floor, there's Shredding Betty's Bistro, with the theme of "quick and hearty." This offers counter service comfort fare, like tacos, sloppy joes, michigans, and even goulash. This is a great stop for kids who are impatient to get back out into the snow.
As we all are.
slide some more
Titus is a marvelous place to spend the day. I love the way it welcomes whole families or groups of friends. Everyone can have fun doing different things, and take breaks together to share an enjoyable meal and their experiences.
Like the way my friends, more nimble and experienced than I, could have a great day Alpine skiing, while I had a great day tubing. Someone else in our party could ski the backcountry trails that are also part of Titus' one hundred and forty-three acre complex.
There's something for everyone.
Titus has lit trails for both night skiing and tubing, but as the light starts to fade from the sky, my friends and I decided to call it a full day. Another time, we might call it a full day and night, and have dinner here, too.
Titus makes it easy to just not leave until everyone is ready to go.
I really enjoyed watching the parents handing cameras back and forth as they supervised from the top or accompanied their children to the bottom. Laughter and speed tips were shared. Watching out for the little ones was always a constant, in this most family of ski centers.
I have plans to come back with more friends. There's still plenty of winter left.
Fall into bed at one of our lodging places. Satisfy that appetite at many of our dining choices. Take everyone on a sleigh ride!
---
This week in related ADK news: