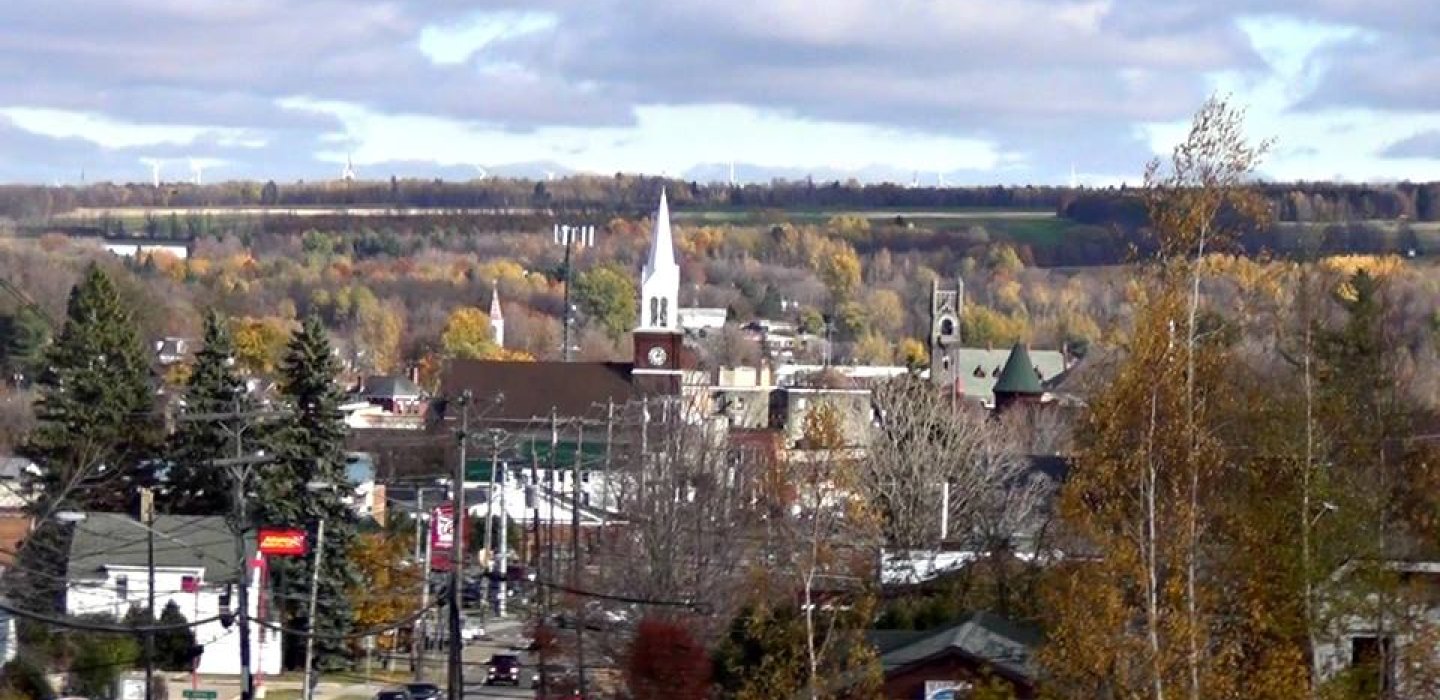 Malone is a city of churches. One look at our skyline displays many distinctive church steeples. And their history is woven into the history of the town.
Unlike many of the early 19th Century towns which sprang up in the United States, Malone has long had an influential Catholic presence as much as it did a Protestant one. Thanks to the closeness of the Quebec Border, and a large number of Irish and French-Canadian settlers involved in the War of 1812, Malone has shaped itself around a variety of different religious threads.
These disparate congregations all contributed to the town, and their efforts created imposing architectural buildings. Enjoy them as part of the Historic Walking Tour.
A force for freedom
This site has long been the home of a Congregational Church, from the first modest building to the the dramatic structure it is today. One thing that did not change was the congregation's commitment to Abolitionism, the morally inspired, politically decisive anti-slavery movement.
Under the guidance of the Rev. Ashbel Parmelee, the leading abolitionist in Malone, the basement of the church became a stop on the Underground Railroad, using local citizens to smuggle escaped slaves across the Canadian border. This part of American history has murky beginnings, since it was an illegal, and thus, secret, organization. It grew into an informal network of churches, barns, stores, and homes, which could hide people and then move them on when it was safe.
From the beginning, there was some evidence the church basement always had secret rooms for hiding places. Above, the church was used as a place for anti-slavery meetings. As a sign of how the citizens were held in high regard, there is some evidence the practices of the congregation were known to many, and were the cause of some social friction; yet no one ever seemed to get into trouble, or be informed upon.
Outside of Malone, other prominent citizens are known to have sheltered fugitive slaves before taking them into Canada. A Major Dimick, considered an "extreme militant" abolitionist, who would shelter runaways in his home on the road to Fort Covington. In Fort Covington itself, the abolitionist lawyer Jabez Parkhurst was known to shelter runaways overnight in his fine stone house, and take them in his wagon to Dundee, Canada.
New York was a focal point in the Abolitionist movement. It was a reliable hub of moving escapees north, and was called home by such leaders as Harriet Tubman, Frederick Douglass, and John Brown, and was the birthplace of Sojourner Truth and Gerrit Smith.
Community involvement
One certainty of life in the North Woods was the danger of fire. According to the 1918 book, "Historical Sketches of Franklin County, New York" by Frederick Seaver. Malone's first fire engine was in 1832.
"It was operated by a crank on each side, and not more than eight men could work on it at a time.  It was back-breaking business when one kept at it long.  The water had to be dumped into the box from buckets, and the stream which the pump delivered was small and feeble."
Not all that reassuring, especially in an area with winters cold enough to dry all possible moisture from building timbers. By the 1880s fire departments were volunteer or, in wealthier areas, paid; enough so that the different hose companies vied for the honor of being first at a fire. They held dances and competed in tournaments to improve their fire-fighting skills. This became the basis of the first citywide fire service in 1890, with an electric fire alarm system put in throughout the town.
Despite such advances, one of the worst fires the town had ever experienced happened on Tuesday, July 2, 1968. There was a fire and explosion at the Malone Novelty Company that destroyed both that building, and the nearby St. Joseph's Roman Catholic Church.
This was a particularly vulnerable site. The first St. Joseph's Church building, from 1837, was torn down as part of expansion efforts, but in 1870 the new building caught fire and burned to the ground. When the new replacement building was almost completed, a high wind destroyed the roof and two walls. This delayed the rebuilding until 1882. And now the latest church was in ruins.
Other churches quickly rallied around the homeless congregation, offering space in their own churches until the building could be rebuilt, yet again.
St. Joseph's Ursuline Academy opened in 1898, and continued as a center for education until 1976. This order specialized in the education of girls and the care of the sick and needy. It is now part of the campus of North Country Community College.
St. Mark's Episcopal Church was founded in 1831, through a minister then stationed at Plattsburgh, Rev. Anson B. Hard. The first Sunday school was organized in 1834. While not great in numbers or wealth, the congregation worked diligently on a building fund, and managed to build this lovely church in 1884.
It is reminiscent of the work of architect Henry Dudley, according to the "Ecclesiological Principles of Episcopal Church Design." This was modeled after English country parish churches, using stone. It remains a charming example of the type.
Focus of change
When the first woman was ordained as a minister, it was in Malone.
Olympia Brown, born in 1835, was a woman of intelligence and persistence. So it is no surprise she became a suffragist, minister, and fighter for justice. She was one of the few first generation suffragists who lived long enough to be able to vote, thanks to the Nineteenth Amendment.
She was always in search of challenges. When she came of age, theological schools accepted only men. When she applied to the Unitarian Theological School at Meadville, Pennsylvania, they refused to admit her because she was a woman. Oberlin's theological school said it would accept her... in secret. She could not participate in any public exercises.
She turned to the Theological School of St. Lawrence University, a Universalist seminary in nearby Canton, New York. Ebenezer Fisher, the school's president, let her attend, but stated that she should not expect to be ordained as a minister. "I leave that between you and the Great Head of Church." Ms. Brown thought that was "just where it should be left" and arrived in Canton for classes in the fall of 1861.
This confused Mr. Fisher. He thought he had written her a discouraging letter. According to her autobiography, she told him, "Your discouragement was my encouragement." She would graduate from divinity school, and the Northern Universalist Association would ordain her at its meeting in Malone, New York, on June 25, 1863.
She certainly had the right stuff.
Have you seen our signs at every entrance to Malone? Now you know how sincerely we mean this invitation.
Stay a while in our comfortable lodging. Have Sunday dinner at one of our dining places. Learn more about our amazing architecture.