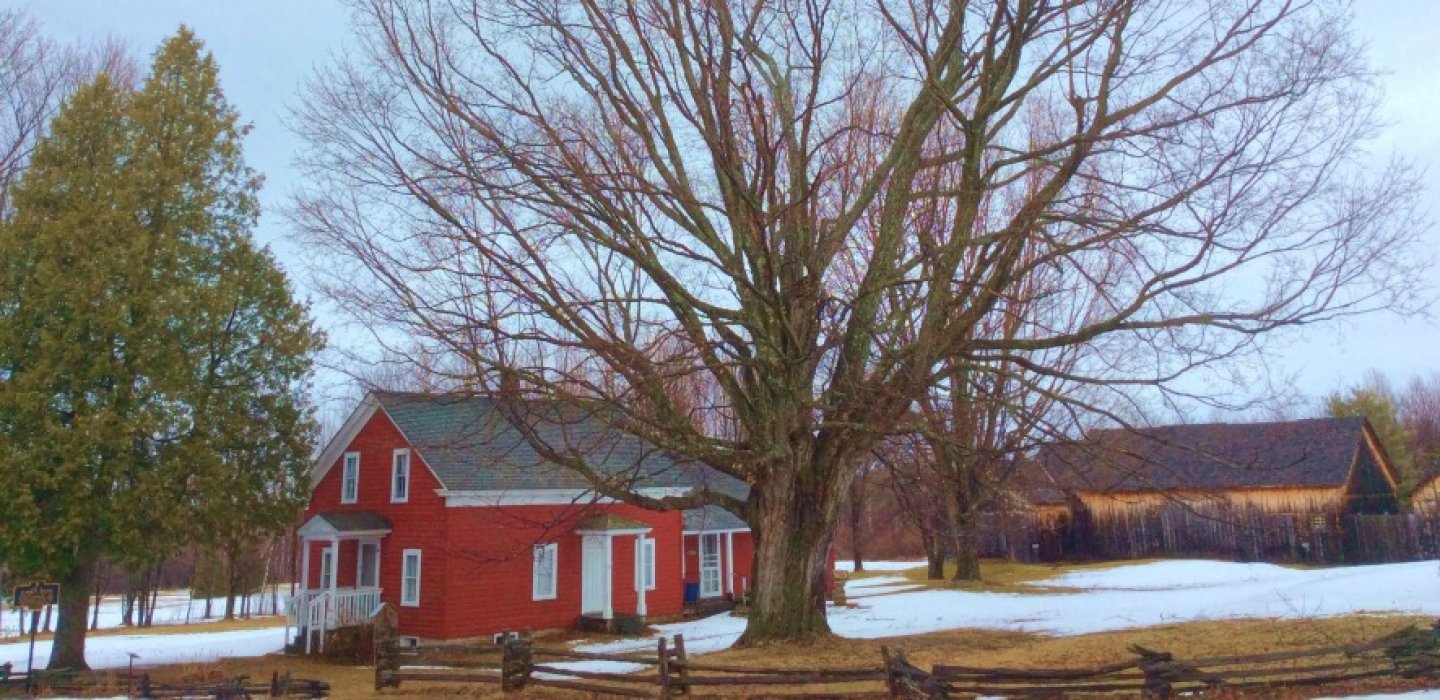 May 27, 2017 will be a notable date for Little House fans all over the world. That is when the Almanzo Wilder Homestead will wake up from its winter's sleep.
The boyhood home of Almanzo Wilder is a very special place, with the original family home, period-correct outbuildings, and many displays of life from pioneer times. There's a sheep shearing barn, a carriage house, and a period schoolhouse, along with hiking paths along the river and throughout the homestead.
Bands of dedicated volunteers have done their best to keep it just as it was when Almanzo Wilder, the main character in the 1933 book, "Farmer Boy," was born here on February 13, 1857. Each spring the Homestead comes alive with blooming apple trees, excited visitors, and many heritage events.
tour the past
The first Saturday of Memorial Day weekend has become the traditional opening day of the Homestead. They will be open daily Monday through Saturday from 10:00am to 4:00pm, and Sundays from noon to 4:00 pm. Last tour, all days, at 3:00 pm.
Take the narrated tour of the restored farmhouse, reconstructed barns, and museum with the family or an interested group. Favorite points on the tour are the farmhouse kitchen, where Mrs. Wilder made butter in molds and cooked dinner on the woodstove. Marvel at how small the bedrooms were, and note the steep staircase to the attic, where there is an authentic loom that farm families would use, with their own wool, to weave cloth.
Spring is when the honorary Almanzo and Laura are chosen, based on their essay submissions. These students get to represent the couple at special events.
all the events
This year is the 150th birthday anniversary of Laura Ingalls Wilder, and there will be a Birthday Celebration Saturday, July 22nd.
Festivities will include displays of student art and the essays submitted for the Honorary Laura and Almanzo contest. The winners will be announced. There will be birthday cake and kid's art activities, with period vendors and other food. Play 19th-century games and enjoy the entertainment.
The Cultural Festival-Native American Festival will take place Saturday, August 26th. Come celebrate the abundant Native American heritage of the area in the mid-19th century.
There will be traditional food, music, crafts, dancers, and demonstrations, and the usual buildings are available for touring.
The Annual Harvest Festival & Civil War Living History Encampment takes place over a whole weekend. This year, it is September 23rd and 24th.
See recreations of actual camps and small battles. There will be pumpkin painting and children's games from the 19th century played in the orchard, with a children's corn pit in the barn.
The 8th annual "As Time Passes" adult juried art show will be on display with entertainment, demonstrations, and craft vendors, with the abundant display of the harvest season. This is the closing event of the regular season, which will end on October 1st. Private tours can continue, by appointment, through October.
But there's still one more event to mark on your calendar: Christmas with Almanzo will be Saturday, December 2nd.
This joyous occasion is marked with children's craft activities, readings from the "Farmer Boy" Christmas chapter, carol singing, and refreshments - like cookies.
Volunteers have been known to dress like elves and there are plenty of potential Christmas presents to choose from in Almanzo's General Store.
born of local interest
A Malone resident, Mrs. Frances Smith, realized she was the granddaughter of Uncle Andrew and Aunt Sarah Day mentioned in "Farmer Boy." She and her daughter, Dorothy, corresponded with Laura Ingalls Wilder herself.

Dorothy Smith would go on to form the nonprofit Almanzo and Laura Ingalls Wilder Association with like-minded others. On June 5, 1987, the association purchased the 84 acres remaining from the original farm, investing in archeological digs in 1988 and 1989, and an architectural house report. These proved the house to be the original described in the book, the only Little House on its original site.
Along with restoration work on the house, new barns have been reconstructed from sketches Almanzo made for Laura while she was writing the story of his boyhood. There's also a wool barn, pump house, and henhouse, with a Visitor's Center that includes a gift shop, museum, and office. There's a picnic pavilion for packed lunches. For those who remember the chapter where Almanzo and his father went fishing on a rainy summer day, they can follow a hiking path to the Trout River.
Whenever you visit, you will be welcomed with classic hospitality. Straight out of the past.
Choose from our lodging. Eat hearty at our dining. Explore all of our attractions.
Header and background photos copyright ROOST 2017. All other photos, except where noted, from Wilder Homestead Facebook page.
---
In related ADK activities: