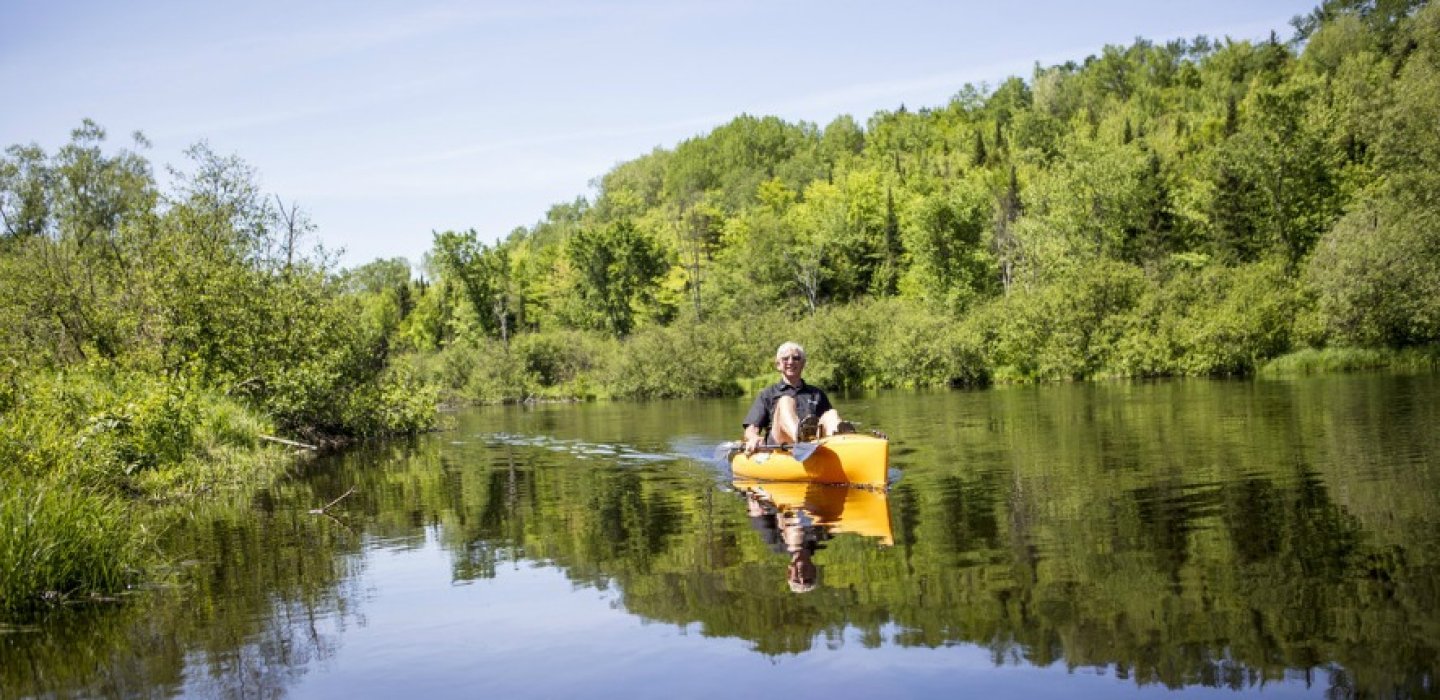 Since this is river country, you might want to get out and about on the water of our beautiful countryside. Whatever your favorite way is of enjoying it, it's important to have the right gear so you can get the most out of the experience.
Start by outfitting yourself at our amazing outdoors store, International Border Company. Whether it's an extra pair of quick-drying socks or a great deal on a nice new boat, this is the place to find many fun things.
easiest trek
You don't have to try paddling for long to realize this is a fantastic way to travel. Exploring our beautiful Adirondacks from the water gives you more of everything, in many ways.
When it comes to scenery, paddling takes you through more of it than hiking does, and with less effort. Especially some of the more remote areas, which are actually more accessible from the water than they are from the land.
This advantage is especially so if we are packing heavy or bulky items, like tents and sleeping bags, picnic supplies, or camera equipment. It doesn't take much more effort to paddle a canoe with stuff in it than it does to propel a canoe that is mostly empty.
Another difference is how hiking can be mostly in the shade of a forest, while paddling is out in the sun. Maybe you need sunscreen, sunglasses, and a hat?
My favorite part of paddling is when I find a gorgeous stretch and I stop paddling. We can drift along and see even more wildlife this way, as I can get quite close without moving, such as the time I drifted very near a Great Blue Heron. It's a tough call: Reach for a camera, or just enjoy the moment?
I decided to sit and enjoy the moment.
See just how much paddling there is in the Malone region.
fast and slow
For whitewater fans, there are three runs available, just to get the blood moving; and the kayak too.
The Chasm Falls section of the Salmon River starts below the Chasm Falls dam, and the very rocky scenic section pictured below.
Pay close attention to the put in and put out instructions at the link, since the river can quickly get shallow while still running quite fast.
Two more thrilling whitewater choices are Route 374 to Cooks Mill and Lower Chateaugay Lake to Cooks Mill.
If we are going to the other end of the spectrum, and looking for some still water for our paddleboards, there are plenty of lovely ponds that are sized just right for the paddleboard's meditative pace.
For paddleboarding, consider Wolf Pond (deep and remote,) Slush Pond (calm and little,) or Jones Pond (part of a paddling chain.)
under the water
If your interest in the water centers on the fish who live there, there are miles of river and acres of lakes which offer special fishing excitement. The fast rivers and rugged shorelines are the kinds of conditions fish like, which makes them the kinds of places anglers love.
To stay comfortable on the water, consider the conditions. Remember, hope for the best, but prepare for the worst.
Getting a foot dunked because of bad boots will bother us all day. There's no point in shivering if all we need is an added layer of comfort. Make sure there's a raincoat to reach for in case of a passing shower.
Traditional about wool? There's the famous "Malone plaid," from Ballard Mills, which is now known as Adirondack plaid. Or, there's the latest of high tech fabrics, including those super-thin new insulating layers that make even the warmest jacket look stylish.
Fly fishing or boat fishing, seeking out hidden ponds, or finding the shorelines that are designated for fishing access, there's likely a perfect place for your favorite kind of angling. The cool clear waters of the Adirondacks are stocked with trout and salmon so everyone can take their best cast at landing something to brag about.
Look at all of the fine fishing available.
Ready for some chilling out? Head for the hammock corner at International Border Company. All you need are some trees. Or, get a stand and relax anywhere.
You'll be ready for a nice place to stay. Dry off and explore our dining. Not sure about where to start? Consult one of our Adirondack guides.

This week in related ADK news: