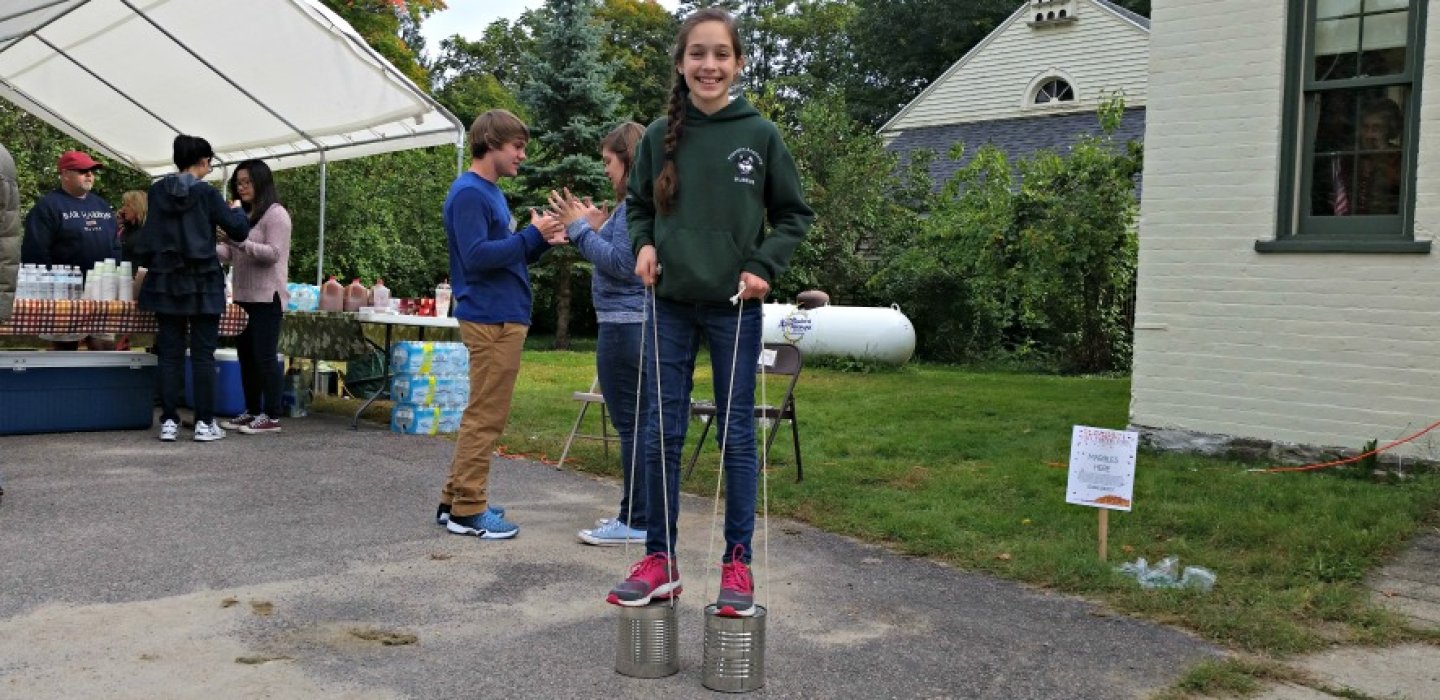 The wonderful House of History hosts their Fall for History event every autumn, on a Saturday. One of the highlights is their baking contest, focused on apple pie, which has historic significance for the Malone area.
There are also games, music, food, and a bit of history, too. It makes for a fine and fun afternoon at their lovely museum, which was once an 1864 Tuscan-style brick home only a block from Main Street.
This year, Fall for History is September 23, 2017.
Historic pie
The saying goes, "As American as apple pie." What makes this dish uniquely American? I mean, apples go all the way back to the the mountains of Kazakhstan, which is pretty far away. But there are apple orchards all over the United States, because this is a hardy plant which can handle even the chilly temperatures near the Canadian border.
Though that can seem a little odd, too, if we are familiar with the wild apple. It was very common in colonial America, and yet, according to Henry David Thoreau, the taste was "sour enough to set a squirrel's teeth on edge and make a jay scream." If this was before domestication and widespread grafting ensured a tasty fruit for eating right off the tree, why did Johnny Appleseed (aka John Chapman of Leominster, Massachusetts) roam around the North American continent planting apple seeds?
It was because of cider. Those apples may have been a bit lively to eat raw, but they were wonderful for making cider.
Now, the 2017 King Arthur Flour Baking Contest is open to all amateur bakers in two categories. Junior contestants are up to age 15, and adult contestants are 16 and over.
For adults, the rules specify apple pie (apple as the main ingredient, with the inclusion of using any other fruit or ingredient) and the contestant's choice of recipe. It must be a 9- or 10-inch double-crusted pie, with NO LATTICE TOP. Why the all-caps prohibition? It seems to be in the interest of fairness.
Lattice top crusts are not just about showing off one's dough-weaving skills. The openings in the crust let more steam escape. This reduces the chance of the pie bubbling over, and extra water thinning the filling. When the rules ask for two full crusts; that's where some of the expertise comes in.
Junior contestants will compete on the basis of an apple crisp, which is much easier. It is also more American, actually, because crisps were developed by early European settlers.
The judging criteria awards a pie or crisp 25 points for each category: appearance and creativity, crust or topping, filling, and overall taste. Hankering for some of these prize winners yourself? They will be part of a bake sale after the competition, where "Fall for History" attendees can buy slices as a fundraiser for the the Franklin County Historical and Museum Society.
Find out more with Three obscure facts about Adirondack pie.
Explore the past
The Fall for History event has lots of games. As seen below, participants can test their history knowledge on these items of the past.
The museum will be open for tours during the event, and this mansion has a constantly rotating series of displays, along with their regular displays of a typical living room, dining room, and kitchen as it all would have appeared in the 19th century. Likewise, September through May the museum is closed for the winter, but they will schedule tours by appointment. Please either call (518-483-2750) or email (fcohms@northnet.org) and they will respond promptly. Admission is $5 for adults and $3 for children.
There is memorabilia of local celebrities such as William Almon Wheeler, who was the Vice President of the United States from 1877-1881. There's correspondence from Laura Ingalls before, and during, her time as Laura Ingalls Wilder, to local boy Almanzo.
Those researching family history will want to visit the Schryer Center for Historical & Genealogical Research, which is in the restored carriage house of the home that became a museum. From September through May, there are open hours on Monday 10 a.m. - 4 p.m., Wednesday 1 - 4 p.m., and Thursday 10 a.m. - 4 p.m. With trained volunteers, use the library's genealogical materials, family trees that have been already filed, online resources, and Franklin County specialized archives.
This is a very popular library, and the supervisor informed me that half of their members are from outside of New York state.
Learn more about The House Where History Lives.
Welcoming the holidays
These fall events usher in our celebration of harvest time, which has a special country touch around here. The Fall for History event will allow access to the country store, which is part of the museum. Period items, old fashioned candy, and historic books are available for purchase.
The same weekend of the Fall for History event, go for deeper immersion with the Wilder Homestead's Annual Harvest Fest & Civil War Living History. Enjoy historic displays, dramatic vignettes, and acted out skirmishes, complete with cannons.
This will be the weekend of September 23 and 24 in the year 2017. There will be music, craft, period, and farm market vendors and tasty treats. Some of the apple trees planted by the Wilders when they built the house are still there, still blooming, and still giving apples.
Titus Mountain does a wonderful Oktoberfest. The 37th annual Titus Mountain Oktoberfest returns on Saturday, October 7, for 2017.
That's a lot of Oktoberfests. But then, harvest time is a very special time out in the country.
Celebrate more Heartwarming Holiday Traditions.
Choose some cozy lodging. Indulge that harvest appetite with our dining. Check our upcoming events calendar!
---
In related ADK news: