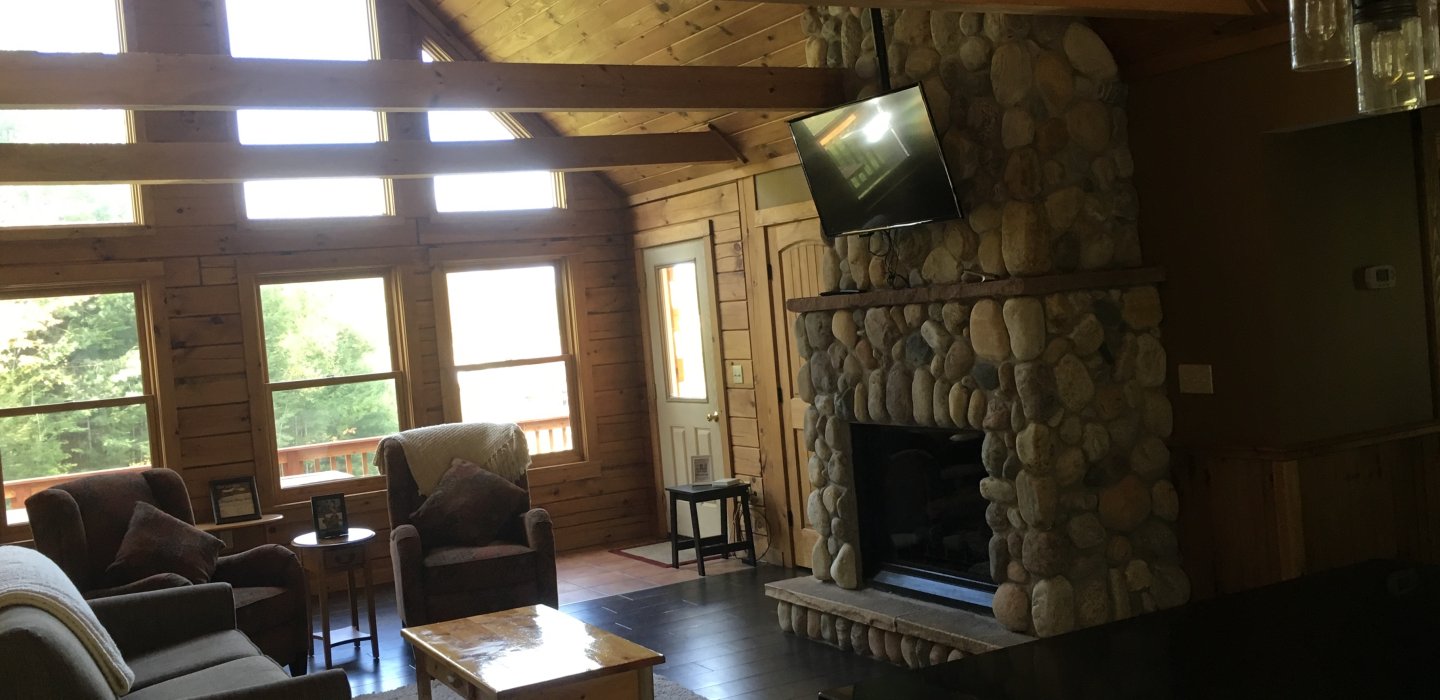 Experience your own piece of paradise
I recently had the opportunity to spend some time (not enough) in one of the ski chalets at Titus Mountain Family Ski Center. It was a perfect getaway and retreat from the busy life I am more accustomed to. From the minute I pulled into the driveway to the sad moment I left, I felt the calmness and serenity that only this type of lodging experience can provide.
The ski chalets are not just there for people like me to go and stay a night just to experience a little bit of something I've heard rave reviews about. They are a part of the mountain, meant for entertaining guests from all over who are interested in doing a number of different outdoor activities. The most obvious of those things is skiing.
When I was there it was a beautiful fall day and there was no glimmering white snow to be found, but I looked just in case. I really wish I could have found some because this place is set up perfectly for anybody looking for a fun-filled skiing retreat. The downstairs portion of the chalet is ideally equipped for storing ski or snowboard gear. Each person in your crew can have their own locker. There is also a really convenient bench right there, where you can sit to put on and take off your boots. I just might have to come have this experience when the snow is falling, too!
Because I wasn't able to get any skiing in, I used the chalets to get out and enjoy the outdoors in the beautiful autumnal season. I stepped off the back deck and onto the hill, where I enjoyed a beautiful adventure. I really thought it was neat that I was literally on the slopes while I stayed here, and the foliage was breathtaking on my hike up one of the ski slopes. The location of the chalet is also in close proximity to Chasm Falls and the Salmon River, which are wonderful places to visit for the views and popular fishing spots. 
There is plenty to do inside this four bedroom, multiple bathroom bathroom chalet as well. The fireplace is beautiful for warming up next to while enjoying a cup of freshly brewed coffee, wine, and a good book. Don't worry, the TV had plenty for me to watch as well. I couldn't miss my Saturday college football game! The WiFi is also very quick, just in case you have to check in with your friends and family on social media or post a picture of one of the beautiful views or awesome ski conditions. Warning: This may cause jealousy from some of your friends back home.
After my football game was done, I sat in the living room with the fireplace going and book in hand while the foliage background outside created a lovely photograph through the large windows. I was VERY relaxed.
While I am mentioning the great living room, I should talk about the full kitchen that is just waiting to be cooked in. The state-of-the-art appliances made even me, someone who does little-to-no cooking, feel like an expert chef. I will admit that I only warmed up a frozen pizza and cooked up some eggs and bacon while I was there. I am sure there is a world's worth of possibilities that are better suited for others to cook here! Nonetheless, the cozy dining area was wonderful and I enjoyed my time in the kitchen, which does not always happen for me.
I was here on a relaxing getaway, but the next time that I stay at the ski chalets I am bringing a large crew! This place is begging for a lot of feet to walk across its floors. Everywhere you look, there are little accomodations made for multiple people. From the seating in the dining area to the seating in the living room, which accomodates more sleepers, you can find a spot for just about anyone. One of the coolest ideas I discoverd during my stay there was the extra pull-down Murphy beds on the bottom floor. There are three more beds down there for your crew to lay their heads in!
Speaking of having your crew there, why not spend some time at the wet bar located on the bottom floor? This is a great hangout spot and a perfect way to end a long day of whatever your adventure may be. Some groups have used the chalets when golfing at the Malone Golf Club or when they are having a wedding or special event at one of the Titus Mountain lodges. The bar area sounds like the perfect way to wind down, or while you are getting ready to head out to the party.
The chalet is very close to the lower lodge of Titus as well. In fact, the lodge helps create that picturesque landscape that can be seen from the back deck and windows. There is always something fun going on at the lodge. You can find live music and entertainment, as well as ski and snowboard competitions. Ski in the winter, walk during the other seasons, or hop in the car for the shortest drive of your life to participate in the fun going on there.
There is a lot of variety at the Titus Mountain Family Ski Center chalets. Come alone, come with your family, or bring a big crew to try it out. It is available during all seasons and for a number of different occasions. While you're here, be sure to check out our outdoor recreation and dining opportunities!
---
This week in related ADK news: 
Loop through history
Something fishy
Stretches with wolves
Adir-odd-dack
Marsh flocks
Adirondack hospitality
Evening on Lake Clear