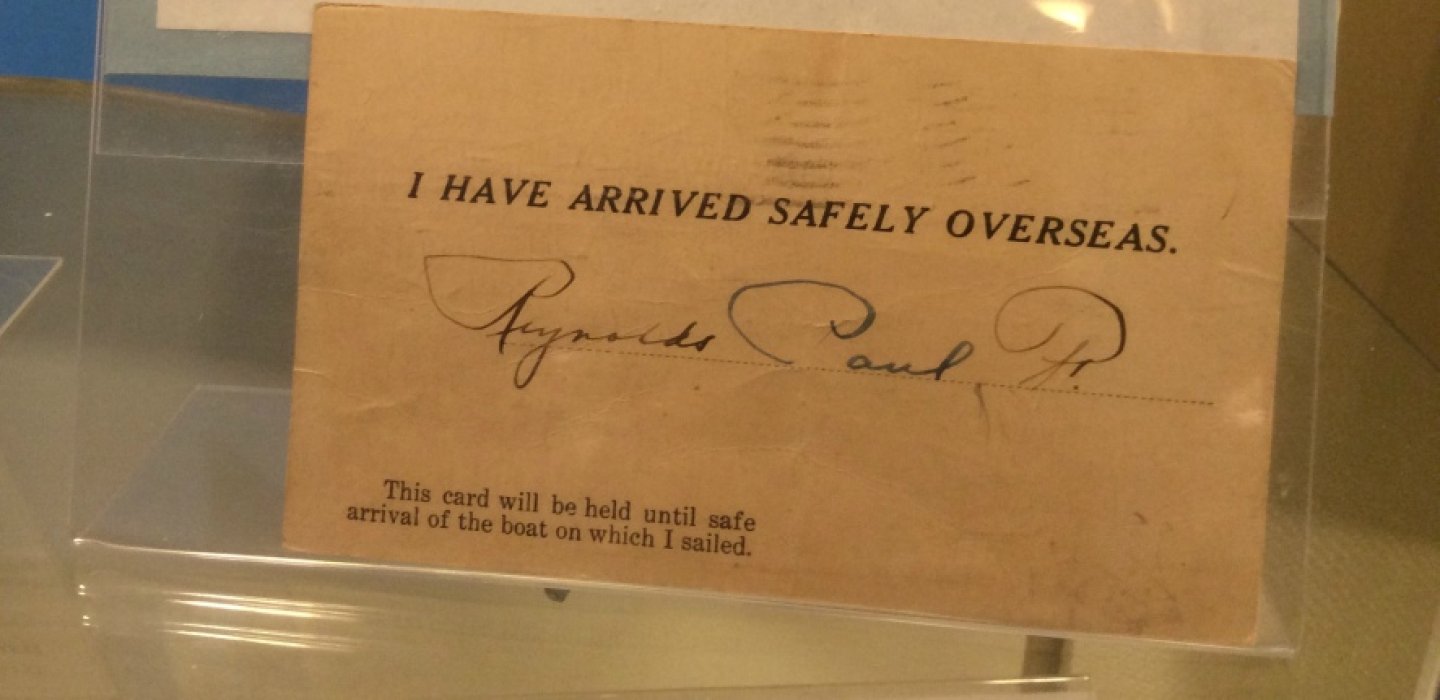 Do you have family from Franklin County? Anyone with an interest in genealogy should consider a visit to the Schryer Center. This is an extensive library of Franklin County history, with a special emphasis on family history.
Above is a photograph of an actual "safe arrival card" from a Malone area soldier. When they reported to their ship taking them to Europe for WWI, they were issued a pre-printed card. Once signed and addressed to the folks back home, it would be mailed when the ship docked. This let families know their son had made it at least that far.
Imagine if that card had the signature of your ancestor. I find such tangible evidence of a personal past to be fascinating.
Old and storied
According to a May 29, 2014 article in "Time," genealogy is the second most popular hobby in the United States (gardening is first). The ability to research family lineages and history was greatly expanded when all kinds of research materials began appearing online. Many sites sprang up to help people exchange information and have access to searchable databases. Even so, every search comes to a point where some details could only be found in the place where they began.
The materials in the Schryer Center come from many different sources. They have county records stretching back to the beginning, but a lot of these were not managed in a logical, or even required, manner. The librarian on duty (they are all volunteers) pointed out that a lot of what is taken for granted today wasn't kept track of at all 200 years ago.
Then you can be surprised, as I was, by the fragments that did manage to survive, and how unlikely they were to be recorded in the first place. Like the picture below, where a turn of the last century resort hotel took a picture of their staff.
The Center is in the carriage house of the mansion that became the House of History. This museum of Franklin County history has many wonderful acquisitions that are in a constant state of cataloging, scanning, and storage. When it is time for attics to be cleared out or a renovation reveals that some historical document was used to block a North Country draft, everyone knows to reach out to the museum.
A place of significance
I was surprised to learn that half of all library patrons researching their family history at the Center were from out of state. But when I thought a little further, I realized it made complete sense. This area was the center of a lot of history, after all.
Malone was more than the county seat. It was a bustling and prosperous place of great influence socially, politically, and economically. It was a hops-growing powerhouse in agriculture and sent a vice president to Washington, DC. It was a center of the 1812 conflict with many important battles being fought in the area. It drew people to the area, and then became a place many others set out from.
The Center has filing cabinets, books, files of clippings, and many other tools to help the past come alive. The librarians have a lot of experience helping families connect the dots, and the library study room is a pleasant space for such study.
The Hudson Valley was a powerhouse region in the early years of the United States. The Erie Canal, completed in 1825, was an incredible economic generator that made the entire area grow. As waterways gave way to local railroad systems, this ease of transport and communication worked the same magic throughout New England, Canada, and Upstate New York.
It explains how so many family trees have their roots in the area.
Open the vault
I am always impressed by the astonishing depths revealed in the Center's collection. There are high school yearbooks and other school items, which also includes the famous school for the deaf that was here from 1885 to 1957. If your family had a deaf member in any of the bordering counties during that time, chances are they attended school here.
Likewise, it was 1898 when Ursuline Sister Stanislaus Janisse brought three other Catholic sisters to found St. Joseph's Academy in Malone, beginning an academic tradition that lasted until 1976. If parents in that time wanted a Catholic education for their children, they might have attended, or even boarded, here.
The cross-referenced cabinet of names covers French Canadians who came for the logging, Irish immigrants involved in the War of 1812, Eastern Europeans who came to work the mines, or Dutch and Germans from the earliest days of New York. There were even some African Americans drawn by the Underground Railroad which was very active in the area, along with the openly desegregated communities established near John Brown's Farm.
No matter how humble or exalted, they seem to have an equal chance of finding their ancestors at the Center.
I was fortunate to visit during a time the House of History had a WWI display, a historical time period which is a special interest of mine. I have already seen the medals and uniforms in other places, but this display evoked the period beautifully, from the sheet music and telegrams to the shoes and hats and everything in between. It is a little bit astonishing how much history waits to be discovered.
I hope you find some, too.
For decades deaf children came from all over Upstate New York to attend the Institute for Deaf Mutes in Malone. Read the blog about the couple who founded it in Silent Signs of Love.
Find the family lodging. Treat the family to our dining. Walk through history with Malone's "Architecture is History" tour.
---
This week in other ADK related news: