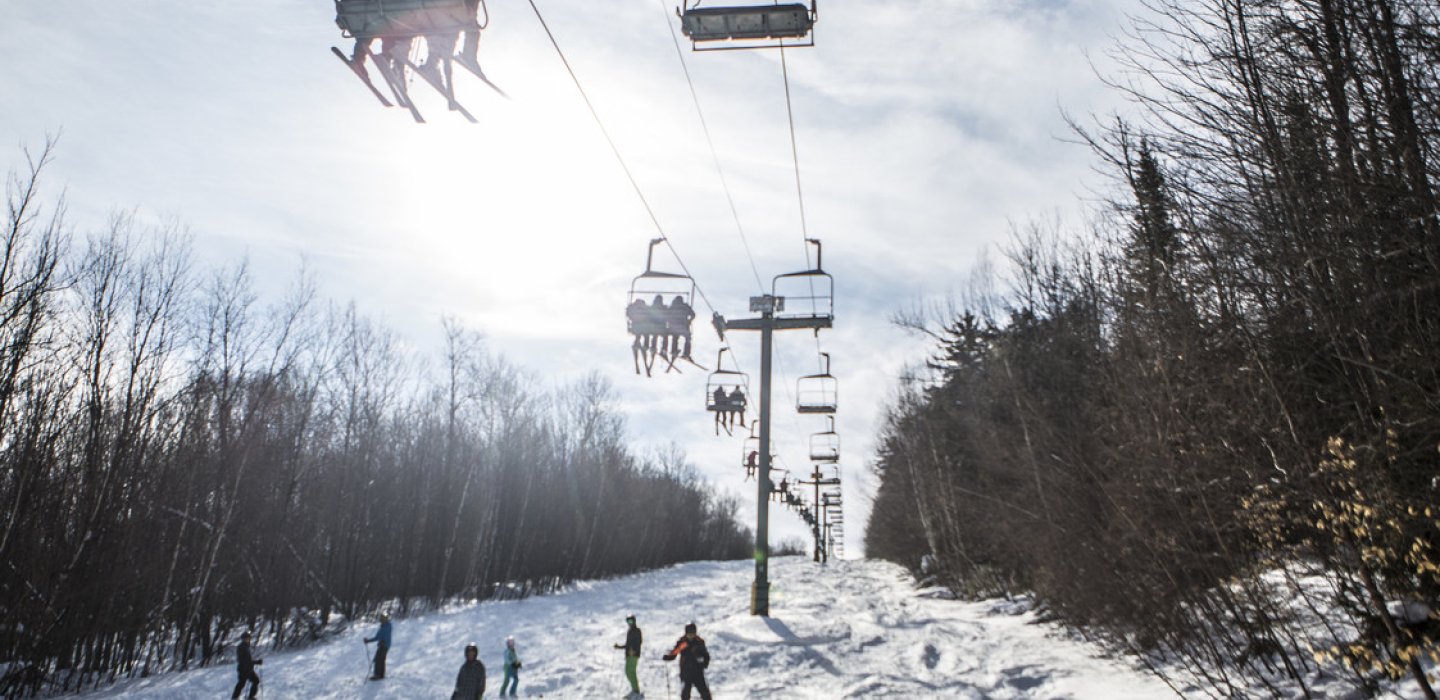 Titus Mountain Family Ski Center has it all -- varied terrain, three restaurants, lodging, and such a family friendly environment Liftopia rated it the #1 family friendly resort in North America. Check out our eight favorite things about Titus, then plan your next winter vacation with us and come see what all the fuss is about!
1. You can use your Canadian cash at par to book your ski and stay package.
That's right! When you enjoy the amenities offered by the lodging properties in Malone by booking a ski and stay package, you can use your Canadian cash at par. You don't have to worry about exchange rates, just skiing and relaxing with us here in the foothills of the Adirondacks.
2. Close to the border means more time for fun.
No matter where you are traveling from, don't worry about being stuck in traffic. You won't have to sit behind other cars while you wait to hit the slopes. Titus's location is ideal for avoiding the traffic. This gives you more time to enjoy the fun on the mountains at the resort.
3. Long lift lines? Not at Titus!
Nobody likes to spend a day at the mountain standing in long lines, and at Titus you won't have to. Hopping on one of the mountain's 10 lifts is fast and easy, so you can focus on enjoying why you came in the first place -- to experience the exhilaration of cruising downhill again and again and again. 
4. We were voted #1 family friendly in North America by Liftopia
Liftopia says "Titus is a great confidence builder! They keep safety first and have incredible snow conditions." We couldn't have said it better ourselves! The slopes at Titus offer something for every skill level. Are you just starting out? Head to the learning hill and its fun magic carpet ride. Have you been skiing awhile and want to go fast? Head to the black-diamond-studded Upper Mountain and pick your thrill.
5. Relax in affordable accommodations.
Our award-winning lodging properties are among the most affordable in the area, and they'll all leave you feeling relaxed and renewed. Cozy up to complimentary breakfasts, fireplaces, and so much more. You'll love laying your head down in a warm, welcoming atmosphere after a fun day on the mountain.
6. Ski longer and get more for your money.
There's nothing like skiing or snowboarding under the stars, and there's no better way to extend your day than night skiing at Titus. The trails are lit up into the night on weekends, so have dinner with us and get back on the slopes. Who says the sunlight gets to tell you when to stop having fun? 
7. You can enjoy more than skiing and snowboarding.
Tubing, live music, and three dining options on the mountain give you more for your money. Want to take a break and warm up inside? Eat a delicious meal by the fireplace and sip a refreshing beverage, then head back out feeling fully recharged.
8. Three restaurants and maple syrup.
It doesn't get more local than this! Titus Mountain Family Ski Center has is home to three restaurants and its very own sugar shack called "Moon Valley Maple." Their maple products are used all around the area and even at the slope-side eateries. Purchase Moon Valley Maple cotton candy for a sweet treat, or savor the flavor of their famous maple chipotle bbq at Moon Valley Grill.
---
This week in related ADK news:
Owls and raptors and geese, oh my!