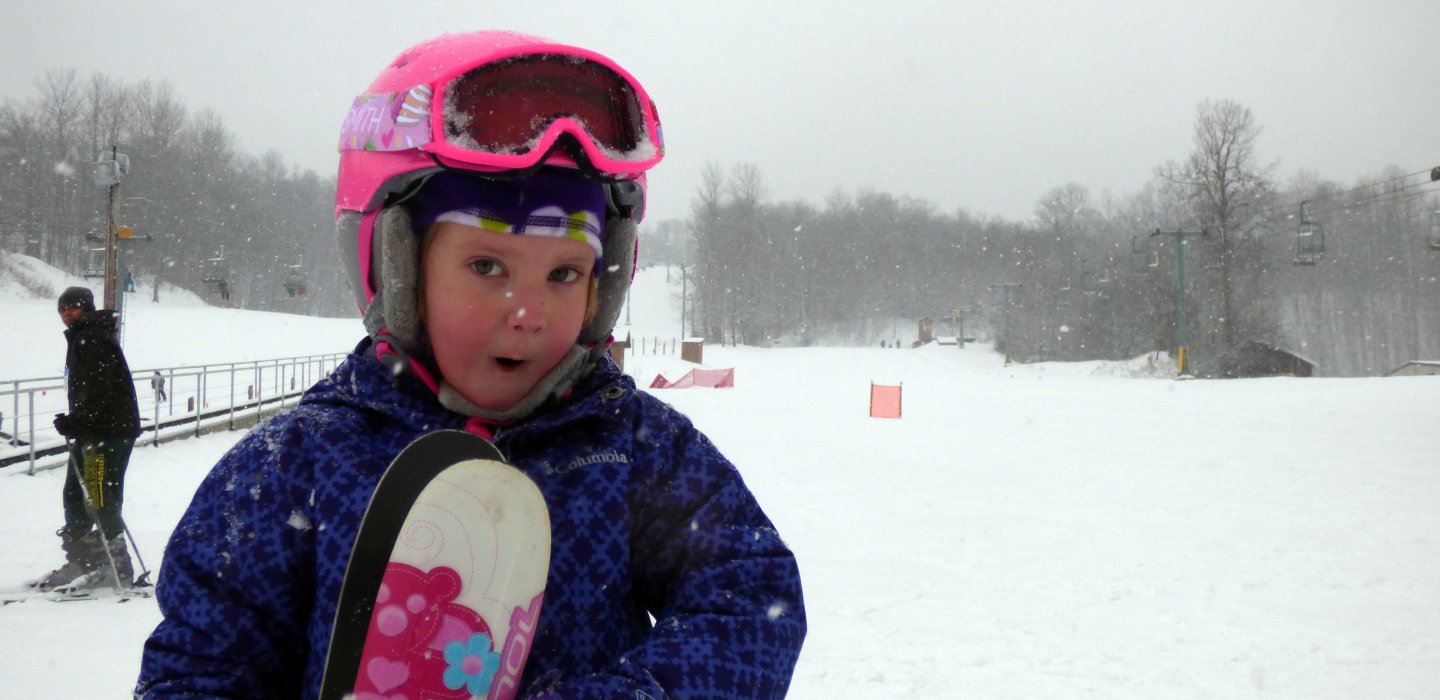 madhouse or simply a little cabin fever? 
We can all admit that winter can be a long and relentless season, especially if you don't have something to keep you active and out of the house. Add kids to the mix, and the term "cabin fever" doesn't seem to do it justice. Seriously, if you have children of your own you will probably agree that being cooped up indoors for a long period of time draws out a little more than the "unhappy and impatient feeling" that Merriam-Webster defines cabin fever as. Maybe it is just our family, but being stuck in the house with the pent-up energy of three kids makes it feel like we are living in a madhouse rather than simply suffering from a little cabin fever.
Transitioning from ski bum to ski family 
This year I put together a one-word plan to surviving winter: skiing! After getting my husband back on skis last year (and already having a 13-year-old with a similar affection to the sport), I decided this season would be the perfect time to get the rest of our tribe on the slopes. So, right before the holidays hit full swing we took the plunge and grabbed some season rentals for the two little ones (ages 5 and 6 -- yes, I know that is close together; I don't need reminding).
When we went to the ski shop, I'll admit they were a little apprehensive. Elliot (age 6) wasn't sure if he wanted to snowboard or ski and Bayleigh (age 5), decided she wanted skates because they were "prettier than ski boots." After explaining how much fun it would be if we all started skiing together their excitement level rose, and by the time we left we were lugging around what felt like enough gear to sport an up and coming Olympic ski team. 
Next came the snow and a trip to Titus Mountain!
When it came time to hit the slopes, we decided Titus Mountain in Malone would be a great spot for our first family ski trip. The learning center at Titus has a sweet setup for never-ever skiers. Not only does it feature a new magic carpet, but it also has a short chairlift which allows beginners to master the slope and learn to load and unload from the lift before progressing on to the rest of the mountain. The other deciding factor was the affordability. Since they offer tickets for just the learning center, we realized we wouldn't need to fork over tons of money on adults lift tickets only to spend the day on the bunny slopes. Ultimately on paper, it looked like a win-win! (And soon we found out it really was.)
The makings of "the best day ever!"
Seven years ago, as I was teaching Nick to ski (and watching others learn in the process), I discovered that everyone learns at a different pace. There are essentially two principals: Keep it safe and keep it fun! Our goal for the first day at Titus was simply to get them to see what it was like to glide on snow, learn how to safely get on and off the magic carpet, learn to stop and possibly begin to learn to turn (if they weren't whipped by then).
To keep it fun, we let them call some of the shots and here is how it turned out...
Meet the 5-year-old
Anyone who knows Bayleigh knows that she loves school, so the second she discovered that their are official "ski teachers," that was the route she wanted to take. After spending the first hour or so on the slopes simply learning how to put her skis on, how to fall and get up (yes, it helps to learn how to fall), and getting on and off the magic carpet, Bayleigh was ready for her first private lesson with a real ski teacher!
At 11 a.m. Bayleigh met Miss Kitty, and they hit it off real quick! As I skied with the boys for a while I watched her learn how to properly form the pizza (or the snow plow as it was called when I was a kid) and how to stop. Before long you could see her progress along to turning around Miss Kitty, and then the big challenge came -- doing it without the edgie-wedgie to hold her skis together. She was all smiles when she returned from her class skiing without it and got the green light to move on to the chairlift. 
After her class, Bayleigh decided she wanted to stay on the Magic Carpet for the afternoon because, as she put it: "It's just my size!"
Meet the 6-year-old
Elliot wanted nothing to do with a teacher, he simply wanted to go at it on his own (with the help of Dad). They spent the morning learning how to glide on the snow and balance on the skies.
From there, Elliot progessed on to learning how to stop and turn. Unlike his sister, he really wanted to stick with the edgie-wedgie and chose to focus on advancing toward the chairlift, because "It takes you higher!" 
Meet the 13-year-old
Okay, so Nick pretty much left us for the big slopes most of the day. After all, he conquered the slopes years ago and was eager to get out for the first runs of the season and test his new twin-tips. But, to my surprise, he did swing by the learning center often to check in on how his brother and sister were doing and offer some moral support! And even more surprising, he and his brother didn't argue once all day, which is a feat on its own!
And then they all agreed!
"The best day ever" quote actually came from the kids when we were packing up our gear to head home. I asked them what they thought of skiing and Bayleigh proudly responded with, "This was the best day ever!" as Elliot chimed in agreement with, "Oh yeah, it was!" As parents, isn't that what we strive for... your kids having a blast as you spend quality time together as a family? The only electronic device that was seen the whole time we were on the slopes was my camera. We chatted the whole way up the lifts, had an awesome lunch together at Moon Valley Grill, located right inside the base lodge, and even sang along to the radio on the car ride until they all fell asleep -- then mom and dad enjoyed some quiet time!
Come Make your own "BEST DAY EVER" at Titus...
Don't let cabin fever get to you this winter! Find an activity to get you and your family out of the house and having fun. If skiing sounds like it would be a good fit for your crew, I'd recommend considering Titus Mountain in Malone. With a great laid-back family atmosphere, an awesome learning center, ski school, rental shop and three mountains of terrain set for all levels of skier and riders, Titus really is a great winter destination for the entire family. Nearby you will find plenty of lodging options, so consider making a weekend of it and stick around for night skiing and even a couple hours of tubing on the adjacent tubing hill. Trust me, the smile on your kids' faces and the memories you will make together will be simply priceless! 
Note from the author: Please use extreme caution  and watch for the following signs if you decide to put your kids on skis. Common symptoms experienced might include, but are not be limited to: constant nagging to return to the slopes, the desire to skip school because the weatherman said: "Tomorrow looks like a great day for skiers," and in extreme cases hearing the request to "Bring our sleeping bags next time so we can sleep in the lodge and ski two days, not just one." Unfortunately, in the first few days back from our first ski trip, our children developed all of these symptoms and have been diagnosed as ski junkies. 
---
Ready to hit the slopes at Titus? Why not take advantage of our great new Ski & Stay packages? 
---