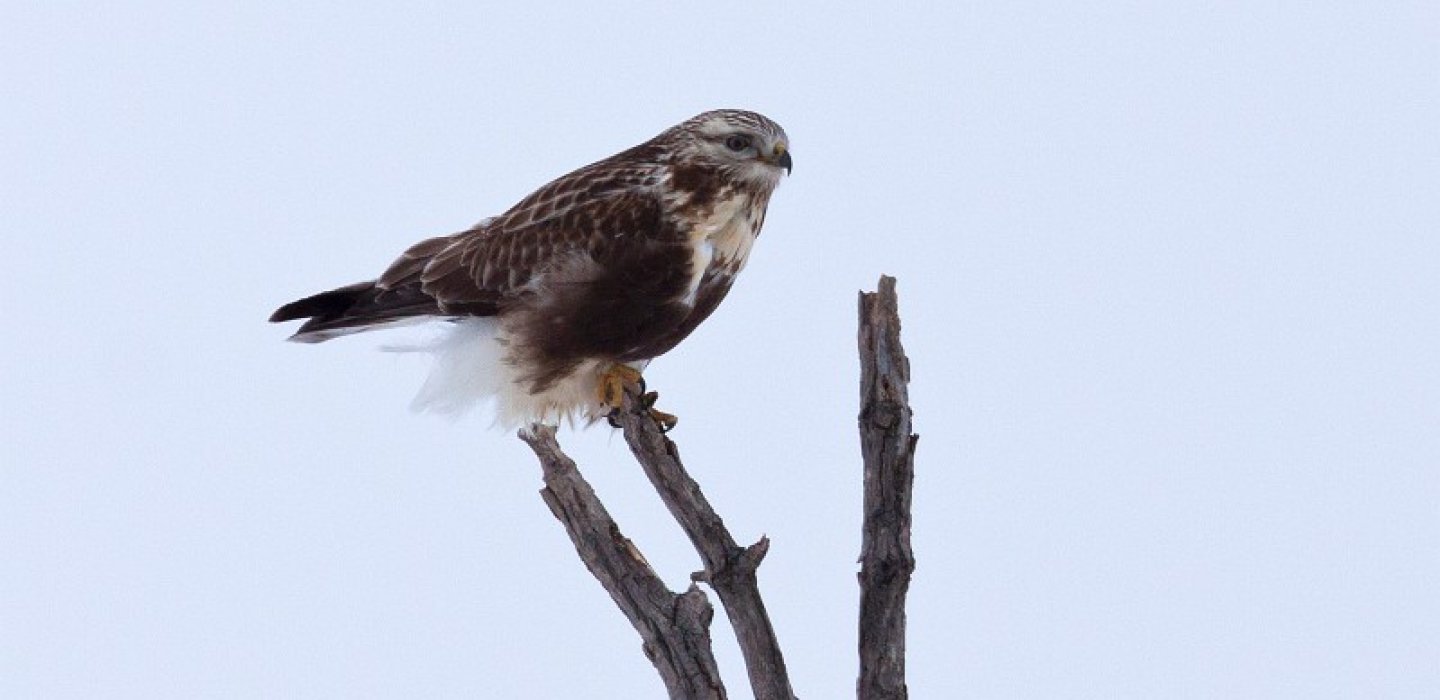 Starting with Winter Finches
The overcast day was brightening when I headed out birding this past weekend with some folks. We began along Oregon Plains Road north of Bloomingdale, where our day started with flocks of Pine Siskins and Purple Finches, and a Ruffed Grouse strutting across the street. We stopped at the parking area at the end of Bigelow Road and heard flyover White-winged Crossbills and soon thereafter we caught a glimpse of a pair of Red Crossbills. Two Gray Jays also showed up -- looking for a handout -- and we obliged their request. 
We moved along to Route 55 in Bloomingdale Bog where another group of Pine Siskins caught our attention, helping us find a pair of Red Crossbills feeding in the tamaracks with them and posing nicely for us. Two more Red Crossbills flew overhead.
Raptors and Lapland Longspurs
Happy with our finches, we headed north to bird the fields of the St. Lawrence Valley in search of field species and raptors. After a short stop at the Malone Airport, we began to loop through the roads west of town, noting a couple Red-tailed Hawks and a flock of Horned Larks along Wheeler Road.
I spotted a couple Lapland Longspurs with the larks and I quickly counted five of them. But the birds flew down the road before everyone else could get a good look at them, so we pursued them further. Soon our count of Lapland Longspurs was up to nine, and after a little finagling, everyone was happy with our views of them.
We continued driving through the roads, starting with White Road where we added two Rough-legged Hawks, more Red-tailed Hawks, and another flock of Horned Larks -- this one with two Lapland Longspurs. Further along our loop we added a few small flocks of Wild Turkeys, an adult Bald Eagle, another Rough-legged Hawk, a few Brown-headed Cowbirds (a good find during winter), and still more Red-tailed Hawks.
Despite our success, we continued north toward Fort Covington -- we had plans to bird Robert Moses State Park and we wanted to ensure we had enough time to do so. We had been hoping for a Snowy Owl in the fields -- the owls have been getting seen across the St. Lawrence and Champlain Valleys this winter -- but we never spotted one. I'm sure there are a few out there.
Further north near the border, we checked out roads like Burns Holden and Mary Riley Road, adding a Cooper's Hawk, a variety of songbirds like American Tree Sparrows and Dark-eyed Juncos, and a lingering Northern Flicker. Then we made our way toward Robert Moses State Park, connecting the dots along our travels with the Red-tailed Hawks we continued to spot as we went.
Robert Moses State Park
The park was largely quiet in the mid/late afternoon, and our first pass on the bridge to Barnhart Island yielded no Peregrine Falcon. After a short spin on the roads in search of raptors which found another Red-tailed Hawk for our efforts, we stopped at the marina where a few ice fishermen were out on the water.
The river was accented with a few small gaps in the ice -- put to use by clusters of Common Mergansers and Common Goldeneye. Further out on the river, a larger patch of open water had attracted a group of gulls and we scoped through the Great Black-backed and Herring Gulls to find at least two Glaucous Gulls.
We had been hoping to find gulls at the Robert Moses Dam -- one of the best places to look for gulls in the entire state. But with open water along the river, the gulls have options for where to find ice-free stretches of water. And so when we arrived at the dam we found lots of Common Mergansers but no gulls -- a strange sight -- and we were glad we had given ourselves time to scope the gulls up river.
Despite the quiet at the dam, we used the late afternoon to work other roads in the park, finding small clusters of American Tree Sparrows, yet another Red-tailed Hawk, and a Peregrine Falcon on the bridge to Barnhart Island. We ended our day by spotting multiple porcupines feeding in the trees along the road -- a nice send-off before we turned for home.
Winter birding in the Malone Region of upstate NY can be great! Plan your trip today -- we've got cozy lodging and great dining options after a day spent exploring!
---
This week in related ADK news:
5 paths to Saranac Lake winter fun
Camp Santanoni winter weekends
Tupper apres cross-country ski