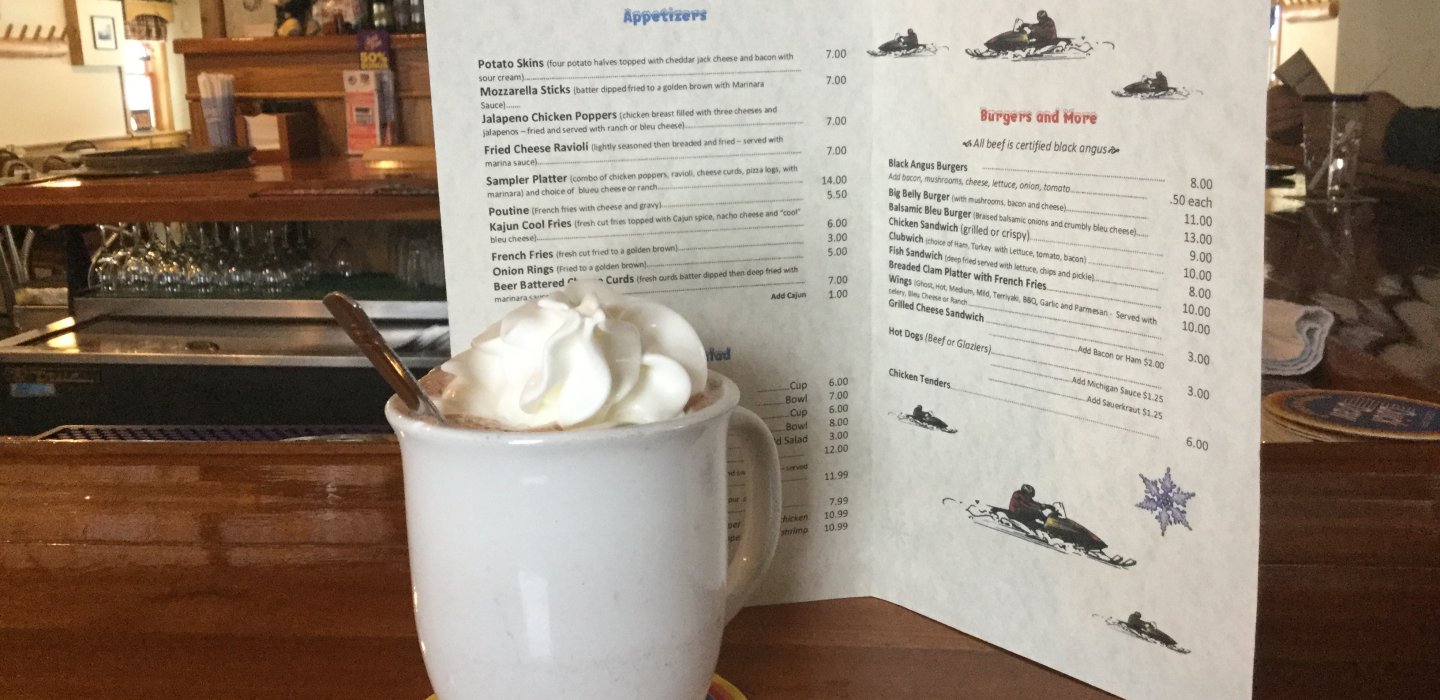 It's a pretty, forest-lined drive to the charming little village of Mountain View. My brother and I set out, by SUV, to explore this place I had heard so much about.
Via snowmobile, take Corridor 7, which passes right through Malone. We're in search of a popular spot known for its 24-hour gas, local snowmobiling headquarters, and some imaginative and delicious pub dining.
Our destination is Belly's Mountain View Inn -- justly famous, and not only with the snowmobiling crowd. For instance, I am in love with this dish.
But more about that later.
It's the destination
Mountain View is a beautiful location, west of Upper Chateaugay Lake, and on Route 27, which is a fine route for a scenic drive anytime. In the winter, snowmobilers have many reasons for Belly's to be a must-not-miss pit stop. There's the 24-hour gas pump on the premises (as seen in the back, in the photo below), and the well-groomed trails, sometimes by Belly himself.
Belly revitalized the local snowmobiling scene with his organizational flair, and now he gets to pilot the groomer. Sounds fair.
Terry "Belly" Bellinger and his wife, Beth, purchased the historic building, originally established in the 1890s as Safford's Grand View Cottage. After extensive renovation -- Belly will be glad to show you the before pictures, which he keeps behind the bar -- they opened up in August of 2003. They are now hailed as a destination for snowmobilers from all over the Northeast. Travel the old railroad line, which is now a groomed corridor, and Belly's is only 100 yards from the trail, with a special parking lot just for snowmobiles.
Belly also provides timely trail updates on their website, as seen here:
Sun. Jan. 21st. 11:30 AM

Busy day on the trails yesterday. Temp & traffic paid a price on the trails. I went out last night and groomed C7 from Mt. View to Inman Station(junction of Co. Rt. 26). I also groomed C8A(Wolf Pond Rd.)to the junction of S83.(Beaver Lodge trail) We've had a bunch of sleds gassing up this morning so I would think it'll be fairly busy on the trails early today. We've had reports of signage being messed with and some unruly riders being nasty to the loggers who are trying to make a living. Remember, they are logging land that we have have trails on and it would be too easy for the landowner to close those trails down. Please respect the loggers and the signage we put up.
We are the Adirondack Snowdrifters and we need you. We would look forward to your help by joining our club and also volunteering to assist us in making the trails and snowmobiling better in Franklin County. Thanks in advance for your support.
I will once again do my best at giving you the most accurate and timely trail conditions in the north country.
It's all about the sleds.
Troy had the hot buttered rum, I had the peppermint hot chocolate, and both were delicious. There were other hot drinks we will have to try another time.
It's the food
Two snowmobilers came in right after we did, and declared themselves ready for the jalapeno cheeseburger.
But we were more in the mood for appetizers, and chose the medium wings and the Kool Fries. We split the wings, but it was difficult to split the Kool Fries. I wound up eating more than my half of those. They are a unique combination of two kinds of cheese and I really liked them.
The wings were plump and just right for medium hotness, too. It was very satisfying, and we weren't planning on dessert. But our minds got changed.
The eggnog pumpkin pie got me. You don't see that one every day. It had a crunchy nut topping with brown sugar. That was another one that was difficult to split fairly.
I got a slice of chocolate silk pie to bring home. It was quite rich, and also had to be shared. Beth told me a woman from Lake Clear arrives every Saturday that she can, just to order a slice. She doubled the original recipe so the pie would fill up the crust. Which is a fine philosophy I admire in those who make dessert.
It's the people
This is also a good place to hear all kinds of snowmobiling information. One trail was recently fixed up to eliminate rocks and fill in potholes. Belly greets another guest with, "Which one you got today?" The answer was, "The oldest," sounded like he was talking about his children, but it was about his snowmobiles. Turns out, he owns three, from his practice of finding ones which need work and doing it himself.
It would seem that Belly was born to be the snowmobile icon he presently is. The giant grin, the instant rapport, and the dedication to his craft all display themselves on the first visit. Beth is equally integral to their success, especially for her fine dessert skills.
We are looking forward to going back.
We walked in, and we were friends. That's real Adirondack hospitality.
Don't want to leave just yet? Stay at Sugarloaf Cabins, just down the road.
We have lots of lodging, more great dining, and plenty of snowmobile trails.
---
This week in related ADK stories: