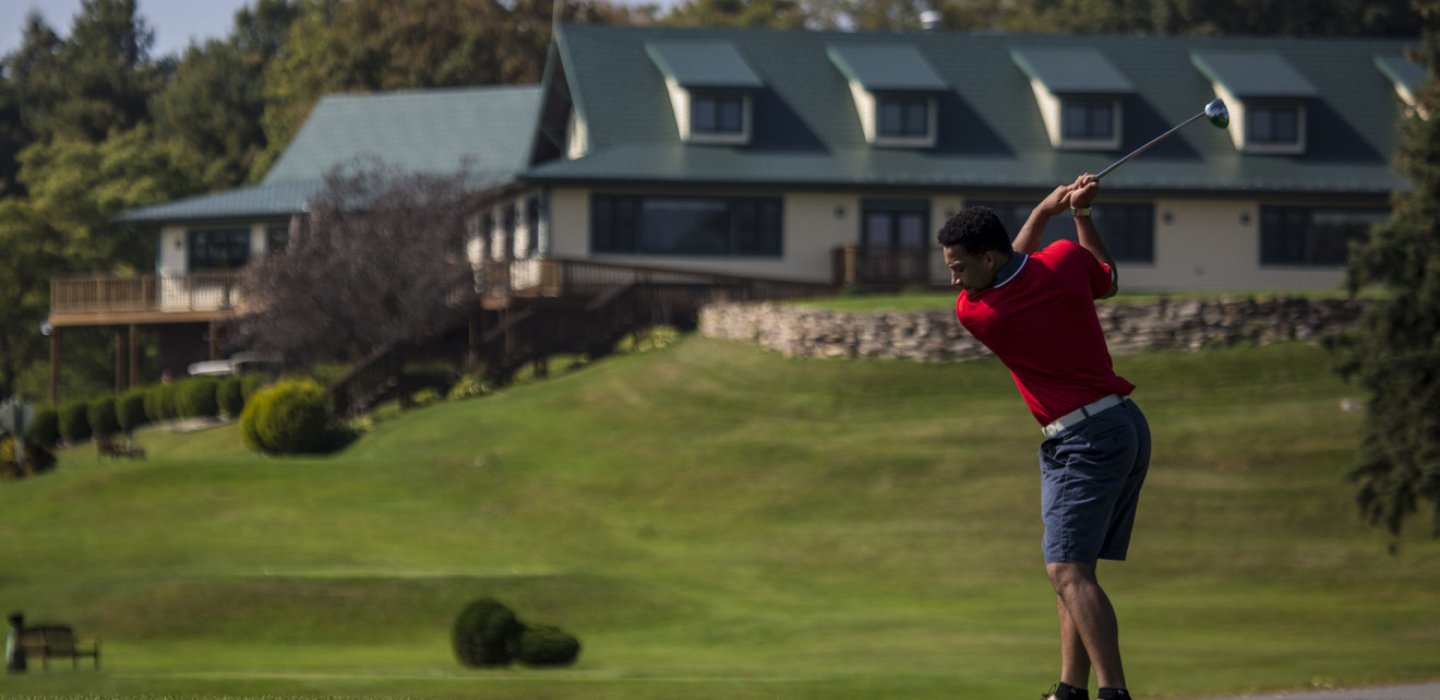 DayDreaming about golf
As I sit in my office and get my daily work done, I often catch myself daydreaming of fun things to do in the wonderful greater Malone, NY area.
Some of my favorite musings include hiking, fishing, snowmobiling, and skiing, but lately, golfing is the top contender. I know that soon the weather will be warming up and the ground will be drying and I start imagining my arms swinging to make contact with a beautiful little white ball. And of course, because this is just a daydream, I obviously hit it right down the fairway and in great position for a perfect approach shot.
One of my "favorite" holes is number 5 on the Malone East course. I put it in quotes because it's only my favorite on those days when I am really on top of my game. I like the challenge of the many hills and valleys that this hole has to offer.
In my head it is always a good day, so I play the ball toward the left and it lands at the top of the plateau with an angle for a great second shot. My second shot then is a perfect fade and lands right on the front of the green where, in this daydream, they have placed the pin. As I walk up to the green, I notice the next hole, a par 3 that I remember having some success with in the past years. The sun is shining and it is a beautiful, bluebird type of day at the Malone Golf Club. I get ready for my first putt, take a practice swing, and the putter feels great being in my hands again. I get ready to take my third stroke and the phone rings.
Yes, my phone rang in my office, (don't forget, this is my daydream). It was someone calling from Canada to ask about booking one of our awesome stay and play golf packages. He was asking me about the different lodging properties and what they have to offer. I told him how they each offer their own unique amenities and accommodations and ensured him that we definitely had something that fit perfectly for him and his group of five friends. The good news for him is that when you book one of these cool packages and you're one of our friendly neighbors from the north, you can use your Canadian cash AT PAR!
Okay so back to that third stroke... I don't know about you, but I can't wait to see how this hole turns out (disclaimer: I can make it turn out how I want since this is my daydream). I could tell it had been since the fall since I have been able to hit the links because my third stroke was a little too strong and I haven't been hitting the gym as much as I would like. Therefore, it must have been the fact that my putting abilities were a little rusty. So the ball went rolling by the hole which was alright, really, because it was only my third stroke and this hole is a par 5.
The fourth shot at this time was feeling good. I took a nice back swing and my body felt loose and I was ready to go --  but still the shot didn't fall. At this point, I am looking at a par which was fine if I was actually on the course and I would be very happy with it, but this is a daydream and, well, I wanted to at least birdie my "favorite" hole. 
The fifth stroke didn't fall either. I have come to the conclusion that it must be my putter. After all, it couldn't be my fault. I guess I will have to stop up to the Malone Golf Club's pro shop and check out the options for putters and other golf gear that they have. Even though it isn't quite time for golfing yet, they are open and I can start getting my gear game to the next level. They can make me look like a pro, at least when it comes to the equipment part, both in my daydreams and when I am actually out there on the course. 
If you're as ready as I am, and you are daydreaming about golf, why wait? There is no time better than now to start booking your trip with us here in Malone. Already booked? Head on over to the pro shop to get geared up and ready for the year to come. Visit Malone this spring, summer, and fall for the best and most memorable golf trip you could ever DREAM of. 
---
This week's ADK stories:
Irishtown & Flanagan's = St. Pat's Day