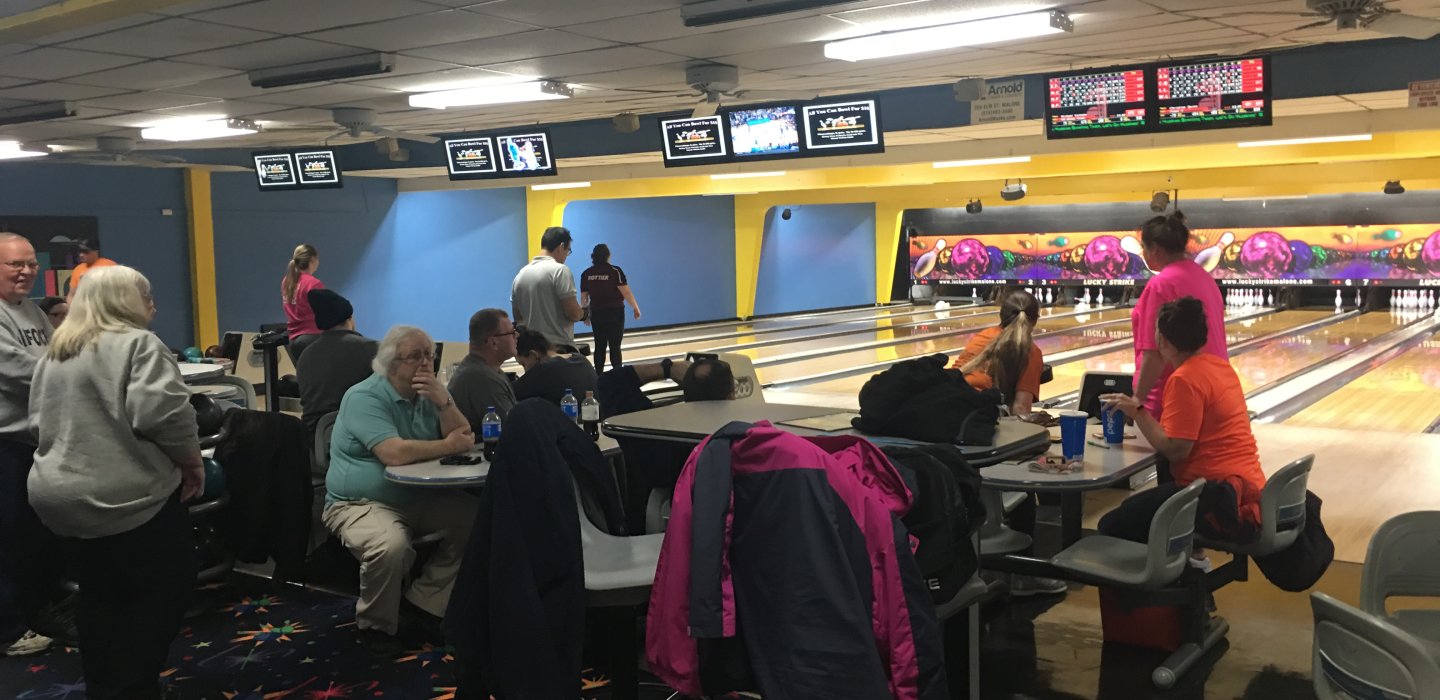 Three strikes... You're in!
Honestly, we aren't joking! Unlike the sport of baseball, three strikes in bowling is great! In our case, we have three bowling alleys in our region. One in the Brushton-Moira area, one in Chateaugay, and one in Malone.
Plan to stay overnight and enjoy the bowling over two or three different days, or try to fit in all three in one day! We have options for you when it comes to places to stay and relax to enjoy your trip and fill your belly with delicious local tastes while you're here.
Big D's House of Bowling
There is great bowling right down the road on Route 11 in Moira -- a mere ten to fifteen minutes from downtown Malone. Families can come here for bowling, food, and fun.
One of our favorite things to do is drive out to enjoy a few games of bowling with friends and family, then order some pizza and wings from Mad Joe's -- one of our absolute favorite places. You can order it to go, head back to Malone, and enjoy it in your comfy hotel room as you plan out your next day of fun.
Located adjacent to one of the area's most historic locations, coming here will take you back in time and have you remembering the days of classic bowling.
The Chateaugay Bowl
Also located on Route 11, on the other end of the Village of Malone, is the Chateaugay Bowling Alley. This is about fifteen miles from Malone. Onsite at this alley is the Cocktail Lounge, a great little bar that is a fun amenity to the bowling experience.
This quaint and cozy bowling alley sits under the Chateaugay Town Hall and Theater which often hosts live music and movies for visitors and guests to enjoy! HERE is an example of one of the events they have coming up! The shows are great to bring your family to or for a fun date of a movie, drinks, bowling!
While out for the night, you're sure to work up an appetite -- a great place to grab dinner is Wendy's Quick Stop! Stop by and see Wendy and let her smile, welcoming attitude, and great staff treat you to some of the best food in the area. Take it back to your room, or sit in the cute little dining area and eat it right there!
Lucky Strike Lanes
Located in the heart of Malone, just down the road from local lodging like the Red Roof Plus and Suites, sits the Lucky Strike Lanes bowling alley of Malone. Lucky Strike features twenty lanes of bowling, on-site food and bar, pool tables, and arcade games. Take a break between games and enjoy the lounge, grab some of the delicious food (we suggest the chicken sandwich), watch your favorite team play on one of the televisions, and then head back to continue your fun night of bowling.
Insider's tip: Come here later at night on the weekends for cosmic bowling. This is where they turn the regular lights down and turn the black lights on. Lucky Strike Lanes then becomes a bright-light show that resembles a disco with neon colors everywhere. This is always a hit with the kiddos!
Come for one, or come for them all. Give it a roll and see how it goes. Challenge your friends and family to see who can get the best round over the weekend or who can score the highest total points across all three locatoins. The fun is here, the food is great, and the memories last forever.