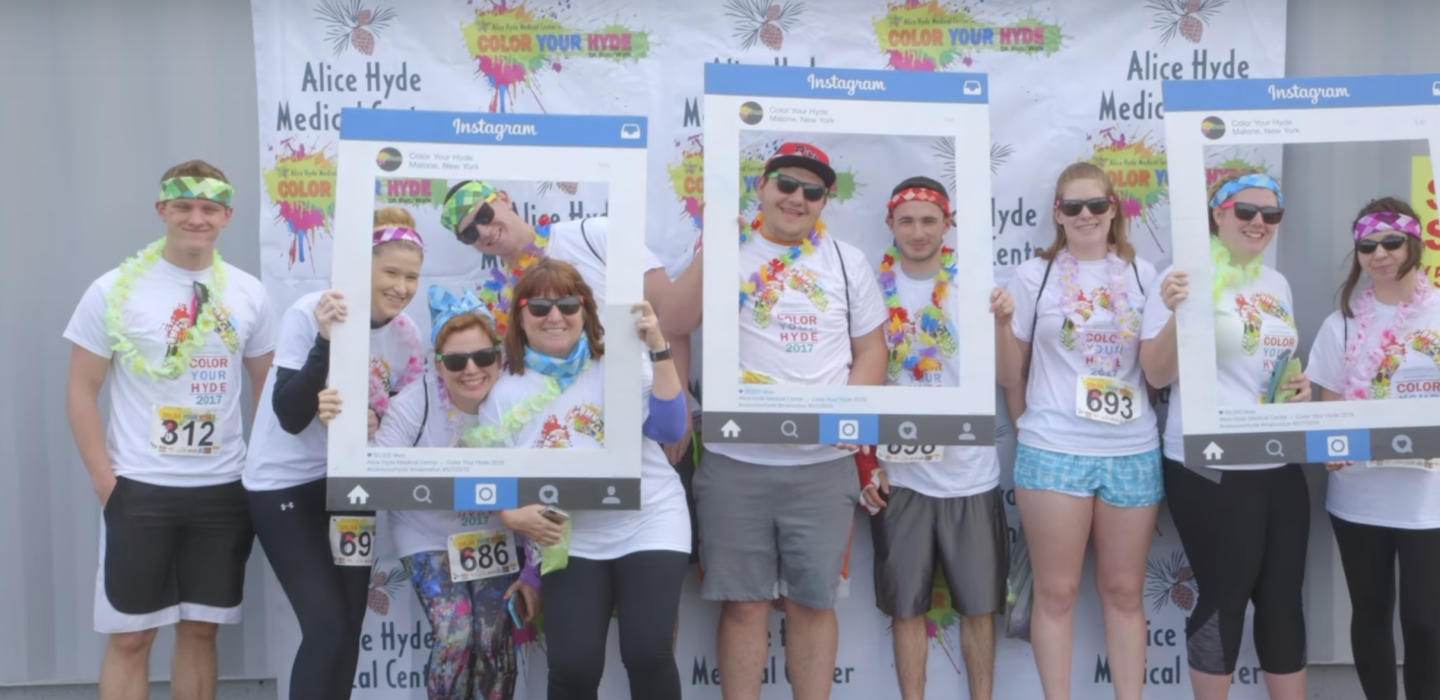 The 5k that colors your soul
The Alice Hyde Medical Center hosts a yearly 5K run/walk to promote healthy living and a feel good attitude in the community. This year's event will take place on May 19.
I have driven by the event in past years, and watched in amusement as runners made their way through town -- I was always very intrigued by what seemed to be a pretty fun atmosphere. I mean come on --- people smiling and wearing white t-shirts that were becoming more colorful as the race went on, what doesn't sound fun about that? I continued to tell myself that one of these days, I would go to the event; and then one day, I was going to participate. 
And then, finally, I did it. Here's the inside scoop on my first Color Your Hyde run!
The event is held at the Franklin County Fair Grounds which has an ample amount of parking so finding a spot was a breeze. Speaking of the breeze, it was a great day for a run. The sun was shining and it was about seventy-two degrees outside with just a slight breeze to help cool you off. I knew it was going to be a great time right from the start. As I walked over to where all the fun was happening, I was pleased with the buzzing atmosphere. There were people EVERYWHERE. I surveyed the crowd around me and they all looked hyped up and ready to get going.
The staging area near the start line for the event had a little something for everyone. There were a couple of bounce houses set up where the younger racers could get the blood flowing and warmed up for their portion of the race. Just down the midway at the fairgrounds was a giant rock climbing wall -- which I must admit, I am a little upset I didn't try -- and the registration table where you could check in, get your racer bag and t-shirt, and ask any questions you had about the day ahead. This staging area also played host to several vendor tents. There were some health and fitness informational tents, some featuring locally produced goods, and some where you could hang out, relax, and play a quick game for fun.
Zumba is something that I had never tried until the day of the race. To help you get loose and warmed up, the event hires Zumba instructors from the area to lead the large group in this exercise/dancing activity that seems to be all the rage these days. I quickly learned why! I was soon smiling from ear to ear as I enjoyed the fun with my friends. I am not normally one to do much dancing (in public that is), but the infectious fun made me feel like I really should try it, and I sure am glad that I did.
For those of you that haven't done a 5K in the past and don't know what to expect, here are a few fun inside tips regarding the actual run portion of the race.
The race directors break down the runners into certain heats (it may vary from year to year).
The walkers: This is a perfectly fine option - and a popular one! I saw multiple groups with strollers and even some with assisted walking equipment. What a fun way to enjoy this event as you follow the scenic course as it runs through Malone. 
The joggers/slower runners: This group consisted of folks who want to do their best to run the whole course, but they might also want to alternate between walking/jogging. I like this group because of their determination and hard work. You could tell they were in it to test themselves -- it was really inspiring.
The runners: I went with this group. It consisted of those that wanted to run but weren't in it to win. I must admit, I wasn't as ready for this as I originally had thought I would be; it turns out my running days were a little further in the past than I had calculated. 
The competitive crew: I don't think I have to explain this one! After talking to some people at the finish line, I heard the race between those in this group was really close and it came right down to the wire (or ribbon, I suppose). From the way the spectators were telling the story, it sounded really exciting to see.  
Finishing the race is the most important and equally rewarding thing. They even have these cool selfie frames that you can use to grab a quick picture to post about your success. One of my favorite things about this event was how laid back it was. It truly is a good fit for everyone -- no matter what your ability level or age may be. For the younger kids, there is a separate shorter fun run. The Kids Run happens just prior to the main event off. It's so cute to watch them all get ready to go and participate. Talk about promoting healthy living right from the get go! 
I am definitely going to register to do this race again this year. No doubt about it. There's something so simple about the whole idea: get up, get out, and have some fun! It's a great reminder that being active and healthy can be a fun time - whether you're training to be an Olympic athlete or pushing a stroller with the kids. Add a little splash of color to your spring, and walk (or run) away feeling great about yourself knowing that you completed this awesome 5K event.
Check out our cool video of the race by clicking HERE
Click the green "register" above to join us for the 2018 event!
---
This week's ADK stories:
Adirondog: hiking with four paws
Schroon Lake's hidden treasures