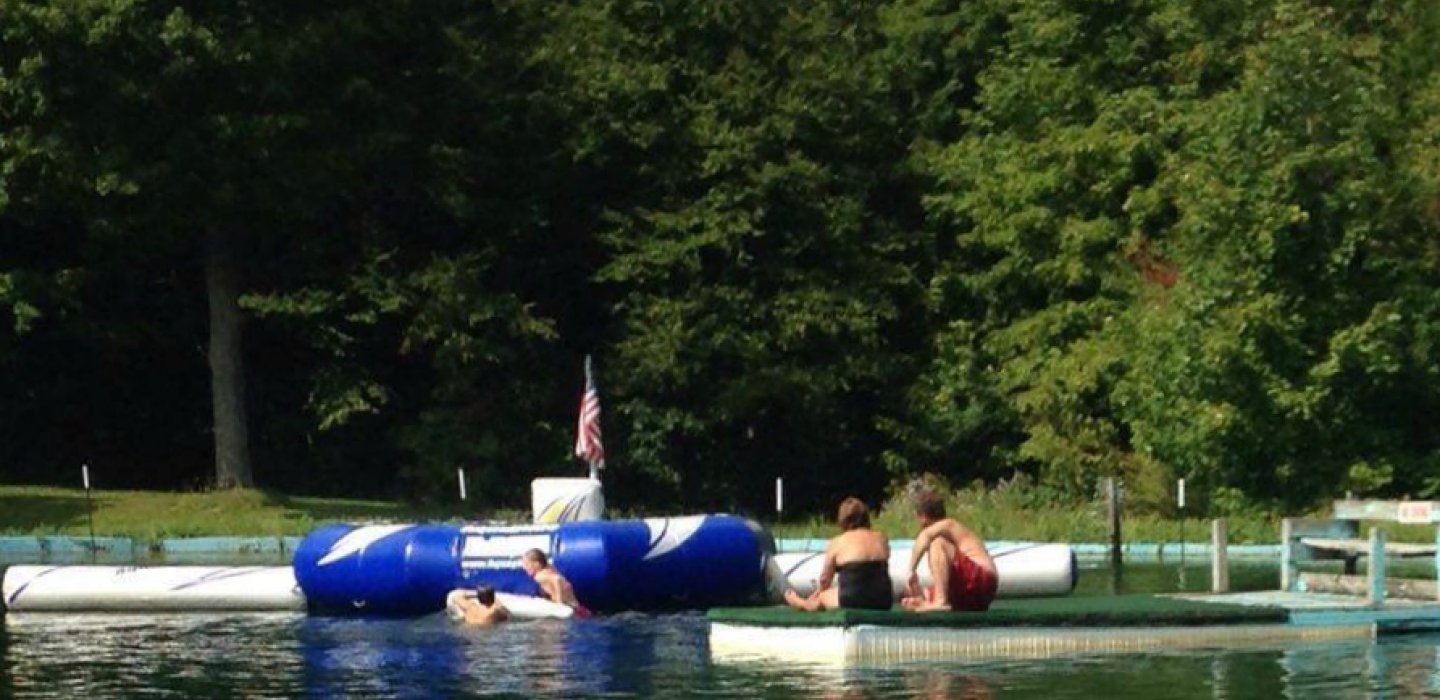 Camping experiences can be as luxurious as an RV, or as simple and nature-filled as a tent in the woods. The Malone area leaves you spoiled for choice, no matter what kind of camping fills your dreams.
Celebrate summer with four different angles on this delightful way to vacation.
A vacation town
Join a community already in progress at Babbling Brook RV Park. It's also a river town, where many sites enjoy a waterfront view. Picnic tables, fire rings, and the firewood needed are all part of the campground.
Pets are welcome in their own walking area. There are periodic activities like live country music, raffles, and a covered potluck for Labor Day Weekend, but for most of the time, it's full of nice people and lots of quiet.
And great fishing, which the area's rivers are known for.
This is a place for those who like to kick back and just watch the world go by. They welcome the big rigs, too.
Find out more about great fishing with the bog post, Rolling on the River.
Busy with fun
Pine Ridge Park Campsite is the one to choose when you want a full buffet of activities to choose from. Plan as much, or as little, as you like to do, because the scenery comes with your site.
Watch the water go by, take a nature stroll, or join in fun baseball or basketball games with new friends.
They encourage folks to bring that fishing tackle and try catching dinner. This is a salmon river, and you can't get any fresher than that.
There's a big swimming pool and playground, or just sit under a tree with a book from their library. The rec center has more games to play, or test your skills at different horseshoe pits. There's also live entertainment and special events like dances all through the camping season. Last year, the Richard Travers Memorial Horse Shoe Tournament was attended by over fifty guests.
There's also a rental cabin available. It sleeps eight, with full kitchen facilities. It's a fine way to see if you and your family will like campground vacations.
Find more fun with our Events Calendar.
The spot for trail riding
The pull of Ponderosa Campsites is their 200 acres criss-crossed with hiking paths and an extensive set of ATV trails. Whatever speed you want to experience nature at, this campsite will offer it.
You can take to the water, too, with Ponderosa Pond. There's a beach for swimming and an inflatable water playground.
Whether your goal is to keep the kids busy and laughing, or take a stroll through scenery, or both, this is a campground that can make that vacation a real getaway.
Chateaugay is only ten minutes away from all the amenities of Malone and local attractions. Learn more with the blog post, Great day in Chateaugay.
Nature retreat
For full nature immersion, Buck Pond State Campground is one of the New York State campgrounds found in the Adirondacks. This beatiful spot offers a wonderful nature experience with a life-guarded lakeside bathing beach with beach house.
There are miles of easy trail along an abandoned railroad bed which offers scenery of distant mountains and colorful wetlands. Plenty of birds and wildflowers, too.
There are many secluded sites with water access. It is located on the western short of Buck Pond, which is 130 acres, and access to lovely Lake Kushaqua and the Kushaqua Narrows for plenty of paddling. There are two launches with rowboat, canoe, and kayak rentals. Bring your motor boat for use on Lake Kushaqua, and enjoy the paddling on Buck Pond, which allows only electric motors and non-motorized boats.
Fish for northern pike, yellow perch, and brown bullhead in Buck Pond. Lake Kushaqua has all these along with black bass and rainbow trout. The North Branch of the Saranac River, below Mud Pond has some fine brook trout fishing.
Falling for camping in Chateaugay
The High Falls Campground in Chateaugay, NY, just down Route 11, has something for every camping need. Take a stroll to the beautiful waterfall before heading back for s'mores by the campfire. There is a baseball field set among the playground and other activity spots in the heart of the campground as well.
Do you prefer a full tow-behind camper experience over setting up that tent? They can get you hooked up to some electricity and running water for all the perks of bring that trailer with you. If you want to try your hand at pitching the tent, there are options for that as well.
Miles of road through the campgrounds let everyone enjoy biking, with low traffic and a low speed limit. There's so many ways to enjoy this lovely setting, with its forests, lakes, and ponds, and this campground has also been made All Access. There's accessible camping, camping pads, showers, restrooms, bathhouse, and a picnic area.
Explore more nature in the neighborhood with the hiking complex at the Paul Smith's College Visitor Interpretive Center. See the blog post, Fun Family Hikes: at any age.
There is every flavor of camping here.
---
This week in related ADK stories:
First Tinman: A survivor's story
Newbie's Schroon Lake bucket list
A new interactive ADK experience