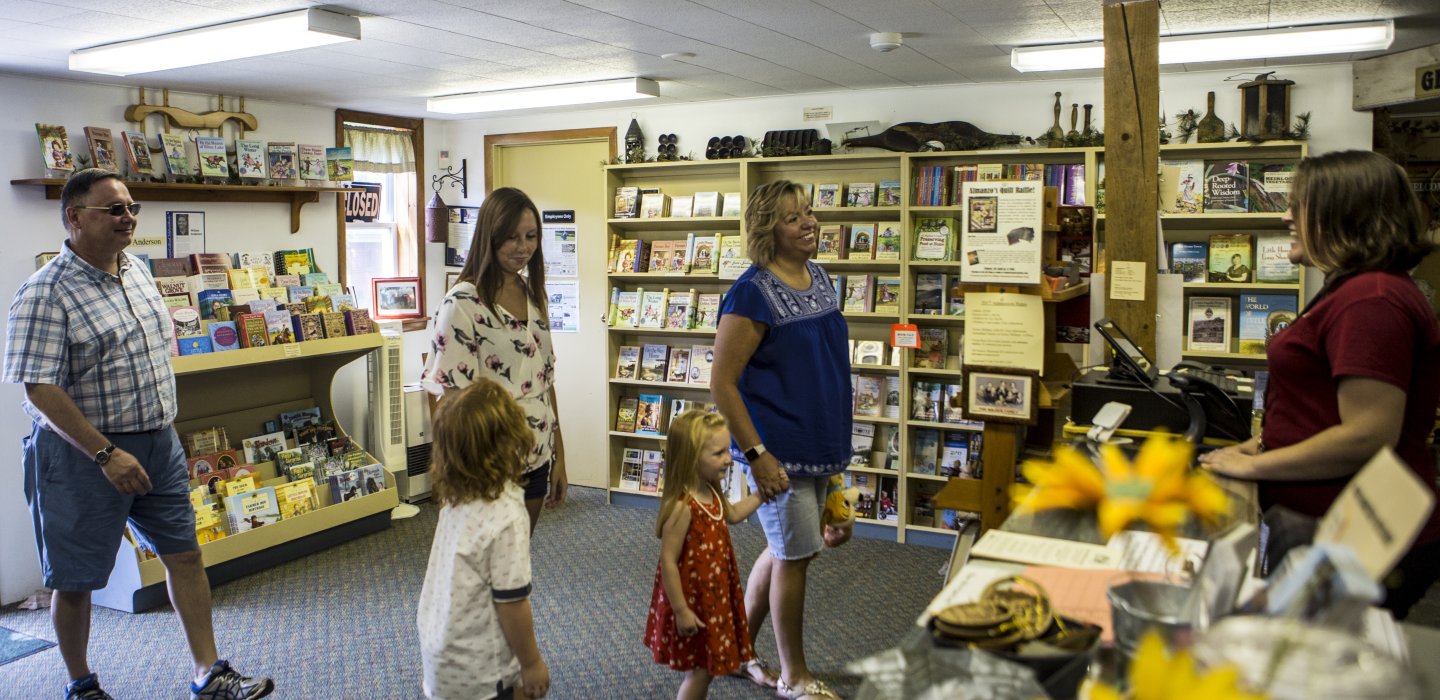 Submitted by guest blogger Rebecca Steffan
---
My Farmer Experience
The homesteading life of the 1800s, with all of its inherent hardships, from crop blight to raids, is hard to imagine in today's world of supermarkets, electricity, and border patrols. And yet, the stories that come out of these chapters in American history continue to capture our imaginations - from the big screen to the small.
Such is the case with "Little House on the Prairie," a TV show just about everyone from my '90s girlhood will remember watching while growing up. The star was the plucky Laura Ingalls, a pig-tailed, freckle-cheeked little girl with a heart of gold. Based on the autobiographical children's stories by Laura Ingalls Wilder, the series opened a window into the past, one we often gathered around our so-not-flat-screen TVs to peer through.
Visiting the past and finding the present
Growing up in rural Pennsylvania in a log house deep in the woods, the stories of Laura Ingalls Wilder's life on the American frontier did not require as much of an imaginary leap for me as some of my other favorite stories. My grandmother literally lived over the river and through the woods, and visits to her sweet log cabin were a daily routine for my family, so were winter nights spent reading by her fireplace from "Farmer Boy," "On the Banks of Plum Creek," and "The Long Winter."
For years, my family would take annual road trips across the country, detouring ever so slightly here and there to visit the museums and historic sites from the Little House books, much to the delight of my grandmother. We traveled from De Smet, South Dakota, to Independence, Kansas, to Mansfield, Missouri, where if memory serves me a crew from BBC was on-site filming a segment about Laura's literary life. They interviewed my twin sister and me, and it was my first and only taste of stardom. Heady stuff. I remember what I wore far better than what I said, but such are the priorities of an 8-year-old in new cowgirl boots.
At each historic site, we wandered through the homes and landscapes of stories we knew well, and loved deeply.
Wildering
As I grew up, our family road trips across the country were traded in favor of European adventures, and my memories began to pack themselves away into that deep box labeled "childhood." That is until, unexpectedly, the tradition of "wildering" came back to my family when I moved to the Adirondacks. As I made my first real, post-college stake on adulthood in Saranac Lake, my mother recalled the story of Almanzo Wilder, the "Farmer Boy" who Laura would marry, while unpacking my apartment. It did not take long for her to locate the site where he once lived, just over an hour drive away in Malone. We got into the car almost immediately.
"Farmer Boy," Wilder's third book about a young boy growing up on a farm in Upstate New York, is rich in detail. It describes winter's cold-to-the-bone conditions, the deep snowfall, and the comforting warmth of farm animals on chilly mornings with a vividness only too familiar to anyone who calls the Adirondacks home.
Our visit to the Wilder Homestead was like peering into my own past. There is a thread of connection between each Laura Ingalls historic site, one that is stronger than their own unique place in one woman's history. These are places that capture our American past, that bring it to life in ways that are relevant, important, and deeply moving to anyone paying close attention. Around each corner of the Wilder Homestead, I followed my own reverie, remembering the thrill of stopping somewhere -- anywhere -- after long car rides, of heading to the gift shop to buy a snow globe or pencil after the obligatory guided tour, of being young and in my own little world. Completely safe, perfectly happy, and wanting nothing more. Mostly I remembered my grandmother, and how much Laura's stories meant to her.
It strikes me now that it is wonderful and necessary to share the stories that mean something to us with the people who make up our world. Perhaps that's why places like the Almanzo Wilder Homestead are important -- it's not so much the simpler times they remind us of, but our own simpler selves.
To visit the Almanzo Wilder Homestead in Malone, head to 177 Stacy Road, Monday through Saturday from 10 a.m. to 4 p.m., or Sunday from noon to 4 p.m. Arrive early, explore the grounds, find your own pencil keepsake in the gift shop, and don't miss the fun seasonal events. Head into town afterward for dinner!
---
This week in ADK news: