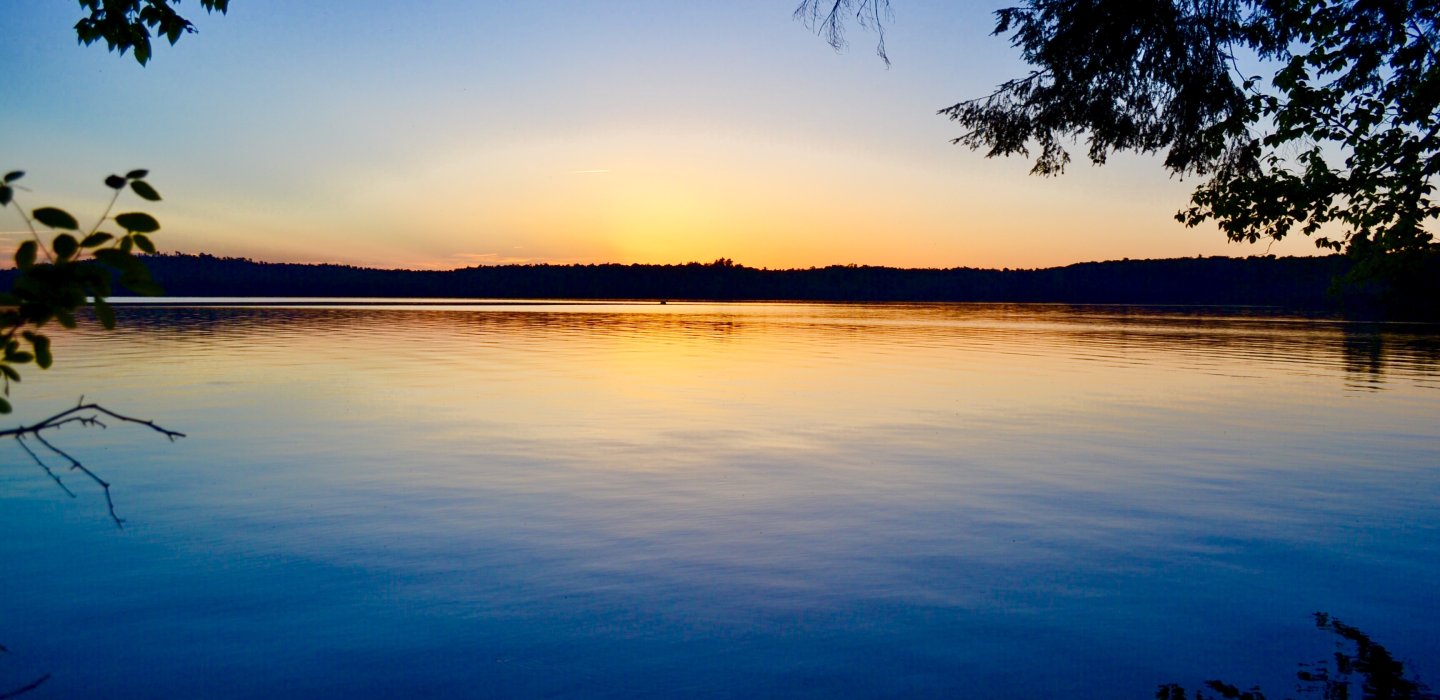 I hadn't been to Meacham Lake Campground in years until this summer. The last time I was there I was in elementary school, so I didn't recognize much as my boyfriend and I pulled into the campground, which is just a short drive from Malone. The campground has over 200 campsites, and many of the ones I saw were large and grassy -- not something you find at some campgrounds. Our campsite had never been used before, had access to the water, and was right next to the boat launch. It was great being so close to the boat launch because we were told that Meacham Lake is great for fishing, and we brought our boat.
Friday
We arrived Friday evening just in time for dinner. We grilled a bacon-wrapped pork loin, asparagus, and potatoes. Sitting down for dinner and enjoying the view of the water with the smell of the nearby campfire wafting by was pure perfection after a long week of work. After we finished eating, I took a walk down to the dock at the boat launch to get a good look at the lake. It was a cool evening, but it kept some of the bugs away. I sat on the dock with my dog, Brody, and watched the sun set behind the trees. It was so beautiful I sat there and captured as many photos on my camera as I could before it started turning dark, then I returned to the fire to relax before bed. After a s'more or two, of course!
Saturday
There's really nothing better than breakfast by the lake. We made eggs, bacon, and toast for breakfast, which we enjoyed while listening to the sound of the loons. After breakfast I was eager to get out on the water, so we went down to launch the boat. We went left from the launch and stayed near the shore, where we dropped the anchor. To my surprise, I caught a fish that I had never seen before. My boyfriend didn't know what it was, but it was the shiniest fish I've ever seen. I took a photo so I could do some research to find out what kind of fish it was, and set it back. It was a pretty windy day, which was not great for fishing, but it didn't affect the families we saw out boating and paddling, or the couple we saw out on a sailboat. 
We headed back to the campsite, ate some lunch, played a game of corn hole, and took Brody for a walk around the campground. We saw many campers from several different states, and we stopped and chatted with some other walkers as we crossed paths. We had friends staying at the campground as well, so after our walk we took the boat down to their campsite for dinner, and then headed back out on the water for more fishing.  
We enjoyed yet another amazing sunset as we trolled the water catching fish. The wind died down, and the sunset reflected off the glass-like water. As we were coming in a DEC officer stopped by to congratulate us. We were the last ones off the water! I showed him the picture of my fish and learned that it was a silver fish, and that he hadn't seen one in years. Fun fact: silver fish are New York state's largest minnow, and they're an invasive species. That made my catch much less exciting, but I was happy to gain that knowledge. 
The campground is so well maintained, and the staff there is so friendly. They stopped by several times to chat with us, which is not something I've experienced at other campgrounds. We had a great weekend -- it was beautiful and we loved Meacham Lake Campground, even the dogs agreed! We are looking to plan another Malone region camping trip to High Falls Park Campground in Chateaugay, so stay tuned for more camping adventures! 
Looking to plan your own camping trip to the Malone region? Check out all of the region's campgrounds and enjoy your own camping adventure. If camping isn't your style, there are plenty of other lodging options with nearby activities and dining.
---
This week in Adk news:
Tupper summer music
Declare your independence
1776 and beyond
Lake Placid's summer songs
A day in Schroon Lake
Bike the bog
Up and away at Whiteface