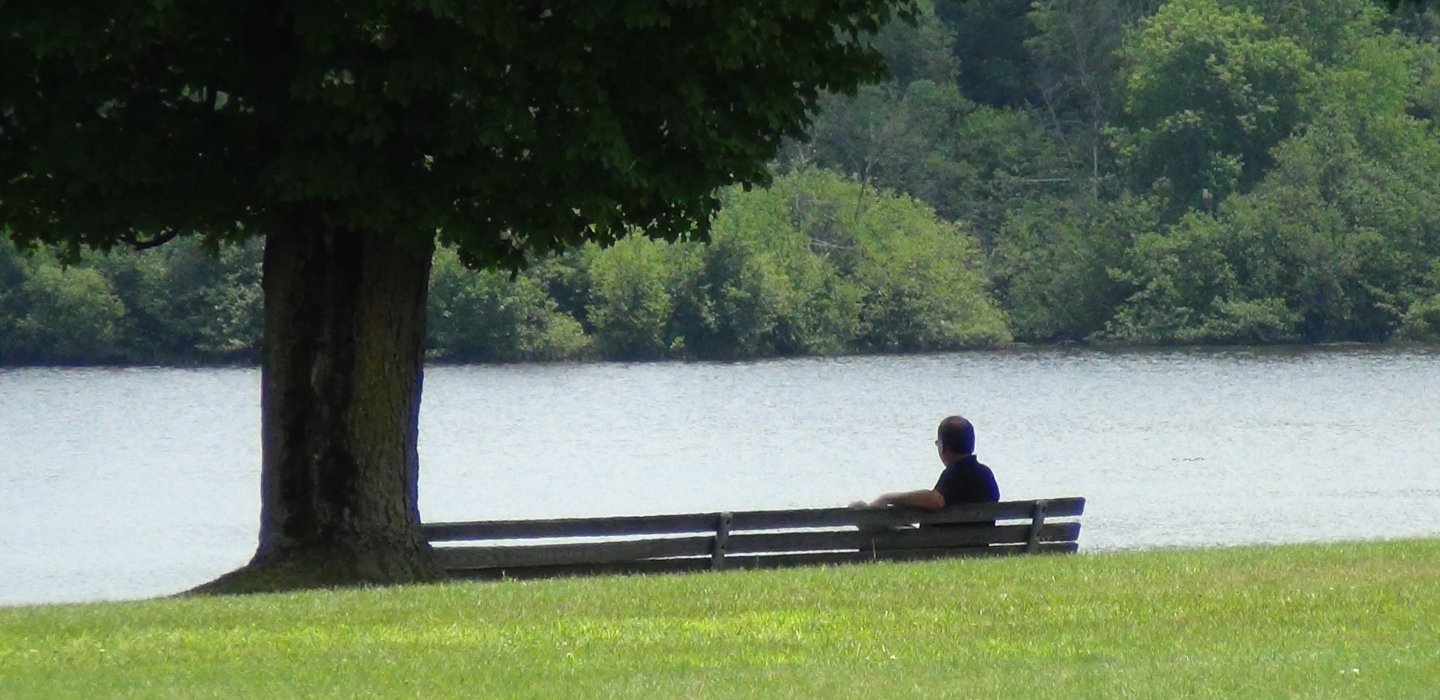 Is it a hike if it's in a park? Of course it is!
These kinds of hikes can be exactly the fit you're seeking, whether you're accommodating small tykes, senior hikers, or just want an easy-on/easy-off nature experience as a sweet break in a full day.
Here are four places to choose from, so you can pick just the right amount of nature. All feature trailheads and parking places that are easy to find, paths that are wide and fairly flat, and amenities like benches, picnic tables, or a posted map.
Buffet of choices
The full name is Malone Memorial Recreation Park, but everyone calls it the Rec Park. Paved paths circle the lake and a scenic bridge. There's a smooth woods path to extend the hike through the forest where you'll get a deeper sense of nature.
At any time of year, this lovely setting will celebrate whatever season you are in. As seen below, the bright golden-green of spring.
There are plenty of benches along the shores of Rotary Lake so scenery is not hard to find. The deeper you push on, the more the outside world recedes. In fall, the far side of the lake is covered in snow geese who gather for their pilgrimage down south. When it is full, lush, summer, the breeze in the trees is a soothing sound, and the shade is welcome.
In season there are restrooms, playing fields, a swimming section, an extensive playground, along with tennis courts, softball diamonds, volleyball section, and even an ice rink.
This can be an excellent choice for pleasing a group. Bring lunch from your lodging kitchenette, take-out from a sandwich shop or fast food outlet, or even the farmers market, and take some detressing time.
Plenty of vista
Lamika Lake is the scenic setting for the Macomb Trail which winds through woods and offers water views. This is .75 miles, round trip, with elevation changes of less than 100 feet.
It is mere minutes from downtown and has a small parking spot. There isn't much of a transition as you immediately find yourself on a broad path and thick forest.
Only a short walk down the path you have the option of taking the trail down to the water. This has switchbacks so the path is not that steep, but proper footwear -- no sandals or thongs, and maybe a walking stick to ensure good footing -- is recommended.
Because of the abundance of wildlife here, it is another great spot for birding.
River right there
Bill King Park is a unique little park which turns into something much bigger than you might have guessed. The parking area, only a few miles from downtown Malone, is marked with old millstones from when the mills ground local grain from the farming country all around.
In spring the river is lively, and plenty of sun reaches through the trees. In summer, the water slows and chuckles as the trees leaf out, and then it is a glorious spot for autumn color in the fall.
From the parking area, head for the bridge you just crossed, coming from town, to find the path that will let you explore along the Salmon River. The scenery can change with every step.
The footing here can look more rugged than it is because of the blanket of fallen leaves. Small and unsteady hikers should have their hand held.
From fishing to photography, this park has a new vista to explore with every turn in the path. Because of its location, it is not that far from Chasm Falls, which is another easy outing.
Full immersion
Take a wonderful walk along the Duane Nature Trail for a deep forest experience which ends in a scenic bog.
The paths are wide and mostly flat, with slight inclines and descents. The paths are laid out in a double-box design with right angle turns. This makes it easy to keep track of where you are and how to return to the parking area.
I love the variety along these paths, from abundant hardwoods to miniature bog plants. There are plenty of "baby trees" which will delight younger hikers, and a little park with benches and picnic tables where newbie hikers can sit and relax.
One path leads past a historic 1844 church, where the bell (forged in 1886 in Troy, NY) is displayed on a pedestal for easy viewing.
Spend time exploring these quiet paths and bring lunch. There's no rush. If this trail sparks the desire for more, you're not far away from the wonderful hiking complex known as the Paul Smith's College Visitor Interpretive Center.
The gentle lands of the Malone Region, with their abundant water sources, easy terrain with slow transitions, and gorgeous scenery, is a great place to start hiking, expand your horizons, and choose the right trail for the group and time frame.
Choose from our range of lodging. Find more easy hikes with the Malone Walk/Bike Challenge. Visit our abundant waterfalls, as described in the blog, Waterfalls, waterfalls, everywhere!
---
This week in other ADK stories:
Paddling the ponds in Saranac Lake
5 Lake Champlain fishing facts
Insider's guide: Lake Placid Horse Show