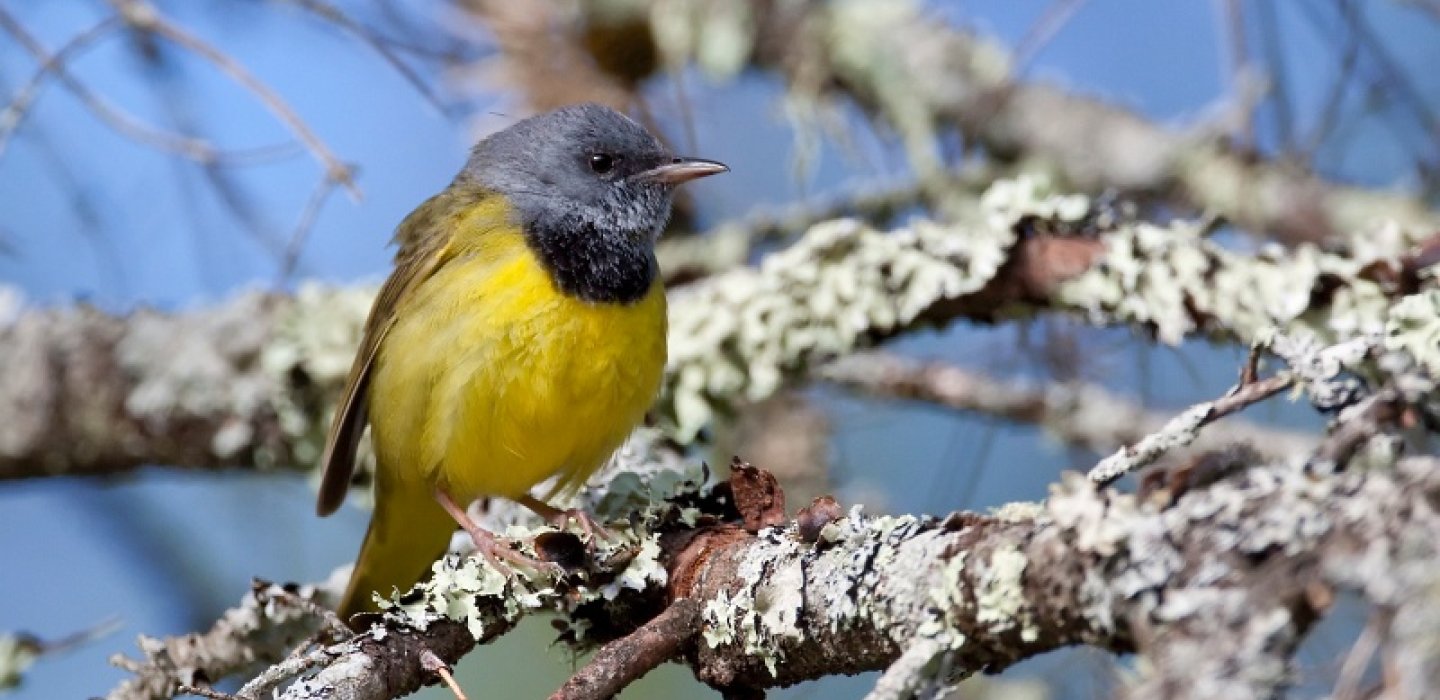 Starting along the road
I led a birding trip the other weekend to Madawaska as part of the Great Adirondack Birding Celebration -- an event I help with every year. After meeting everyone at the Paul Smith's College VIC, we loaded up our cars and headed out along Keese Mills Road, stopping along the road in the cool but warming morning air, and walking short stretches of road where we began to tally a list of species.

A growing list and a mourning warbler
And so we quickly added the calls of a Common Loon, Red-breasted Nuthatch, Blue-headed Vireo, Brown Creeper, Eastern Wood-Pewee, Winter Wren, and a lone Great Crested Flycatcher. Our warbler numbers also quickly grew with Pine, Yellow-rumped, Common Yellowthroat, Blackburnian, Black-throated Green, and American Redstart. Even more exciting was a Mourning Warbler that I heard singing as we drove.
We stopped and searched for the Mourning, eventually getting great looks of the beautiful bird. This was followed by a pair of flyover Red Crossbills and a cooperative Chestnut-sided Warbler which sang in plain view a short distance farther along our route. Alder Flycatchers down the road were trickier to find, but Eastern Phoebes nesting on the bridges offered us compensation.
As we approached the turn at Bay Pond, which officially put us on Blue Mountain Road, our stop was rewarded with amazing looks of a Northern Parula as we added more species to our long list -- such as Eastern Bluebird, Barn Swallow, Ruby-throated Hummingbird, and Chimney Swift at the bend. From there we stopped at the crossing of the St. Regis River, adding another Eastern Phoebe, Common Grackle, and a soaring Turkey Vulture and Bald Eagle -- both using the rising thermals. More fun, though, were the knocking sounds of calling mink frogs. We found one sitting in the water below the bridge.
Boreal species and conifer-loving warblers
From the St. Regis, we continued into the more quintessential boreal habitats along Blue Mountain Road, spotting a Snowshoe Hare in its brown summer coat. We stopped at one of my favorite boreal habitats along the road. There we had stunning looks of a Canada Warbler and a Northern Waterthrush while Black-and-white, Nashville, and Magnolia warblers sang in the trees. We also heard our first Yellow-bellied Flycatcher of the day. The bird offered us quick views before it disappeared.
I had been hoping for an Olive-sided Flycatcher, which I've found in the past in that location on the snags, but none were hanging around while we were there. I'll just have to go back. I also tried to solicit Gray Jays or Black-backed Woodpeckers to call by offering a few Barred Owl hoots, but I came up empty on both fronts. Three soaring Broad-winged Hawks would have to do instead, and we found a few more as our day continued.
We eventually wound our way to Indian Rock parking area, where we loaded up our packs with water and snacks for a walk toward Madawaska Pond. The late morning sun was warm, but we walked about halfway to the pond listening to Nashville, Magnolia, Yellow-rumped, and Canada warblers. We got a few glimpses of them along with a Black-and-white warbler in the thick balsams.
We also heard our first Swainson's Thrush of the day and Yellow-bellied Flycatchers called from the shadows, but they never showed themselves. We were hoping for other boreal species as well, but we never came up with any, and eventually turned toward the cars and lunchtime with a growing escort of biting insects in tow.
With a warm, midday sun on us and the birds growing increasingly quiet, our drive out was quicker, but we still added our first Palm Warbler of the trip as well as a few singing Black-throated Blue Warblers. This gave us 17 species of warblers on the trip. We returned to the VIC happy, chatting about where our next birding adventure would take us.
Spring and summer birding is amazing in the Adirondacks and North Country. Start planning your trip today and visit our lodging and dining pages to learn more!