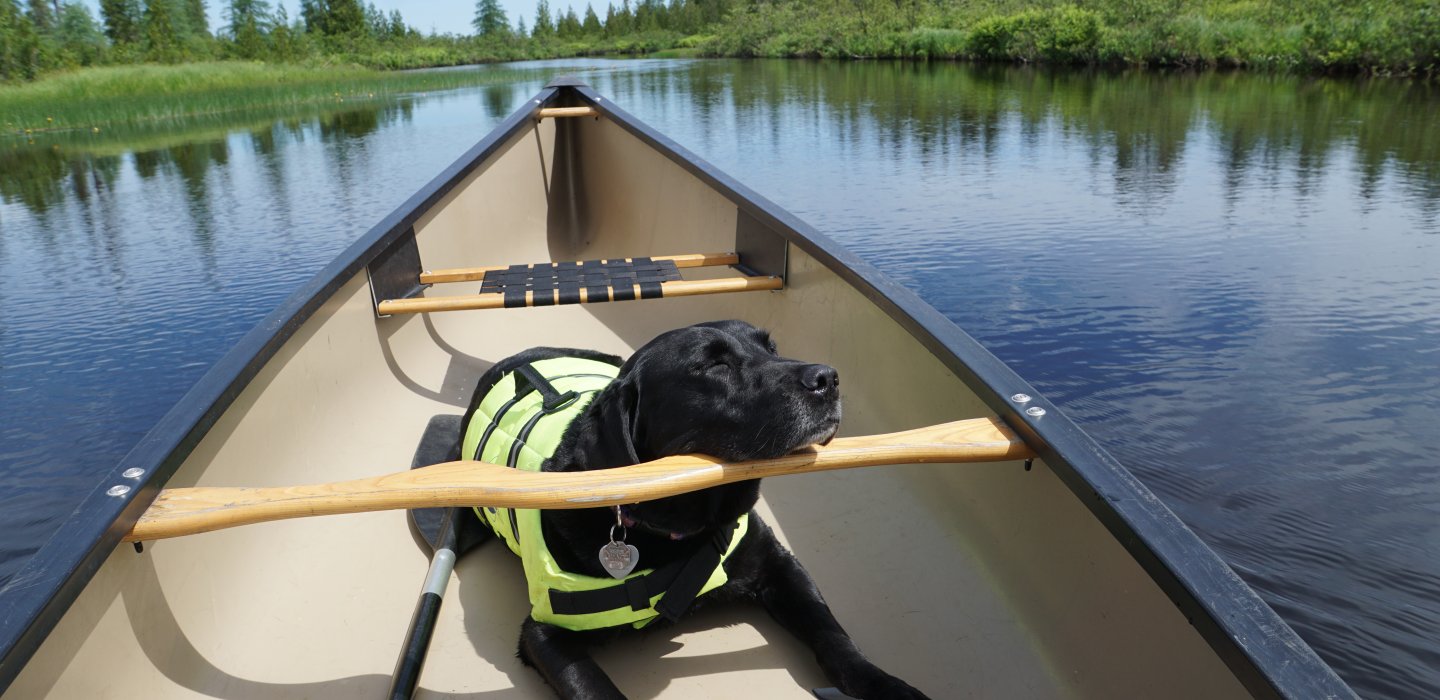 Paddling in boreal habitat
While Meacham Lake offers bigger and more open water than I generally prefer for canoeing and exploring by boat, the outlet from the lake (which forms the East Branch of the St. Regis River) snakes through beautiful boreal habitat. And so I was happy when Wren, my dog, and I had the opportunity to paddle it.
The put-in sits near a low dam along Route 30 and as usual my bird list began while I was unloading the boat. A Northern Waterthrush, Magnolia Warbler, and Canada Warbler all sang near the launch, and a Swainson's Thrush gave its rising, fluty notes from a nearby woods. I quickly added Black-throated Blue Warbler, Black-throated Green Warbler, Blackburnian Warbler, Pine Siskin, and Blue-headed Vireo to the list, and we were on our way.
More Warblers and an Olive-sided Flycatcher
Not far along the stream we came upon a pair of Common Loons, but I didn't see any chicks with them. Perhaps the loons were nesting nearby. We later saw them again where the outlet forms from the lake. Brushy areas along the stream edge held Swamp Sparrows, Common Yellowthroats, and a Chestnut-sided Warbler, but most of the action still came from the woods where more Black-throated Blue, Magnolia, and Black-throated Green Warblers were joined by Northern Parulas, Nashville Warblers, Black-and-white Warblers, and an Ovenbird. We were well on our way toward the 16 species of warblers we would see--in total--on this trip.
As great as that long list is, I was more excited about the Olive-sided Flycatcher that whistled its Quick, Three Beers!  in the distance. The flycatcher's loud call carried across the conifers. I tried to find an angle to view the bird (which was likely sitting sentinel-like on top of a tree) but I couldn't find it, so we enjoyed listening and moved on.
Meacham Lake and the Osgood River
We added a flyover Cedar Waxwing, a singing White-winged Crossbill, and a soaring Bald Eagle. We soon reached Meacham Lake, where I hugged the southern shore to listen to birds like Lincoln's Sparrow and Palm Warbler in the coniferous habitat that frames the end of the lake. We reached the Osgood River as it dumps into Meacham and we turned to follow it for awhile. There we found a similar assortment of the same species, adding a family group of three Gray Jays (two adults and one young bird), as well as a stretch of stream with at least three or four Canada Warblers staking claim to various patches of wet thicket.
Eventually with the sun climbing higher and the day growing warmer (and my stomach growing hungrier), we turned and followed the Osgood back to Meacham where we once again paddled along the shoreline. I had noted on our way out that the water was quite shallow directly along the shore. There was also a nice little beach area, so I stopped there for Wren to play and swim. As usual she had alternated from dozing to watching the scenery from the canoe, so I owed her some time out of the boat. She exuberantly took me up on my offer and plunged straight into the water, chasing sticks and digging in the sand. I laughed and snapped photos of her as she enjoyed the moment.
Wren was having so much fun that I felt a little bad when the time came to get back into the boat, but like always she dutifully got in after one final throw of the stick. Once back in the boat, I noted a Red-shouldered Hawk overhead. Red-shoulders nest across the North Country, but I don't see them all that often up here so it was a nice find. The hawk continued on and so did we. We wound our way back to the take-out and listened to the same cast of warblers and other birds that led us out earlier that morning.
Now is a great time for paddling and birding in the Adirondacks and North Country. Plan your adventure today and check out our lodging and dining pages to learn more.