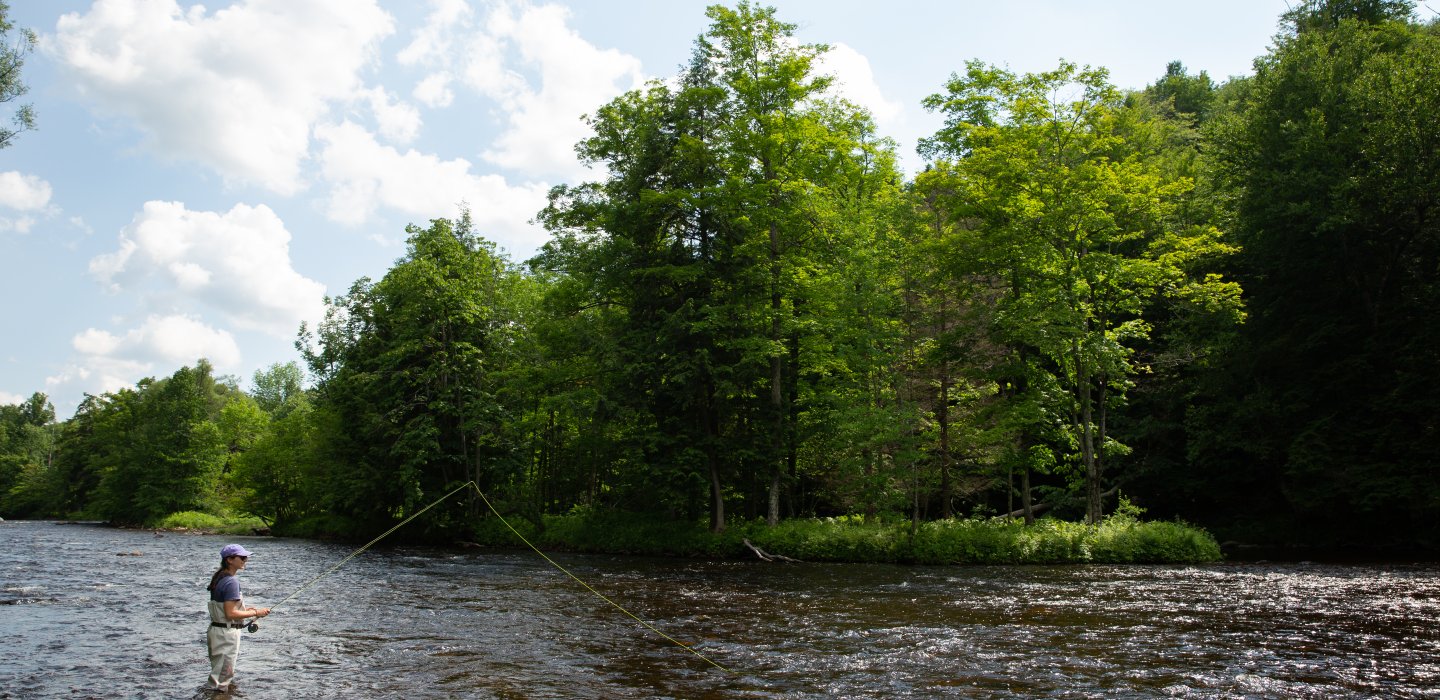 A river runs through it
When a town has a river running through it, you can assume the fishing is going to be good. Brad Pitt said so. Malone is perfectly situated in a network of rivers, lakes, and streams. Rocky shorelines, fast streams, and deep pools have helped put Malone on the map for anglers. The surrounding network of water is also stocked with trout each year, making the conditions just right for holdovers.
After a recent guided trip on the Ausable River, I have officially deemed myself a fly fisherwoman. Eager to go again, I was also scheming up a way to make my boyfriend, Erik, fall in love with my newfound hobby. To Malone we went!
The mighty Salmon
The Salmon River, which flows right through Malone's downtown, offers six designated fishing areas, each marked with a bright yellow Public Fishing Stream designation sign. After a little research, I decided to give the Whippleville to Malone section a go.
On my way to Malone I stopped at Wiley's Flies to rent Erik and me the gear we needed for the day. The staff was friendly and extremely knowledgeable about fishing in the Adirondacks. Talking with Vince, the owner of Wiley's Flies, we were assured we were headed to trout country, particularly where brown and rainbow are in abudance.
As we approached the Salmon, I assured Erik I would teach him all he needed to know about fly fishing. Like all good stubborn people, I was convinced I had learned the important things on my last outing and the rest would come naturally. So after some casts into the trees, many lost flies, and a few YouTube videos later, I realized I was wrong. I should have hired a guide. You should hire a guide.
A bit of time and a few mishaps behind us, Erik and I were fly fishing the mighty Salmon. A few fly fishermen were downstream, but we otherwise felt as though we had the river to ourselves. Wading down the river, I witnessed the area grow more beautiful with each bend. It was a day full of laughs, frustrations, but more importantly time spent enjoying the beauty of the Adirondack region. It was the perfect reminder of why we live here. A reminder of the endless outdoor opportunities, things to learn, and new places to visit.

Visiting Malone
Malone also hosts an annual fly fishing tournament put on by the Malone Revitalization Foundation, called The Hendrickson Hatch Fly Fishing Tournament. Held each year in early June, the event is sponsored by many area fly shops and businesses and is capped off by a BBQ lunch on the streamside. Ready to hit the water and wet a line in Malone? Check out our lodging options and book your Malone fishing guide here.
---
This week in ADK related news: