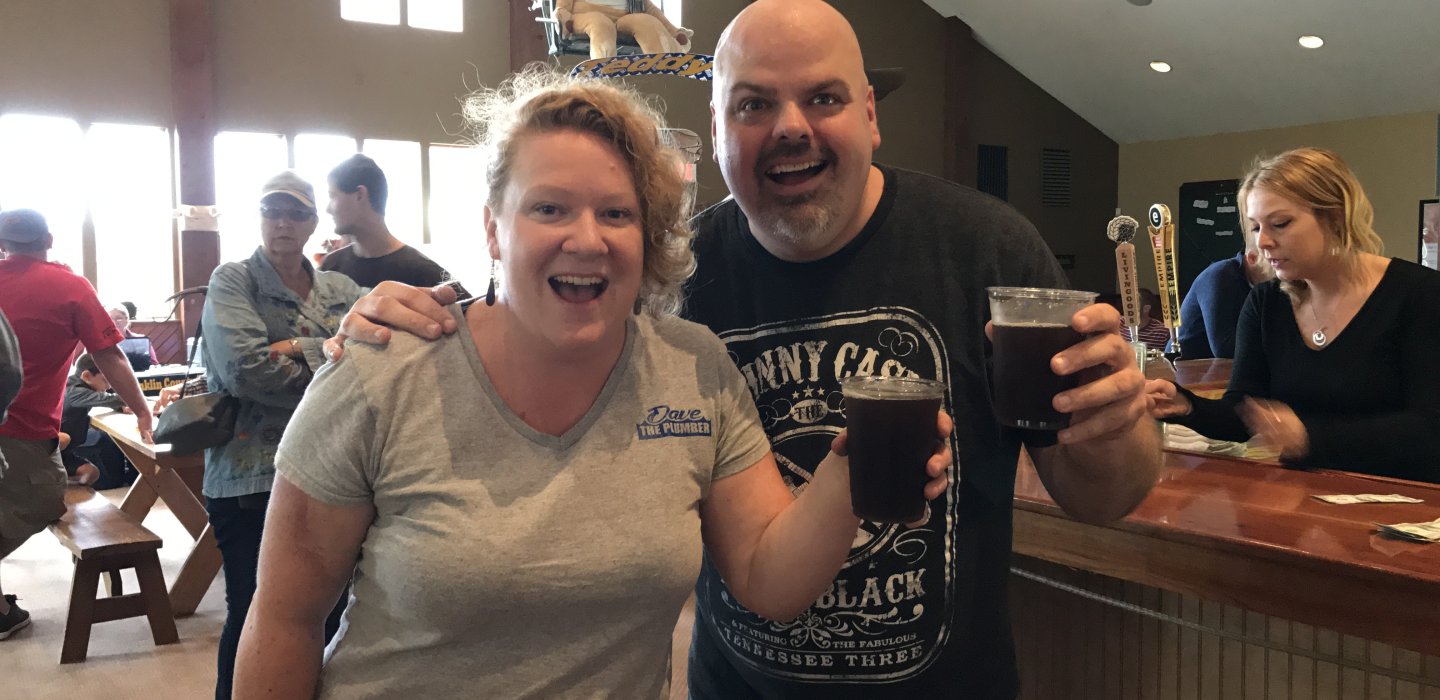 There's a lot of hub-bub about Oktoberfest--and I'm not talking about the one in Germany either. Every year, for the past 38 years, Titus Mountain has put on an event mirroring the famous German affair. And while the Titus event doesn't take place over a whole month, they pack a punch into a single day, annually the first Saturday of October.
It's easy to see why so many people head to the mountain for the event; for only $5 (kids 12 and under are free), there is a smorgasbord of free things to do. The leaves are just about to hit their peak, and free chairlift and hayrides allow guests to see them from a whole different light. Live music is played on the outdoor patio from noon until six, and after that the party moves inside with the headline act. There are tons of vendors, fireworks at dusk, and a free kids' zone with bounce houses and face painting.
While it may seem overwhelming at first, it's quite easy to get into the swing of things and get the most out of your one-day experience. But if you need a little help, here's 8 insider tips to help the beginner navigate their way through all the fun, food, and fanfare at the 28th Annual Oktoberfest.
1. Get there when the gates open.
Every year gates open at 10 a.m. It might seem a bit early, but with the activities available to you, an early start gives you the most time to enjoy them all without having to rush around getting to everything. You don't want to ruin the fun by hurrying from place to place without taking the time to stop and smell the roses.
2. Get to the hayride early.
The hayride is high up on the list of great things about Oktoberfest. The tractor pulls you through beautiful trails at a slow pace. It's a great time to enjoy the views of the vibrant leaves while also taking some time to breathe. It's also a perfect selfie spot! But lots of people know this, so make sure to get to the ride early so you don't have to wait in a long line (plus the hayrides end at 4 p.m.)
3. Don't forget to take a ride on the chairlift.
With all the activities going on, make sure you carve out some time for the ride. The trip up the hill takes some time, and you should take the walk down at a leisurely pace. Another great selfie spot, you don't want to remember this opportunity when it's too late (chairlift rides also end at 4 p.m.).
4. Lunch is all about the outdoor grill.
The outdoor grill serves an Oktoberfest staple: bratwurst. But don't forget about the hot dogs, hamburgers, sausages, poutine, French fries, fried dough, and more! The outdoor grill also is a fundraiser for the Titus Mountain Ski Patrol, so you get a chance to eat delicious food while helping a great cause. We suggest lunchtime at the outdoor grill so that you can try and grab a picnic table in front of the live music outdoors. Food and a show!
5. Give yourself time for shopping.
Last year there were over 70 vendors at the event. Many were selling homemade goods and beautiful crafts. With that many people at the event, some of the vendors sell out of their products before the day is done. It's a great time for holiday shopping and a wonderful way to support local small businesses who are showcasing their products.
6. Bring a gently used coat, snow pants, or boots.
While not a secret, many people aren't aware that at the event they have a chance to win 965 gallons of free fuel oil or propane. As part of a community fundraising drive, Adirondack Energy and Wild Country 96.5 collect these gently used items to distribute to area families in need. Oktoberfest is the last chance to get in the drawing and the winner is chosen that day.
8. Pack for the weather.
Of course, Oktoberfest happens rain or shine, but it also goes throughout the day and evening. North Country weather can be beautifully warm during the day and can have a slight chill in the evening (which is one of the best parts of Autumn, in my opinion). You'll be inside and outside throughout the day, and if you're staying for the fireworks--which you should--then a light jacket isn't a bad idea.
9. Enjoy yourself.
At the end of the day, the point of the day is to have fun; use these tips as a guideline, and not the end-all-be-all of having fun at Oktoberfest. What matters most is that you appreciate the event in your own way. There's plenty to do, plenty to see, but it's your choice on how to spend your day. So take the time and truly enjoy yourself.
Bonus Tip: If you have kids, plan on being in the kids' zone for a bit.
There are always a lot of activities going on and kids want to try them all! There will be 5 bounce houses and inflatable slides to jump around on and a mechanical bull to test their luck on. Face painting in the lodge is free and there's always a line. This year Belly Buttons the Clown will be putting on a fun act and local emergency services will have their vehicles there so kids can play with a siren or two.
Last year over 4,000 converged on the mountain for their 37th annual Oktoberfest and this year, on October 6, the mountain expects even more. We hope that you're one of them!
Start planning your trip today! After Oktoberfest, stay for a while and explore Malone.
---
This week in ADK news: