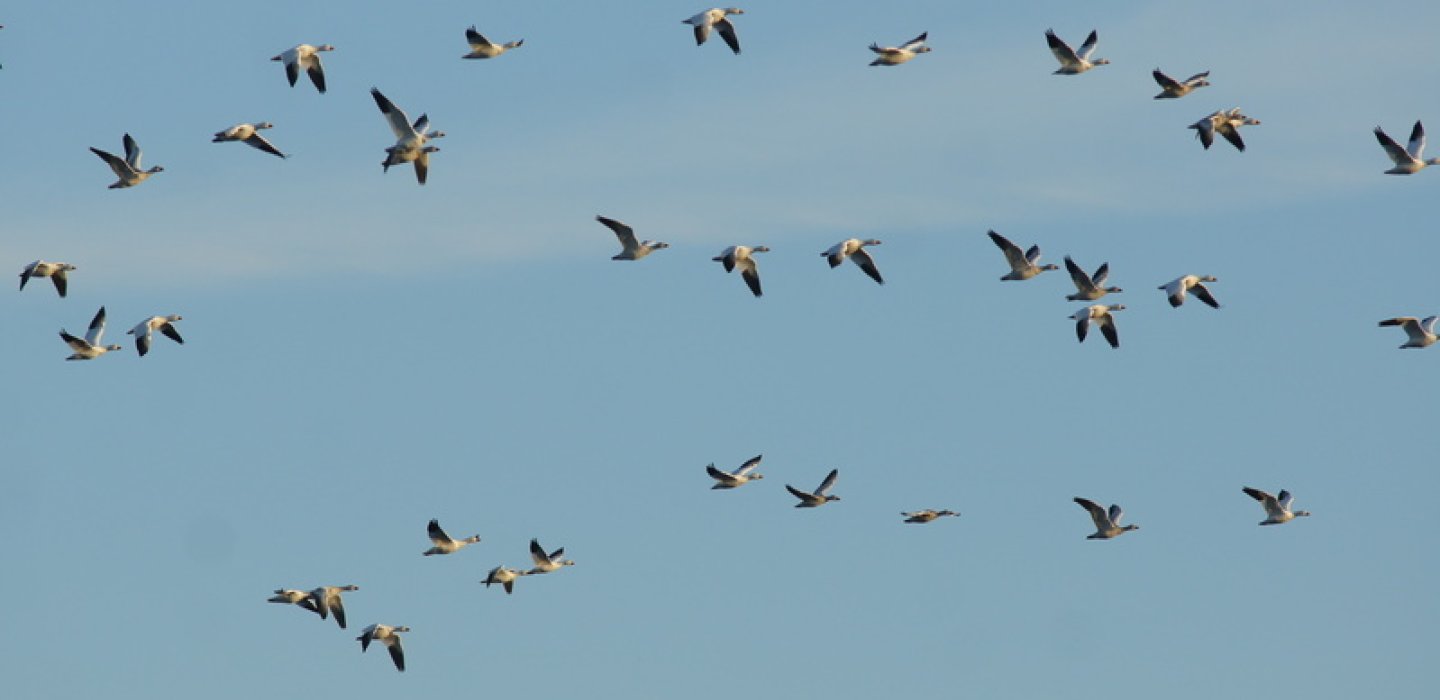 A time for snows
While our recent snow has stolen the local headlines of late, birders know that snow of a different sort graces the ground of the North Country as the seasons change. After all, mid-to-late fall is an excellent time of year to look for congregations of Snow Geese, and so I headed to the Malone Memorial Recreation Park to see the spectacle there. The site is a marvel for anyone, birder and non-birder alike, as the geese pack themselves into the pond at the center of the park like big, white sardines.
But as we were reminded this week with our snowstorm, weather has the tendency to alter our plans and it certainly plays games with birders. Our recent cold snap had me concerned that the pond in the park may have iced over earlier than it usually does, a fear that was realized when I arrived to view the geese. Only a small opening in the ice was left, kept free of ice by a few hundred Canada Geese, a couple of which were using the open water to bathe. The Snows were absent with one exception: a lone Snow Goose holdout was tucked with the Canada Geese on the ice.
A cackling goose
I scanned for any other species of geese -- with so many Canada Geese and Snow Geese often crammed into the pond it can be a great chance to see some rarities. Last year we found Ross's, Greater White-fronted, Cackling, and a Pink-footed Goose. But with so little open water and relatively few geese present, the odds were not in my favor for a similar showing. As a result I was happy when I found a diminutive Cackling Goose amongst the Canadas. It was tucked in with them on the ice, occasionally pulling its head out to look around.
I waited briefly to see if any Snow Geese would show up - their long lines are often easily seen in the air - but none came, just a dashing visit from a flyby Cooper's Hawk. It isn't uncommon to arrive at the park and not find Snow Geese. They feed in area farm fields, after all, and sometimes you have to go find them. And so, with so little open water at the park, I decided to try my luck elsewhere. But as I turned to go, I spotted several strings of Snow Geese high overhead, perhaps 500 birds in all, all of which were heading north.
I considered my options on re-finding them. Given how high they were, it seemed likely that they were cruising to the St. Lawrence River or perhaps to some of the fields in the northern end of the county, perhaps north of the Canadian border. Rather than chase them that far, I decided to check out the local fields while keeping an eye overhead for any more flocks that might stream north.
Farmland birding
So I left the park, first stopping by Lamica Lake, which is really just a wide spot in the Salmon River. Geese often flock up there as well, but there was only a cluster of Canada Geese when I arrived. So I continued west, checking out a series of farm roads like Wheeler, Depot, Brockway, and Garvin. The fields there not only offer food for geese, but they can be good places to find raptors and wintering field birds like Snow Buntings, Horned Larks, and Lapland Longspurs.
I kept watching the small flocks of Canada Geese as I went, but they didn't seem to be following any discernible pattern which might lead me to find flocks on the ground or potentially lead me to more Snows. The American Crows, on the other hand, were clearly streaming together, heading to evening roosts or settling in recently cut hay fields in search of food. Here and there they were clustered along the road edge or strewn across the fields.
I drove along White Road, my favorite road to bird in the area, finding a handful of Wild Turkeys, a flock of Horned Larks, and my first Rough-legged Hawk of the season. I stopped to enjoy the hawk and picked through the Horned Larks hoping to find a Lapland Longspur, but found none.
Winter finches and a lapland longspur
Continuing on, I found a beautiful adult Bald Eagle, another Cooper's Hawk, and a few Pine Siskins which chattered overhead. Pine Siskins are one of several finch species moving south this year, and the map has been lighting up recently with sightings of Evening Grosbeaks and Pine Grosbeaks, both of which I've seen this week in the Olympic region around Lake Placid. I didn't find any on my trip, but interested birders should get out and search for them while they can.
After looping through a few more farm roads I turned back toward Malone, again taking White Road to see if I turned up anything different. I was glad that I did. On this trip the Horned Larks remained closer to the road and I spotted a Lapland Longspur (another first of the season) with them, the bird offering its trilled call as it flew.
From there I rechecked the Malone Rec Park just to be sure that I hadn't missed any geese there. I had not - the pond was nearly empty of them. And while it was a tad disappointing to largely miss the Snow Goose spectacle on my trip, the truth is they are still in the area, almost certainly hiding rarer goose species as well. It is just a matter of finding where they have moved to now that the Rec Park pond is frozen - and for that matter the pond might open back up again if the weather warms. And for my part, I enjoyed the variety of birds my trip had offered, highlighted by a few seasonal firsts as fall and the new snow lead us closer toward winter.
Fall and winter offer excellent birding and outdoor activities across the St. Lawrence River Valley and the North Country. Plan your trip today and check out our lodging and dining pages to learn more.