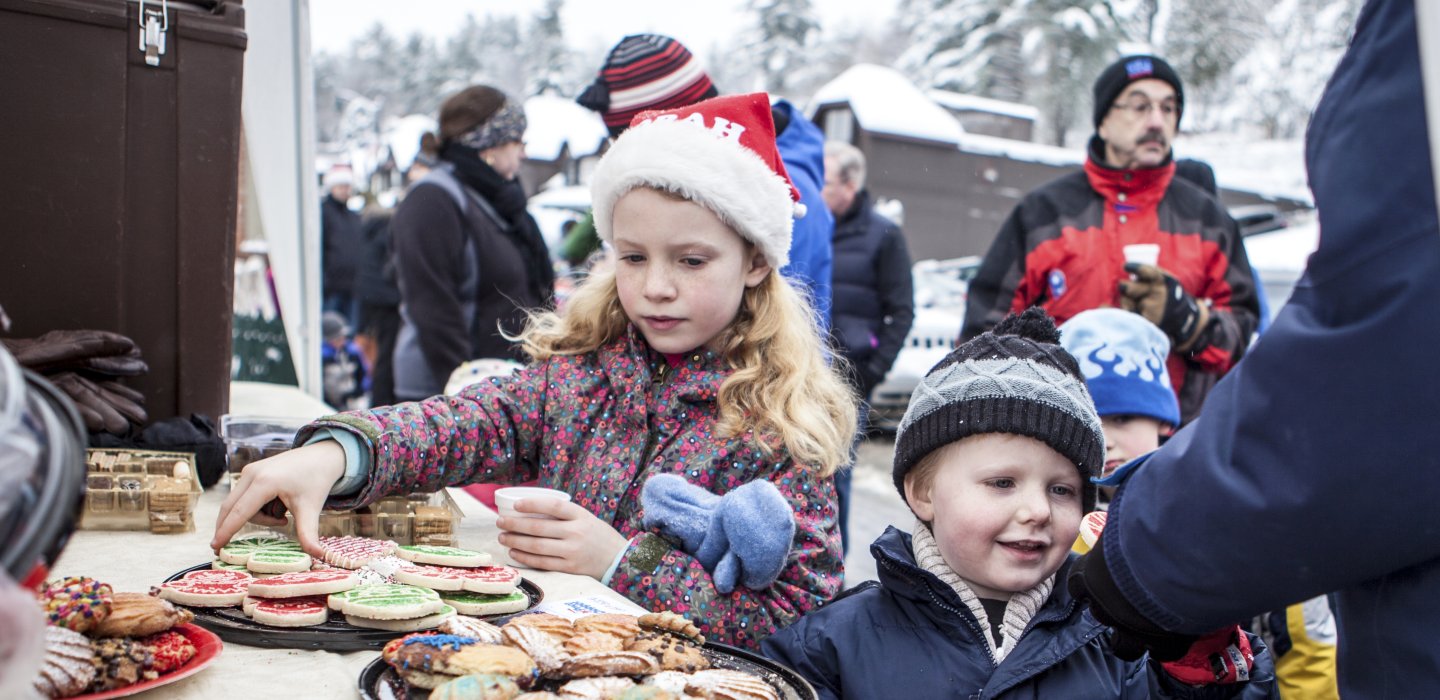 The holiday season is special in the North Country. It wasn't invented here, of course, but everyone throws their heart into it. From festive traditions dating back to the 1850's to the present, a Malone area visit adds extra treats and activities to the celebration. After all, Santa lives quite close.
Old traditions
The first weekend in December is always full of events, and this December 1 offers a lot to choose from. The oldest festivity takes place at the Almanzo Wilder Homestead, with the annual Christmas with Almanzo.
This delightful peek into the past is held in the original Wilder homestead, with period furnishings throughout. Sing classic Christmas carols, listen to readings from "Farmer Boy," enjoy homemade Christmas treats, and make classic holiday decorations like the all-American cranberry and popcorn strings.
Their unique gift shop will be fully stocked with books and videos of the entire series, Wilder related merchandise, and especially toys of the period, which can make a fine stocking stuffer. I like getting the children on my list something they don't expect, espeically something that doesn't need batteries.
Any of the gifts are sure to please Laura Ingalls Wilder fans. Gift wrapping is free, and so is admission on this very special day.
Enjoy more Christmas trees at the House of History where people compete for originality with more than a dozen different tree designs to put anyone in the holiday mood. Then move to the museum for the Annual Christmas Tea, with tea and cookies in an authentic Victorian mansion.
Pro-tip: Get there early, before the homemade cookies run out.
At Arsenal Green, Santa and Mrs. Claus arrive for the Santa in the Park event, a thrilling time for children. There will be a free gift bag for each child, holiday music, and refreshments.
But that's not all. This year there will be a choice of Santas.
New celebrations
December 1 thrills don't stop there. The Parade of Lights Christmas Festival will be free and held at the fairgrounds this year. This will be different kinds of vehicles, such as cars, trucks, tractors, and even hay wagons, all decorated with holiday lights. The parade will conclude with the ceremonial lighting of a large Christmas tree and holiday music.
Last year there was a Christmas "Parade of Lights" staged at Generations Park by the Akwesasne Coalition for Community Empowerment, and Carrie Robinson declared herself "entranced." She became the force behind this new event. It will also raise money for the North Country Habitat for Humanity program.
Along with the parade and the tree lighting, there will be hot chocolate and cookies, gifts for children, caroling, and music. Only the photos with Santa will have a minimal cost, a portion of which will go towards the designated charity. The tree will remain lit through the holiday season, to welcome visitors entering Malone from the east.
Can't get enough holiday lights? Consult the blog, 3 Not-to-Miss Holiday Displays, for great spots to visit for more decorations.
Joy of giving
Find great gifts at the Annual Winter Wonderland Craft and Vendor Show which is on Saturday, December 8, from 9 a.m. to 3 p.m. There will be over 100 vendors and artisans displaying this year, along with a raffle, lunch, and bake sale.
Ski season
Then on December 22 it's the popular Skiing with Santa day at Titus Mountain. Kids will especially enjoy the cookies Santa hands out as he gets his runs in.
This is how he relaxes before his big night delivering presents. It's a wonderful time of the year, and the North Country is a great place to visit. Experience old traditions, and make some new ones.
Choose that holiday lodging. Feast with our dining. Gift shop for something different this year. Check the whole Events Calendar.
---
This week in ADK news: