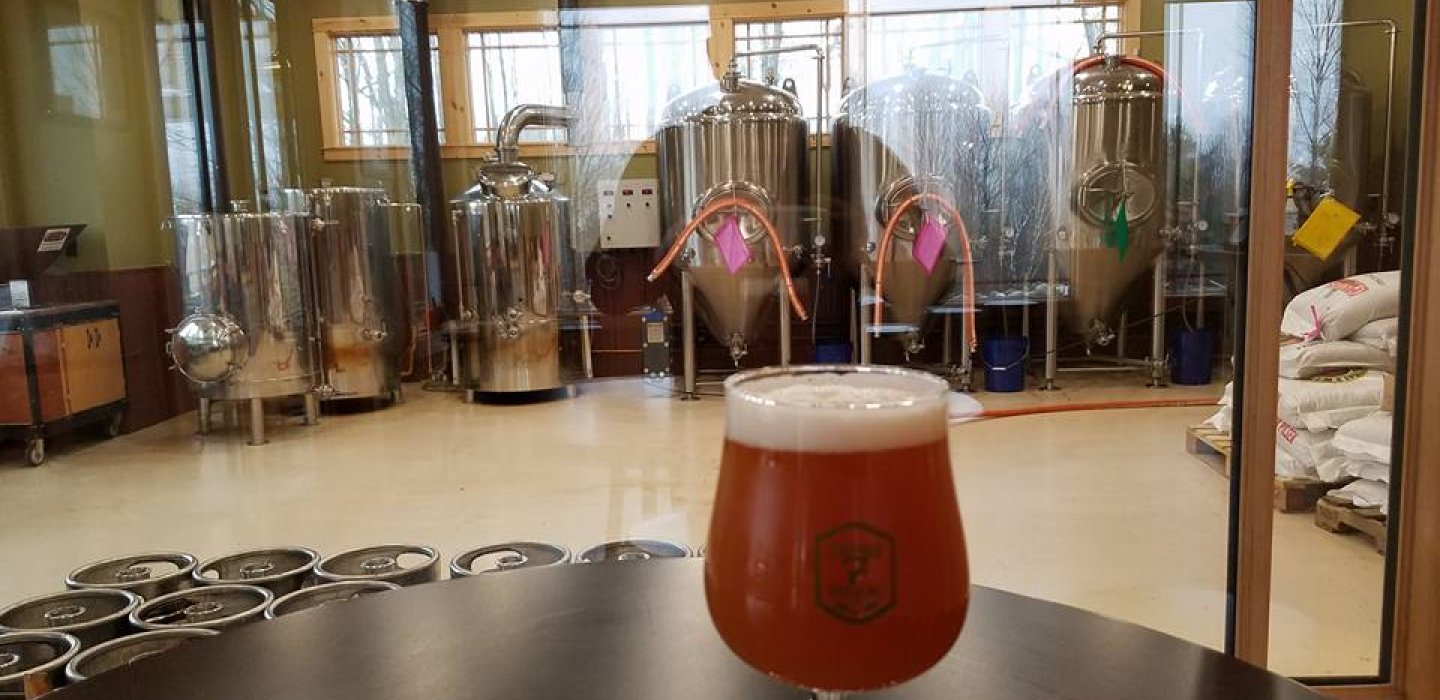 The Malone region is a historical farming community, and that means good meals and lots of them. It should come as no surprise that with such a devotion to tastiness, the Malone area has some local favorites.
A new contender
Township 7 is a craft brewery west of Malone. Their mission is "Revolutionizing Craft Beer in Northern New York!" Sounds good.
Township 7 specializes in premium, unfiltered, and unpasteurized craft beers. The rotating menu changes with the seasons in classic beer tradition, and there's also a house-made sugar-free ginger ale. There might be food trucks and/or live music, depending on their event calendar. Some snack food is available and guests are welcome to bring their own.
For a relatively new brewery, Township 7 has already established a glowing reputation. They feature an IPA, a fruit beer, an interpretation of a pre-prohibition ale, a wheat beer, and an American brown ale, along with specials according to what's brewing lately. Besides beer, Township 7 also features a selection of alternatives such as Thousand Island or Heron Hill wines, spirits and cocktails from Finger Lakes, Black Button, and Clayton Distilling, and cider from ADK Cider Company. Something for everyone.
How sweet it is
Local maple syrup is available from a variety of sources, and these are from different sugarhouse cookers. The popularity can be explained by two things: the sweet steam of the evaporators, and the deliciousness of real maple syrup.
One source is St. Regis Falls Quickstop, where the owner makes his own syrup and sells it in lovely handpainted bottles, which are highly suitable for gifts. Titus Mountain has their own Moon Valley Maple brand, made from the sugar maple trees growing on the mountain's slopes. This authentic North Country treat is only made in the Northeastern area of North America, where the conditions are right for sugar maples.
The Indigenous peoples of the Six Nations were known to boil their own syrup, and it was once the foundation of a sugar industry in the colonial United States. Now, common syrups often have less than 5% real maple syrup in them. If you think you like pancakes now, wait until you try the real thing!
Learn more about maple with the blog, How Sweet It Is...
Real red hots
Some people may not be aware of Glazier brand hot dogs. This deficiency should be addressed as soon as possible.
Currently, the fifth generation of the Glazier family is overseeing the production of the original German recipe. The headquarters are still in Malone, so pop into the store and pick some up. They are just as good from the skillet in winter as they are with a summer campfire and a stick.
I can't say it better than the hot dog people themselves:
If you are new to Glazier Hot Dogs, you are in for a special treat. Glazier Hot Dogs are without a doubt one of the best red hot dogs on the face of the planet. Glazier Packing Company, nestled away in the north country of New York, perfected the red hot dog. An extremely flavorful taste, firm texture, and great crispy natural casing makes this the best hot dog on the planet.
They aren't exaggerating. See the blog, The Glazier Dog: A Hometown Staple.
Seek the source
There's a reason there is a New York cheddar variety, and there are many variations based on it. At one time, the Malone area was a powerhouse of cheesemaking. That was back when New York, especially the regions along the Erie Canal, dominated the field. That influence still lingers. Indulge in the best, because the Cheese Store in Chateaugay, a ten-minute drive east of Malone, is right next to the Cabot cheese plant.
The Cabot 1919 line of classic cheese includes the Adirondack, described as having a "distinctly tangy Upstate bite." This is one of my own favorite cheeses, and it's made using the original recipe which results in a cheddar that manages the trick of being both creamy and crumbly. It's perfect with fruit, of course, but also with foods featuring citrus and spice, such as a cup of bergamot flavored Earl Gray tea.
I love a simple lunch of cheese, cold cuts, and fruit, and New York cheeses are known for their compatibility with such a menu, whether it's a sack lunch or an elegant party treat. The fresh cheese curds from this source are also an important element to poutine.
Discover Malone's cheese history with the blog, When cheese was very big.
Choose a place to stay. Explore all the dining. Don't miss seasonal celebrations on the events calendar.
---