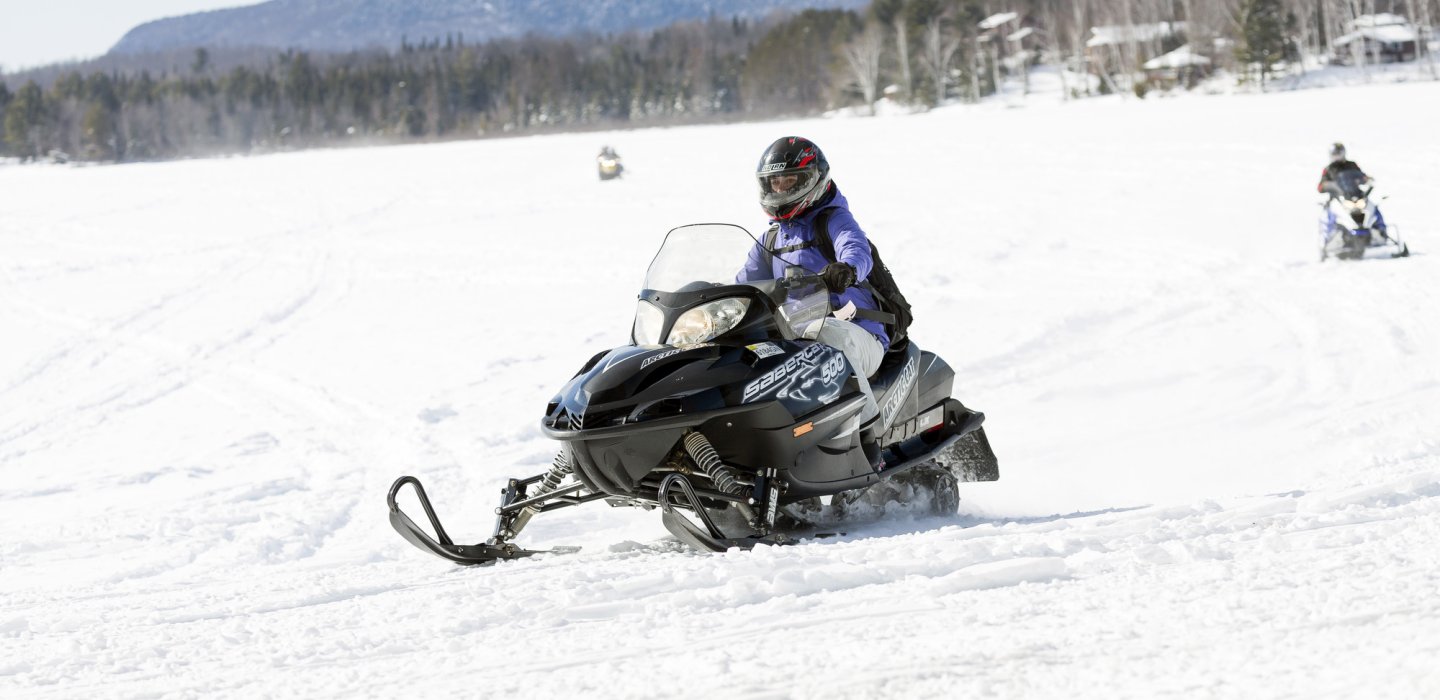 Malone was there at the beginning of the snowmobile phenomenon. Some of the first snowmobile races were held there, and the sport continues to have a lot of popularity. And why not? There's so many great trails through beautiful wilderness and along scenic vistas.
The same pull that draws people into riding their motorcyles in the summer leads to snowmobiling in the winter. Having done both, I can speak to some of the winter advantages.
Trails, not roads
For easy access to remote and special places, it's hard to beat a sled. These trails are groomed and maintained by local enthusiasts. While there isn't the same access that roads offer motorcycles, there's also an entirely different dynamic when it comes to traffic. As in, there isn't any. Sharing a trail with fellow snowmobilers and letting the groomer have the right of way is all a rider has to keep in mind.
Corridor 7 starts in Malone Junction, north and east of the city center, and runs south along the Salmon River. Belly's Mountain View Inn is located trailside and is the headquarters for the local snowmobile club. There are drawings of snowmobiles all over their menus.
Equally welcoming is Trailside Bar & Restaurant, which also has cabins. It is all set up to make this a last stop on a day's ride, or a basecamp for more exploration.
The Trailside is a classic "Old Adirondack" snowmobile tavern, with a pool table, a jukebox, and several beers on tap. Don't let the homey atmosphere fool you, because their specials feature items like honey garlic chicken stirfry and orange coconut shrimp. They serve breakfast, too, making them a great stop for people who like to get up and get out.
Gasoline is available in both Mountain View and Owl's Head. From here, Secondary 78 is a scenic there-and-back ride through Titusville Mountain State Forest.
Into the Adirondacks
Head west toward Loon Lake on Corridor 7 for a ride through the unique plateaus of the area. Or keep on the trail to the intersection of Secondary 83. This half-loop allows access to the lovely area east of Loon Lake. It rejoins Corridor 7 west of the town. Whichever way south, the trail then reveals the gorgeous scenery around the Rainbow Lake area, a special favorite of mine.
There are two great stops in the Lake Clear area. The Shamrock is along Corridor 7B.
Charlie's Inn has a tavern and and the inn has rooms, making it another great basecamp idea. It's been a center of hospitality since the stagecoach days. Then, when railroading was big, visitors to Paul Smiths resort hotel left the big train here, and took the electric railway to their lodging.
Now, Charlie's Inn is popular with snowmobilers.
There's a bar area for socializing and two dining rooms. In summer, the campground opens up, and so does the wraparound screened-in porch. Charlie's is a four-season favorite.
World of their own
To the west of Malone, there's the trail network near St. Regis Falls. In the midst of them, there's Deer Valley Trails Restaurant and Bar. During the winter there are more snowmobiles than cars in their parking lot.
This welcoming place is set in the middle of a forest, and has wonderful natural light from the many tall windows. The menu has a bistro touch, from gourmet burgers and pasta entrees to steak or turkey plates with all the trimmings. And of course, because this is Malone, they have homemade pie.
To make Deer Valley a basecamp for exploration, there are twelve rustic cabins to choose from, right on the grounds, all with private baths, flat screen televisions, coffee machines, and a refrigerator.
The Malone area is a perfect mix of wild and wonderful trails and, not far away, the comforts of civilization. It is the best of both worlds.
Our snowmobiling page has the latest map and even more trails. Get gear needs covered with local shopping. Find out more about Malone's love of snowmobiling with the blog, Snowmobiling: Fast and slow.
---
This week in ADK news: